The concept of time has occupied the brain of the human kind for millennia's. The history of timekeeping  is just as ancient.  Nowadays, the passing of time can be observed through the changed in the environment, therefore it can be related to the concept of space but it can not be fully studied, for example in a lab. Therefore there is no universal explanation of time. Contrary to the highly concrete understanding of time, Cambridge professor Huw Price, argued that the basics of time stem from the inter world of an individual rather than the physical world. The fundamentals of time and its perception are related with the unique sense of a moments, its passage and the direction.
Despite the critical debates on the subject of time, I believe that the outbreak of the Pandemic and the global lockdowns is on the track of reevaluating certain, previously rigid concept of it. For this reason, I wanted to challenge the readers of the blog to find material representations of such complex concept as time without leaving their living environments. I am happy to share with the responses of the readers below:
Zahra Mammadova
Baku, Azerbaijan 
Curatorial/educational assistant at YARAT Contemporary Art Space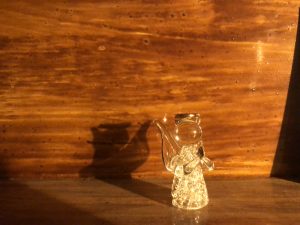 I would like to share my object relating to the topic of "Time" as a part of online exhibition. 

Although there should be nothing difficult about sharing this object, still I felt a little bit uneasy, even mysterious while preparing myself to it, which leads to an obvious thought – it matters to me very much. 

This little angel, that you see from the photos below, was bought by friend of mine, more specifically by our family friend in London, UK, in one of his trips. This person was a professional mountain climber, who was lost in mountains 3 years ago with his fellows and then was found dead thereafter a year. 
The last time I had any connection with him, was 10+ years ago, when I was still a little child, and barely remember everything.  I had very much sympathy and respect for this intelligent person, but sadly then our families stopped communicating for a while. After roughly 10 years, we reconciled and I was planning to meet him one day after such a long time, when I grew up to into an adult, and he was successfully doing his career in industrial alpinism. I still has this words sounding in my mind  how his mother would tell me several times  "come visit us, Namin have a lot of books to share with you, you will find so many topics to talk, it will be exciting"  And every time I would respond "I will come in recent days definitely , but unfortunately now I do not have TIME". I was thinking in my mind, "yeah there is no reason to rush, hopefully we will meet soon" After he went missing, and then found dead his mother shared his belongings with people. And this little angel she gifted to me. She said that he bought 2 of such angels, one of them is his sister's the other was kept untouched. She explained the reason: the two angels were bought for individuals who he considered special to him, one of them is the sister, as for the other – he was waiting for right person to give it to them. And, ironically this one was forgotten in its package for a lot of years. Now it is placed in the shelve above my bed. This is strange, how life can turn events in unimaginable ways, I still find it mystic why and how this little angel which was meant to be given to a special person ended up in my hands.
 
The lesson that I learned from this story and what this object symbolizes to me was the following: never, ever postpone meetings with friends, family, significant people in your life that you plan. Always be in touch with them and share your kindness, care, and time with them – do not be greedy in this regard. By doing this, you double good emotions and gift them to your loved ones. And now, sometimes I feel like this object angel is with me for a reason, I feel a spiritual connection with it. 
Abigail Epplett
Uxbridge, MA
M.A. Museum Studies, Office Manager at Fairlawn Christian Reformed Church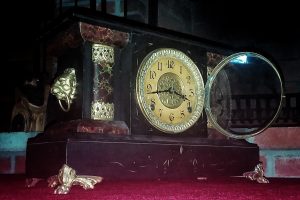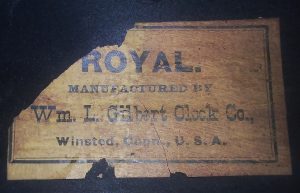 I am sending three pictures of my 1898 William L. Gilbert Clock, "Gilbert", to be part of "My Home Is a Museum". Here is some information about Gilbert:
Gilbert was built in 1898 by the William L. Gilbert Clock Company. This was during the height of the "Golden Age of Clock-Making" in Connecticut, which occurred during the late 19th and early 20th century. Other famous clock companies from this time period included Ansonia, E. Ingram, Seth Thomas, and Waterbury– now called Timex. This Golden Age ended after World War I, when clock manufacturing moved to factories in other parts of the world.
During the Golden Age, the wooden frames and brass gears of the clock were made by a machine and put together in an assembly line, while finishing touches like the painted "marbled" column and the intricate clock face were finished by hand. Even though the clocks could be built quickly and cheaply, each clock was unique. Gilbert's design takes inspiration from many different architectural styles, from the lofty columns of the Greeks and Romans to the simple wooden houses of Colonial America.
Gilbert demonstrates not only literal time– at least, when the days are cooler and less humid, so his gears do not get stuck– but also the figurative passage of time. Clocks like Gilbert are relics of a different era, when owning a fancy clock was a sign of prestige and sophistication; it is a lot like owning an Apple Watch today. Gilbert was proof that his family understood both the importance of both keeping time and keeping up with the times.
Giorgia Grisotto
Bern, Switzerland
PhD in Nutrition, Student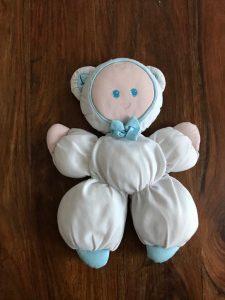 Attached the photo and my short description. I hope it's fine for the goal of the project! Let me know😃

This doll represents the time of my childhood. I couldn't sleep without it because when the lights were off, it made me safe. Its 'protection' represents the love I breathed at home during my childhood. When I see it, such sweet feeling rise up and I'm still child😊. 
References:
University of Helsinki. "What is time?." ScienceDaily. www.sciencedaily.com/releases/2005/04/050415115227.htm (accessed August 22, 2020).

Kuhn, Robert Lawrence. "The Illusion of Time: What's Real?" Space, July 6, 2015. https://www.space.com/29859-the-illusion-of-time.html.

Margolis, Helen. "A Brief History of Timekeeping." Physics World, November 9, 2018. https://physicsworld.com/a/a-brief-history-of-timekeeping/.