Working on the National Mall means passing many museums everyday. As we enter the month of June and celebrate the LGBTQ+ community, the museums and many other businesses alike will begin to post their celebratory rainbow-themed posters, flyers, merchandise, etc. Though this wash of rainbow has come under recent fire in the news, the National Building Museum, only a few blocks off the Mall, has put forth their own large-scale project to celebrate this Pride month: a massive art installation titled Equilateral Network by Lisa Marie Thalhammer. Thalhammer's work spans the entire lawn of the National Building Museum and was designed to allow visitors to safely distance themselves while viewing the piece.
Thalhammer credits her inspiration for the piece to Pierre L'Enfant, who planned the design of the federal district in D.C. along the Potomac River. L'Enfant's large, wide roads and clean angles dividing the city are evident in Thalhammer's piece, which feature similar triangle-shaped sections outlined in different rainbow hues. These rainbow hues are based on a specific palette chosen by Thalhammer herself, who states that the colors "represent the intersection of people's lived identities." The triangular shapes were also chosen to show the balance of the three branches of government, the pink triangles serving as an important cultural reference for how LGTBQ+ individuals were identified and as a reference to the AIDS/HIV epidemic. To learn more about the history of the pink triangle, you can visit actupny.com.
The National Building Museum serves as a fantastic site for Equilateral Network because of their common ground in architecture and engineering. The museum itself is dedicated to preserving the history and culture of building and all its aspects – urban planning, architecture, design, construction, etc. At its core, the National Building Museum commits itself to teaching the public about building from both a practical engineering perspective and a more culture-oriented design perspective. The latter lends itself to Thalhammer's work, which draws upon culture and history in its unique architectural design.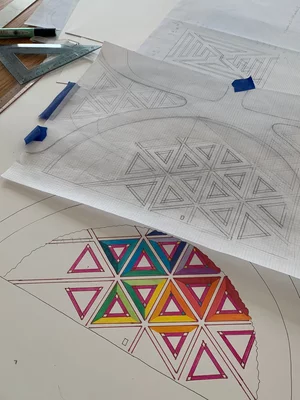 Thalhammer's Equilateral Network is a welcome and warm sight in the heart of D.C. Its size and dedication to history and culture invite visitors of all backgrounds to spend time with the piece and reflect. This invitation is even more important as museums and other cultural organizations in D.C. begin to open up, albeit with extensive safety precautions in place. Equilateral Network offers a haven for those wanting to celebrate Pride at the museum with history and art while safely engaging with their community.
For those in the D.C. area or those planning on visiting, you can view a regularly updated list of the museum reopening schedule here.