I recently had the pleasure of going on a tour of the New-York Historical Society's special exhibit on Citizenship, entirely curated and presented by Teen Leaders. The exhibit is located on Governor's Island, a park in New York Harbor that hosts a variety of art installations, food trucks, performances, and other events and activities. A decommissioned military base, exhibits are hosted in the homes of former military officers, making for an interesting backdrop for an exhibit on citizenship.
The Teen Leaders are part of a multi-year Student Historian Internship program at the museum. After completing a summer as a Student Historian, returning students can become Student Curators or Educators. Using New-York Historical's collection as the basis for their research, last year's crop of curators created a survey of US history through the lens of citizenship – who has it, who determines eligibility, and how those questions have shaped the United States of America.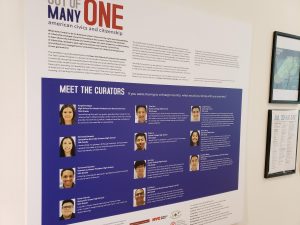 The exhibit moves through ideas about who was originally granted citizenship, when different groups of people agitated for full citizen rights, and moments when factions took action to rescind rights from certain groups. The exhibit does not shy away from discussing complicated moments from the United States' past, and takes care to include a wide representation of "Americans". Native American citizenship is covered, as well as the Chinese Exclusion Act, the Sedition Act, and the 14th and 19th Amendments.
Once the objects are selected (and reproduced), labels written, and the exhibit is hung, a second group of Teen Leaders focusing on Education arrive for the summer. These teens take the curators' work and develop interpretive content for the exhibit that they lead families in all summer, including theatrical presentations and hands-on activities. It was these students that we interacted with as we went through the exhibit, and their enthusiasm and intellectual curiosity was equally on display.
The Teen Educators led us in activities that asked us to engage with the material presented. We created scrapbooks about rights and responsibilities of citizens; connected new images of America to parts of the exhibition; read and responded to quotations about education in America; created flags that represented our own personal identities and values; and even watched an interactive theatrical performance featuring historical figures. The creativity and variety of the activities really encouraged audiences to think deeply about the topics covered, but also contained enough variety to be appropriate for every age range.
What struck me most as I read the labels and played the games was how well these Teen Leaders grasped the importance of their subject. These students have not shied away from the complicated history of who gets to be an American, and done it deftly with fewer than fifty images, highlighting people and events that challenged or upheld the status quo. It was a welcome reminder that teenagers are ready to work with difficult concepts, whether in the classroom or in an informal learning environment. As emerging museum professionals we should keep their abilities in mind as we plan their field trips and learning experiences.