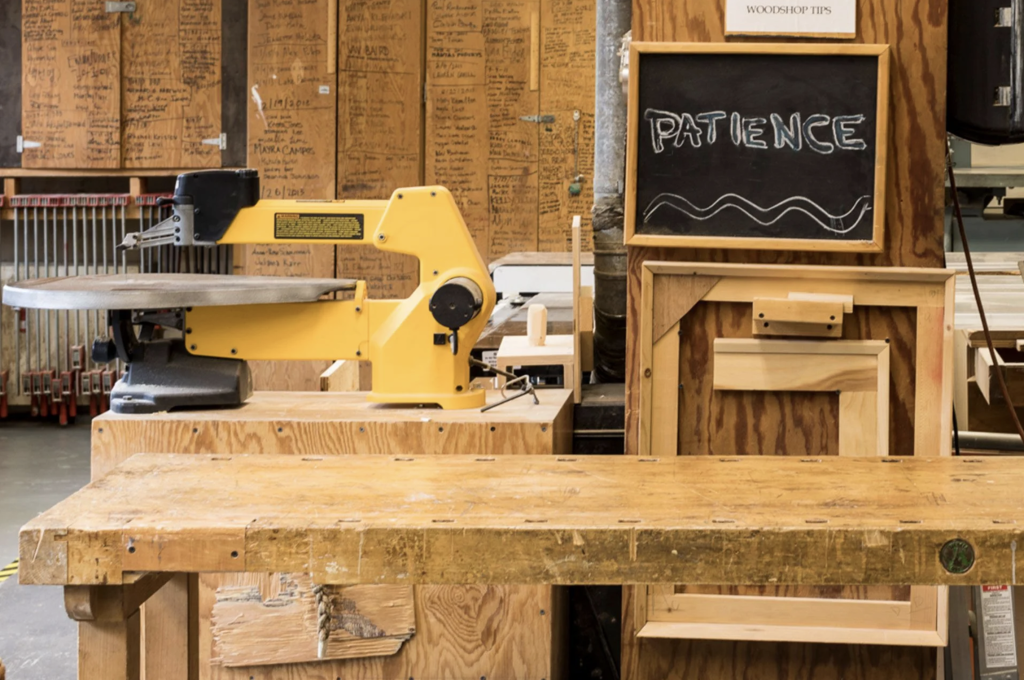 Overview
The Woodshop is open to all members of the SMFA community, and offers fabrication and safety training in support of a wide variety of sculptural approaches. Whether you want to make stretcher bars for your paintings, frames for your prints, or structures for your installations, students get the support they need for projects. The shop is well-equipped to accommodate projects involving anything from woodcarving to furniture and guitar making, to installation work.
How to Gain Access
This studio can only be accessed by certified users when a safety monitor is present and a class is not currently meeting in the space.
To receive certification, users must be currently or previously enrolled in a class in the studio, sign up for and attend certification sessions, or contact the Studio Manager for other training and certification options.
Tools & Equipment
Measuring, drafting, marking tools
Chop saw, jig saw, table saw, band saw, panel saw
Palm/orbital sander, belt/disc sander, spindle sander
Drill press, cordless drills/drivers, flex shaft
Planer
Jointer
Router
Laminate trimmer
Biscuit/domino joiner
Consumables
For purchase at or through School Store
Various types and sizes of wood stock and sheet
Safety & Policies
HIGH HAZARD STUDIO
All users must read, sign, and abide by the Studio Policies and Contract document which outlines studio safety and procedures. Simply reading the document does not grant access. See How to Gain Access above.
Note: Close-toed shoes are required to work in this studio. You will not be allowed to work in the studio if you are not appropriately dressed.