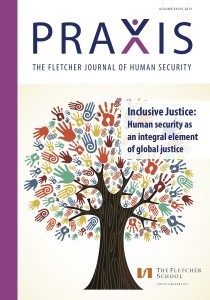 We are proud to announce the on-line publication of the journal's twenty-eighth edition, "Inclusive Justice: Human Security as an Integral Element of Global Justice."
PRAXIS: The Fletcher Journal of Human Security views the complexities of pressing global issues through a multidisciplinary lens. We believe that the security of individuals is best understood by drawing on the intersecting fields of human rights, conflict resolution, humanitarian assistance, and international development. This year we have modernized the journal by expanding our online presence with the PRAXIS blog, as well as developing a new logo and cover design. Along with these exciting new developments, PRAXIS remains fully dedicated to its primary mission as an academic journal, and we are pleased to present the twenty-­eighth edition of scholarly articles. This year's articles focus on different facets of inclusive global justice, with authors investigating  human-centric mechanisms of transitional justice, peace processes, and international development.
In our first article, Adan E. Suazo argues for the importance of long-term political inclusion of former combatants to prevent the reoccurrence of conflict. Through three  case studies, he investigates different political inclusion mechanisms contained in peace treaties and the ability of former warring parties to obtain electoral success in post-conflict. He concludes by defining the types of inclusive strategies that may be the most  conducive to peace by allowing parties a true opportunity to gain political power.