Over the next three years, Tufts is adopting a new, university-wide Learning Management System (LMS) to replace Trunk and TUSK. After more than a year of careful research, Educational Technology Services selected Canvas by Instructure as our new LMS.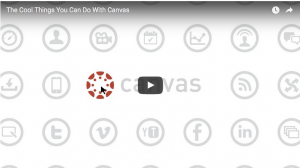 Canvas is a best-in-class, open source LMS with an intuitive interface, a robust feature set, and excellent vendor support. Many of Tufts' local peer institutions – including Boston College, Harvard University, Brown University, and Emerson College – have adopted Canvas, providing an opportunity for us to work with our colleagues on suggesting and creating new tools and features.
Watch a video introduction to Canvas and learn more about some great Canvas tools.