---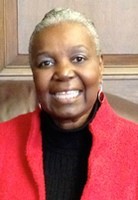 ---
Senior Associate Editor
---
Marva E. King is a leading expert on and contributor to efforts to promote environmental justice in America.  In 2017, Dr. King retired from the Environmental Protection Agency (EPA) where she had long served in various positions including: Advisor to the Associate Administrator for Environmental Justice (EJ) and Community Revitalization; EJ Coordinator in the Office of Air and Radiation; Senior Policy Advisor in the Office of EJ; Co-Chair of the Community Action for a Renewed Environment (CARE) Program; and Program Manager for the National Environmental Justice Advisory Council (NEJAC). 
---
From 2018-2020, Marva served on a George Mason University Health and Climate Solutions team supporting community work for the Robert Wood Johnson Foundation.
Marva has earned numerous prestigious awards including the 2017 EJ Trailblazer Award, 2010 EPA Gold Medal for the CARE Program, and the 2010 Children's Environmental Health Network's Child Health Advocate Award.
Currently, she is the Treasurer on Coming Clean, Inc.'s Board of Directors. Marva holds an MPA from the University of Delaware and a Ph.D. in Public Policy from George Mason University.