Taiwan's Lafayette Frigate Affair
Introduction
In 1993, the body of a naval officer washed ashore in the small town of Suao, on the eastern edge of the island of Taiwan.[1] The resulting investigation led to the unraveling of a corruption scandal which continued for 19 years and implicated hundreds of millions of dollars in restitution. Yin Ching-fen, the officer found at sea, was head of the Taiwanese (Republic of China's) naval procurement directorate, and had been collecting evidence of irregularities in the purchase of six Lafayette-class frigates from France. According to that evidence, the French company which produced the Lafayette frigates had bribed Taiwanese Navy officials to set standards that benefitted their offering. While the navy initially cited drowning as his cause of death, an external coroner confirmed that he had been murdered.
In the course of the investigation by prosecutors in France and Taiwan, both sides found reasons for alarm. Taiwanese complaints focused on the inadequacy of the vessels and the inflation of their cost relative to a similar package offered to Singapore. In France, the deal became entangled in the larger scandal over retro-commissions, kick-backs paid by arms sales clients used for funding political activities in France.
Key Facts
Buyer country: Taiwan
Selling countries and companies: DCNS (France), Thomson-CSF (France)
Year of Procurement Decision: 1991
The equipment sold: 6 Lafayette-class Frigates
Initial price: USD 2.8 billion
Amount involved in corruption allegations: USD 500 million
Dramatis Personae
Andrew Wang – agent of Thomson-CSF; indicted for managing the bribery.
Kuo Li-Heng – colleague of Yin Ching-fen, the murdered whistleblower; accused and convicted of leaking military secrets and receiving bribes. Sentenced to life in prison, but released after 20 years in 2013.
Roland Dumas – French foreign minister (1984-86, 1988-1993); accused, convicted, and acquitted on appeal of receiving bribes from his mistress in exchange for softening opposition to frigate deal.
Hau Pei-tsun – Taiwan's premier (1990-1993) during the negotiation of the Lafayette deal; accused of responsibility in modifying the terms of the tender but not impeached.
The Arms Deal
The USD 2.8 billion Lafayette deal was signed in 1991 and was mired in controversy from the start. Taiwanese defense plans called for a force of small frigates, but a plan to purchases these from South Korea was dropped in favor of a package put together by DCNS, the French state-owned shipyard, and its partner, Thomson-CSF (later Thales), for the larger Lafayette. Originally, the ships were to be built in Taiwan by China Shipbuilding Corporation, but in March 1993 this policy was discarded in favor of a direct purchase from DCNS.
Captain Yin Ching-fen was part of the 1993 Taiwanese team that made visits to DCNS in France to inspect the frigates' construction. After he began collecting information on the ships' deficiencies, he was anonymously accused in November 1993 of corruption associated with a different procurement deal. To protect himself, Yin made an attempt to document the Lafayette deal, visiting and speaking to key players on the Taiwanese side of the transaction. The next day, December 9, 1993, he disappeared.
Corruption Allegations

Former Taiwanese Premier Hau Pei-tsun speaks to the press in Taipei in December 2004. Getty/AFP, Sam Yeh.
In 2002, the Control Yuan, a government accountability organ of the Taiwanese state, published a report summarizing its investigation into the frigate deal and casting light on the purposes of the corruption. The investigators found that Hau Pei-tsun, premier from 1990 to 1993, and senior naval officers had taken procurement decisions that conflicted with official naval plans and undermined the power of President Lee Teng-hui by keeping him out of the decision-making process. According to the report, navy leadership knew that the Lafayette conformed less well to requirements than the South Korean option, and consequently changed requirements to advantage the French option.
Former French Foreign Minister Roland Dumas eventually admitted in a book and TV interviews that the French government had, through the partially state-owned oil company Elf Aquitaine, paid USD 500 million in bribes to secure the frigate deal, of which USD 400 million went to KMT Chair James Soong, and USD 100 million to the Chinese government to sooth Chinese objections. Soong likely acted as a conduit for the money, rather than the final recipient. Elf Aquitaine was the same oil company that was later found in a wider investigation to have been used for years as an arm of state policy and a slush fund for bribing French and foreign politicians and officials.
Investigations and Outcomes
The winner of the 2000 presidential election, Chen Shui-bian, had been a vocal critic of the Lafayette affair and campaigned, in part, on a platform of anti-corruption. Chen tasked the Control Yuan with investigating the case after his victory. This body severely criticized the navy over the way the deal was conducted and in March 2002 revealed that the price of the deal had been inflated from 10 billion Francs to 15 billion (USD 2 billion – although the contract was eventually USD 2.8 billion). Its final report in May 2002 confirmed that commissions were paid, although a figure does not appear to have been given at that time. President Lee was exonerated and responsibility for masterminding the deal was assigned to Premier Hau. The report did not, however, call for Hau's impeachment.
Taiwan sought the cooperation of the Swiss authorities in tracking down money in Swiss bank accounts linked to the deal, in particular in the accounts linked to the agent Andrew Wang. Wang, a representative of Thomson-CSF in Taiwan, fled the country shortly after Yin's death in 1993. In 2000, he was indicted in absentia for the murder.
French investigations relating to the deal first began in the 1990s following the eruption of the Elf Aquitaine scandal in 1994. Former Foreign Minister Roland Dumas was investigated in 1997 in relation to claims by his ex-mistress, an Elf employee, that she had paid him bribes from Elf in relation to the frigate deal to overcome his opposition to arms sales to Taiwan.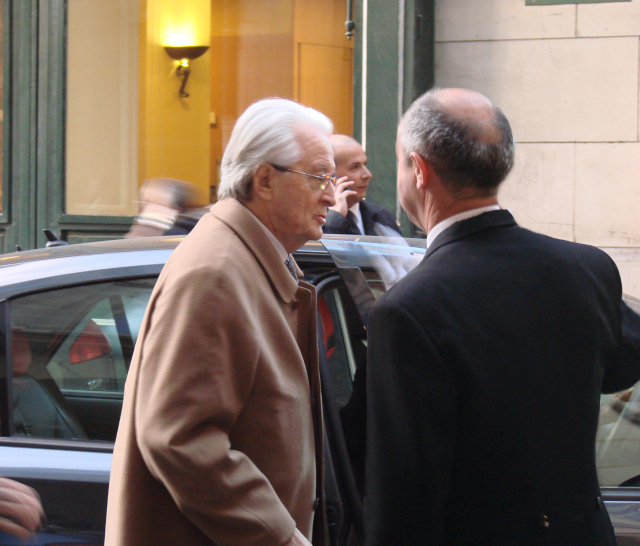 Dumas was subsequently convicted in May 2002 for embezzlement from the public treasury, but acquitted on appeal in 2003. The French investigation into potential retro-commissions stemming from the Taiwanese deal was called off in 2008 after prosecutors failed to establish that bribes had been paid back into the French political system.
The International Court of Arbitration at the International Chamber of Commerce ruled in 2010 that Thomson CSF – now Thales – had breached an anti-corruption clause in its contract with Taiwan for the frigates. It was ordered to pay damages of EUR 630 million, equal to the amount of the bribes plus interest. Thales and the French government agreed to pay after the ruling was confirmed on appeal in 2011, with the amount split 72.5% from the French government on behalf of DCN, and 27.5% from Thales.
The only person convicted in Taiwan over the deal was navy Captain Kuo Li-heng, who was convicted of receiving bribes from Andrew Wang. He was sentenced to 15 years in prison, but as he was already serving 20 years for leaking state secrets, in the end, he only spent an extra 6 months in prison over the frigates, due to a general commutation rule. The 6 months were due to his inability to pay a fine on top of the prison sentence. His sentence was finalized by the Supreme Court in 2014. Six other senior naval officers were charged with corruption, but acquitted. Kuo's brother was convicted on a money-laundering charge related to the corruption.
Taiwan is continuing to seek to recover stolen assets in Swiss bank accounts linked to Andrew Wang and to Kuo. A total of USD 730 million of assets has been frozen by the Swiss authorities. However, the process was complicated by Wang's death in the UK in 2015, at the age of 87. Taiwan's government instituted a further lawsuit in 2011 for USD 98 million against DCNS over additional alleged kickbacks.
Banner Image Credit
Image Caption: Taiwanese President Tsai Ing-wen on an inspection tour of Republic of China Navy Lafayette-class frigate Di Hua (FFG-1206) in July 2016.
Image Source: Office of the President, Republic of China (Taiwan).
Sources (Click to Expand)

Brian Hsu, "Navy accuses France of overcharging for frigates," Taipei Times (online), Mar. 15, 2000, http://www.taipeitimes.com/News/local/archives/2000/03/15/0000027885.

"Catching the corrupt," Newsweek (online), Sep. 3, 2000, http://www.newsweek.com/catching-corrupt-159281.

Brian Hsu, "The murder of Yin Ching-feng: a history," Taipei Times (online), Aug. 7, 2000, http://www.taipeitimes.com/News/local/archives/2000/08/07/46768/1.

"Paris court rules in favour of Taiwan," Taipei Times (online), June 11, 2011, http://taipeitimes.com/News/front/archives/2011/06/11/2003505484/1.

"Thales pays up in Taiwan frigate battle," UPI (online), June 15, 2011, http://www.upi.com/Thales-pays-up-in-Taiwan-frigate-battle/56631310764247/.

"French judge dismisses Lafayette case," Taipei Times (online), Oct. 3, 2008, http://www.taipeitimes.com/News/taiwan/archives/2008/10/03/2003424891.

"France moves to dismiss Taiwan warship probe," The China Post (online), August 7, 2008, http://www.chinapost.com.tw/taiwan/national/national-news/2008/08/07/168923/France-moves.htm.

"The man who keeps the secrets," Malaysia Today (online), June 13, 2012, http://www.malaysia-today.net/the-man-who-keeps-the-secrets/.

Hugh Schofield, "Murder and cover-ups in 'Taiwan connection,'" IOL South Africa (online), Nov. 26, 2003, http://www.iol.co.za/news/world/murder-and-cover-ups-in-taiwan-connection-117568.

Jonathan Adams, "Corruption in Taiwan: the French connection," PRI (online), May 14, 2010, https://www.pri.org/stories/2010-05-14/corruption-taiwan-french-connection.

"Book delves into frigate scandal," Hugh Schofield, BBC News (online), Dec. 1, 2003, http://news.bbc.co.uk/2/hi/europe/3244148.stm.

[1] This blogpost uses the terms "Taiwan" and "Republic of China" interchangeably to refer to the de facto autonomous government of the island of Taiwan.