By Sarah Wagner
Photo via Mindstretchers Ltd.

Imagine the best possible early childhood program – where children spend the day in a space beautifully organized to invite a variety of forms of children's play, where the children remain engaged by a rich array of materials to play with, build with, and learn with, and where teachers engage the children in soft-spoken, validating ways that keep them feeling secure while stimulating their thinking, their problem solving, and their motivation and ability to cooperate with peers. And imagine too that in this best possible program, children get all they need to be healthy physically and become resilient when the inevitable bumps and bruises happen and when unexpected challenges present themselves. If you have done a good job imagining, you may have imagined a program where children spend most of their day inside and where they are outside only when let out for recess – to play on swings, in the sandbox, and on the climbing structure.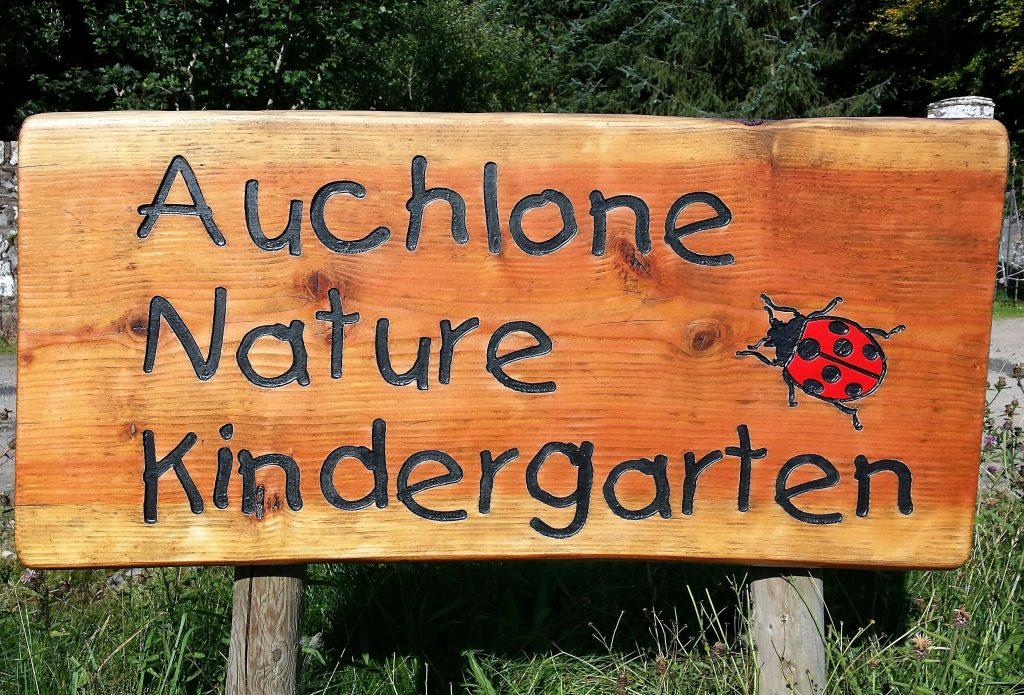 But for over ten years the Auchlone Nature Kindergarten has everything you likely imagined that defines a best possible early childhood program – and more, because at Auchlone, children spend eighty-percent of their time out-of-doors — in the garden and woods where there is a stream, a pond, several student-made dens, cabins, and many woodland areas for the children to explore. The "more" comes from the rich variety of materials and opportunities that only the natural world can offer children – materials and opportunities that perfectly match children's interests and challenge children to think, master emotions, and work together. Nothing inside can match the wind, water, and fire that one finds or makes in the natural world. And nothing inside compares to the variety of colors, textures, biodiversity and physical terrain found in the out-of-doors. No matter what learning style or level of intellectual and emotional maturity, outside, in nature, there is something for everyone.
So, is Auchlone Nature Kindergarten just another forest school where children play and explore on their own and where children learn about nature while in nature? From the descriptions and accounts of its founder, Claire Warden, the answer is "No – because in addition to learning in and about nature, the most important learning at Auchlone is learning with nature. Learning with nature means learning by making use of the materials and opportunities provided by nature, including the materials of wind, water, trees, and soil and opportunities to build fires, make use of downed trees for fantasy play and categorize for collections of different kinds of stones. Furthermore, learning with nature means learning with the special supports provided by teachers and educational tools – particularly the documentation tool Warden has named "Talking and Thinking Floorbooks".
Talking and Thinking Floorbooks are very large books starting out with very large pieces of blank paper; they sit on the floor with teachers and children gathered around. Each child may have a different colored marker so that a child's marks made on the paper can be identified as that child's marks. Through children drawing pictures and sometimes writing, and with teachers often acting as scribes writing down what the children say, the floorbooks provide documentation of children's thinking before, during, and after some experience out-of-doors – thinking that develops with the support of teachers' open-ended questions that validate children's interests and thoughts and that invite them to say more. These periods of documentation make for a child-centered curriculum, one that feeds off of children's interests and promotes their thinking to explore, design, and reflect – so that they come to interact with their natural surroundings in more intentional and thoughtful ways. For example, a child or group of children may express interest in birds and then, by using the floorbooks and with help from teachers, record their thoughts about designing a bird "hide" – a construction that they can later build and use to observe birds and record their findings about birds. When using floorbooks to shape the curriculum, the pace is slow – as children stay with one subject sometimes for long periods of time – all of which makes their learning richer and more meaningful than is the case in the faster paced curriculum that so often characterizes curriculum imposed by adults.
In nature, there are risks and hazards. At Auchlone, risks and hazards provide opportunity for teachers to help children become adept at benefit-risk analysis and at dealing with hazards. For example, a teacher discussed with some children that a wooden structure they had built had sticks low to the ground that might trip someone. The children immediately walked over to the "tree wrap"—a way for tools to be displayed so every child can see them—and selected the correct saws and protective gloves. The children then walked back to the structure and on their own, carefully trimmed the sticks. Needless to say, their skill at using the saws and the good sense to wear a protective glove had been developed long before, during special times set aside for the children to be taught safety skills when sawing. They had, in other words, been empowered to solve safety problems, if not entirely on their own, then at least with only a little help from adults.
What about how Auchlone nourishes the development of the children as earth stewards? First and foremost, the nourishing occurs by helping the children form deep connections to nature, connections that no doubt will lead to a lifetime of caring for nature. As an example, one group of children wanted to make a habitat for a group of frogs they found in the surrounding woods. Their teachers encouraged them to do so – which led to the children constructing a habitat that included a pool with a bridge. With great excitement, one child remarked, "When the frog is swimming, it can find this bridge, and climb up it." Another continued, "That can be the climb-out bridge, and this can be the climb-in bridge." The children felt that the frogs deserved a safe and fun place to live, so they took action and worked with their natural surroundings to create a safe and fun habitat for frogs.
In addition to fostering in children a deep connection to nature, Auchlone also makes explicit the need to show care for nature by protecting nature. For example, Claire Warden and some children happened upon snowdrops, one of the first flowers to bloom in Scotland's spring. She shared with the children her worry that people might step on them, and then, to emphasize her point, she said, "Look what's happened here to this snowdrop—it's broken. What can we do so people won't walk on the snowdrops?" One child suggested "Make a big, big, big round circle…with wood." And so the child and another child went hunting through the woods to find logs and sticks to protect the snowdrops.
Along with care comes a focus on forest management, as the students and teachers at Auchlone have a unique opportunity to help maintain the forest and keep it healthy for learning, but also for the animals and plants that live there. One teacher asked her class what they thought could be done about the path getting too muddy when it rains. One student shouts, "We could put sticks on the top — like a carpet — so the mud won't get worse. Or we could put leaves on it." Another suggests, "Or we could just put planks across the top of path to keep the rain from getting into it." The first student counters, saying, "It would be easier to just use sticks, because you'd probably have to go buy planks. And it's more nature if you just use dead sticks." As everyone suggested ideas, the students became more invested and passionate about solving the problem of the muddy path. Doing so gave them an experience in forest management.
And so now, if you again try to imagine the best possible early childhood programs, hopefully nature plays a major part? The program need not be confined to four walls; it can also be outside where new and interesting problems and challenges appear, and where teachers and children work together to manage risks and eliminate hazards — all to create a safe environment where young children take full advantage of nature's toolbox—a toolbox with an endless supply of materials to learn with, play with, and, over time, develop with.
and