By Janot Mendler de Suarez and Pablo Suarez
Image by mathiaswasik, via Wikimedia Commons
Notes from the editor
Humor has long been a support for children's and youth's positive development – and yet there is relatively little written about humor and the possibilities for using humor to engage children and youth in developing as earth stewards. In Janot Mendler de Suarez and Pablo Suarez' essay, we gain insights into how humor works to motivate adults to address serious issues around climate change and environmental justice. Our job is to take those insights and figure out how they can be applied to our work to support tomorrow's earth stewards.
What does humor have to do with serious stuff like climate change and environmental justice?
Short answer: everything. Most people associate 'humor' with laughter, fun, or jokes, but when we asked legendary cartoonist Bob Mankoff what he thinks of when thinking about humor, he looked us straight in the eye and replied: Death. Professional humorists see the world through the lens of what's absurd but real, what's unacceptable yet accepted. That's why they associate humor with risk and danger (which can certainly lead to death). There is a logical progression from ambiguity, to incongruity, to conflict that informs the creation of what others recognize in their work as humor and that can help to motivate us to reflect and act.
This power of humor to motivate came to us as a solution to our struggles to engage people to act when relying on science alone. As researchers and water resource systems managers turned humanitarian workers, our jobs involve a lot of communicating about the complexity of climate risks. However, when trying to talk science to disaster managers, we discovered (rather painfully) that we were extremely good at putting people to sleep. Guess what: research shows that showing research doesn't work!
Reflecting on a deeper level, it seems what we really need to figure out is how to embrace and harness conflict. What we're ultimately trying to do is to foster risk-informed decision-making. But this involves weighing the different priorities of different people and groups, and often struggling to resolve different objectives. If we avoid the clash of differing priorities and objectives, we prevent the sparks of illumination that need to fly to find viable solutions.
Take clashes over environmental justice as an example. The world's most vulnerable people are facing food insecurity, livelihood insecurity, and for growing numbers around the world, disaster-induced displacement. Tweaking the status quo is not a solution. The risks of uncertainty and instability are growing at an unprecedented rate, and the level of risk to humanity – including the very functioning of the biosphere, the earth's life support system – will continue to accelerate to the extent that the roots of inequity, and the related existential risk of climate change, are ignored. Clearly, collective action to make structural changes is needed. But how do we effect such changes when the priorities and objectives often clash?
Humor can help – in part, because humor deals so deftly with risk and conflict, and in doing so, humor can lead us to the edge of our comfort zone around conflict and in a way that is empowering, and thus feels safe. In other words, humor can serve as a sort of societal flight simulator to harness the risk of conflict in making difficult decisions. Humor also allows us to objectify, to view ourselves as part of a system with its own rules and dynamics, which in a humorous light may not seem so immutable after all.
Humor can open a window on ourselves and the systems we might otherwise take for granted. Cartoonists develop an uncanny ability to create a parallel reality that sheds light on the contradictions, tensions, and general ridiculousness of our world. They notice what is unacceptable yet accepted, and we delight in their humor that challenges the status quo.
One area where cartoonists have made us laugh at the unacceptable is what's happening (and not happening) in response to climate change and what's happening (and not happening) with respect to the injustice visited on the most vulnerable who are least responsible for climate change. In making us laugh, cartoonists help to dissolve the denial and avoidance that prevents us from acting to address these heretofore intractable problems. By helping us bridge the gap between what is seen and unseen, spoken and unspoken, between what is and what could be and should be, through their humor, cartonists keep us honest.
Humor that is inclusive, that reveals to us our role in a bigger system in an ironical or challenging light that makes us smile also makes us feel that change is possible. This may in part explain why we find that shared humor helps us feel more able to face the reality of climate change together, and also to engage in difficult conversations, on issues that could lead to conflict. Cartoonists use humor to make the strange familiar, and the familiar strange. Exploring the humor they create offers a safe space for discovery, and invites us to confront cognitive dissonance, and to engage in difficult conversations.
Put another way, cartoonists provide metaphors that mirror our cultural reality, metaphors that invite us to recognize what in that reality is ridiculous, inexcusable, and in need of change. And in our collective experience of finding humor in the absurd and unacceptable, we are invited to become co-creators of new cultural metaphors. That is, when, because of humor, people are having a good time discussing serious stuff, hard truths become the focus for all involved, and shifts in thinking and relating can start to happen. Recognizing how the humor of cartoonists works to foster good discussion around contentious issues (such as climate change and environmental justice) led us to join forces with professional cartoonists to develop a facilitated method for co-creating visual humor as a means to confront risk and promote difficult discussions. This is a new method we call Cartoonathon!
Whether carried out virtually or in person, the "cartoonathon!" is a new modality of co-creative interaction which quickly engages participants in making meaning – from confronting ambiguity, incongruity and conflicting ideas to sharing ideas and collaborating for the purpose of designing meaningful actions. With help from Mankoff and the CartoonCollections.com team, we've begun to design and deliver virtual events for organizations in the humanitarian sector (IFRC), international organizations (the World Bank), universities (Northeastern), and organizations focused on social and environmental responsibility (the BMW Foundation). Here's how these events work:
After a brief welcome, we jump right in with a warm-up exercise in cartoon annotation. Participants are invited to review a curated selection of a dozen or so thought-provoking cartoons, comment and discuss in small breakout teams. Next, while participants experience informative presentations on the event's theme via live stream, several cartoon artists attentively listen and in real time, sketch original cartoons inspired by what they hear, including any "Q & A" or breakout group reflections. Their cartoons aim not to synthesize content or produce laughter, but to highlight cognitive dissonance and challenge what they have heard using creations that inspire critical reflection and meaningful dialogue. That is, the aim of sharing these tailored cartoons is to facilitate a meaning-making process that takes participants from "Huh?" to "HaHa", to "Aha!"
For example, in a "cartoonathon!" on disaster risk financing with members of the Afghan government, when an official requested support to "bring the government to the field where climate related disasters happen", participants nodded in acceptance, but one of the cartoon artists detected and depicted some underlying assumptions, with a drawing of a bureaucrat, busy at a large desk in the middle of a field of dried-up crops, observed by two official-looking characters, and in the caption one remarks to the other, "We put him in the field, but it didn't help." At first glance participants were confused ('Huh?'), then smiled ('HaHa') in recognition of the likely future that awaited their proposal, and some burst out in laughter as they reached a shared insightful realization ('A-ha!') — that merely being present is not enough for delivering solutions out in the field where disasters happen.
In the culminating step of a "cartoonathon!", participants critically examine the draft cartoons and suggest ways to make them clearer, better, and/or more useful. Doing so becomes a bonding experience, which can lead to participants discussing how the newly-created cartoons relate to the problem at hand and to their own experiences – discussions that can trigger insights and proposals for next steps to solve problems.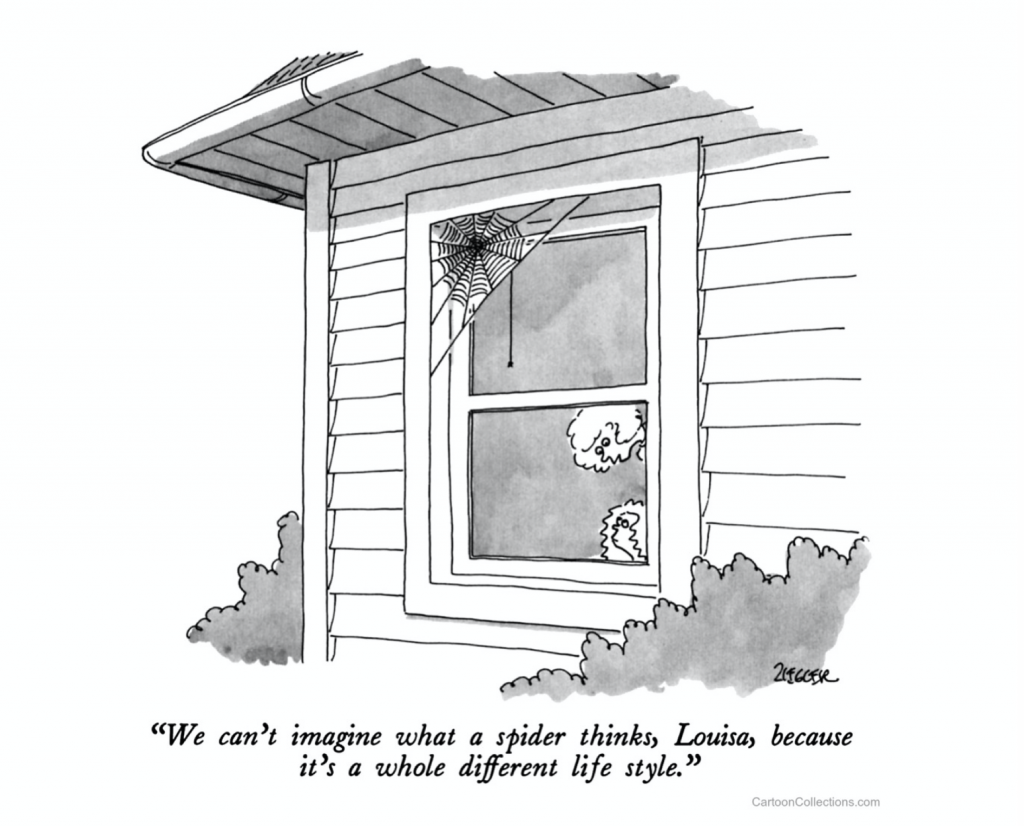 Here's another example of a cartoon working to promote meaningful discussion and an aha experience. The cartoon depicts a humorous conversation between mother and child about the spider's different life style being what prevents us from understanding spiders. It offers a metaphor that, depending on the context, could be used to invite conversation about the tensions between human systems and natural systems, or conversations about cross-cultural differences in lived experience, or carried even further, about barriers that prevent us from seeing ourselves as part of one unified natural system within a larger interdependent system- of -systems.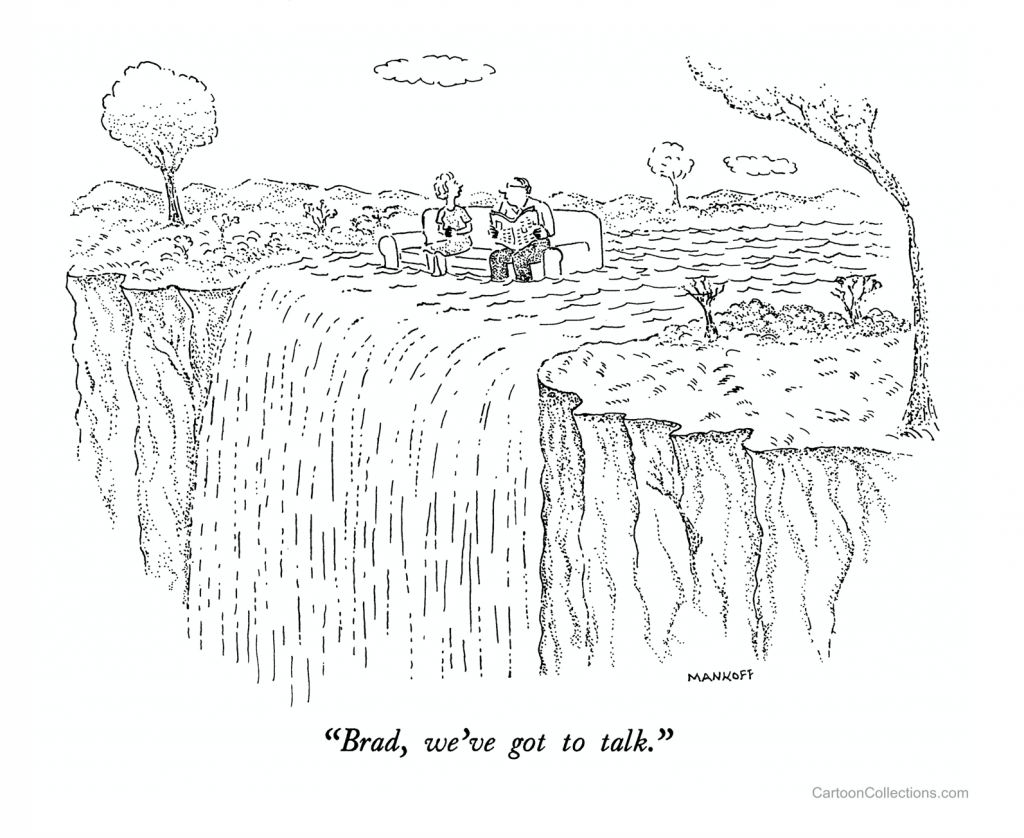 Countless cartoons about everyday risks and conflicts, originally conceived for other reasons, become eerily relevant when applied to opening conversation in the context of covid-19. This is in part because humor is a universal language. It is a reflection of the human spirit, a language for making meaning, that can help to bridge issues and culture. We recognize the metaphor and translate it according to our own context.
Two people may share delight in a specific cartoon, and while a shared experience of finding it funny can begin to shift the culture of a group, it can at the same time trigger processes of inner interpretation that may have different meanings and nuance, including nuance or meanings beyond what the cartoonist may have had in mind. By facilitating this process of cartoon-inspired dialogue around what strikes these chords of humor, we can harness humor to drive collective discovery, in ways that deepen conversation and enlarge the scope of collective insight.
Janot Mendler de Suarez and Pablo Suarez are visiting research fellows at the Boston University Pardee Center for the Study of the Longer-Range Future
Footnote: For those wishing to make use of cartoons and their humor to support good discussion around complex and often contentious issues, the following content-specific creations by professional cartoon artists Drew Dernavich, Emily Flake, Kaamran Hafeez, Paul Bisca, Peter Kuper and Rebeka Ryvola can be found here.