By Jane Hirschi
Images via the author
Editor's Note:
Around the world, over a billion children and youth live in cities – many in low-income neighborhoods where schools face unusual challenges. For these children and youth to connect to nature, care for nature, and learn from nature, they need extra supports – a prime example being school gardens – as Jane Hirschi explains through telling the story of her program, CitySprouts.
Years ago, I spent an afternoon with a group of eighth-grade boys digging up potatoes. They were amazed to find potatoes growing underground and surprised by their almost peppery flavor when we cooked and ate them. More recently, I witnessed a third grader who often struggled when asked to speak about lessons carried out in the classroom but who could speak with authority about the decomposition process in the school's garden compost bin. And even more recently a seventh grader showed off her impressive knowledge of flowers – knowledge stemming (pun intended) from her active participation in school gardening and from drawing flowers in her art classes and searching on the internet for flowers she had never seen. These and countless other stories have taught me the power of school gardens for connecting students to nature and for supporting their learning. This power is all the more impressive when school gardens are in the city.
These stories come from my work as founding director of the CitySprouts school garden program, a program focusing on integrating garden-based learning in high-need, urban public elementary and middle schools in Boston and Cambridge Massachusetts. The program began with the Haggerty School in Cambridge, where the principal, Joe Petner, saw the school garden as, "softening the lines between the institutional school" and making school "feel like home." That is what CitySprouts has been doing for two decades, making school feel like home.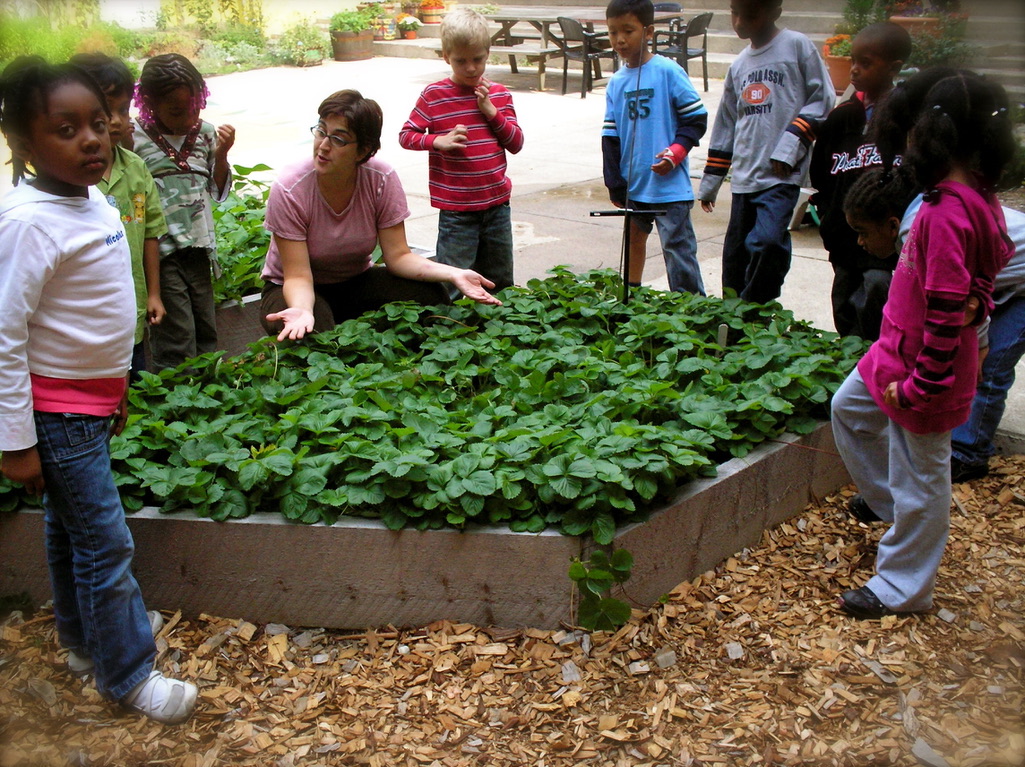 But school gardens can also be laboratories for learning, in particular, learning about how nature works and about the science that underlies the world we all live in. When used by professional teachers, school gardens can also support language development, numeracy, and scholarly skills in general, as well as children's understanding of complex processes and concepts such as the water cycle, decomposing, invasive species, symbiotic relationships, the albedo effect, and more. Yes, all these skills and knowledge can be developed in the classroom, but when also developed in school gardens, there can be a synergy created between garden and classroom that makes learning far more likely to happen and, well, more fun – as the previous story of the 'flower' girl illustrates.
As another illustration, consider early childhood teacher, Janet Forte, and her pumpkin lesson. Toward the end of October, Janet and the children bring a pumpkin from the school garden into the classroom – for carving into a jack-o-lantern to celebrate Halloween. Many early childhood educators also bring pumpkins into their classroom, but Janet does much more. First, the children count and save some seeds for toasting and eating – and then choose a handful to plant in the school's garden in the spring. And after the planting seeds are saved, Janet does something quite different from most teachers. She sets the pumpkin on a tray on the wide windowsill and lets the young students watch as it decomposes. She says, "We talk about the mold growing on the pumpkin, and after the pumpkin has gotten as saggy and leaking as we can bear, we bury it in the school garden. As an experiment, the children bury the pumpkin along with leftover food from snack time and inorganic things such as plastic containers and tin foil. Each child contributes to what is buried. And then we ask the kids to predict what will happen to the pumpkin and the things buried with the pumpkin. Months later, in the spring, we dig up what was buried and together we observe that the pumpkin and food from snack time are gone but the plastic containers, tin foil and other inorganic things are still there – an observation that always stimulates good conversation about how nature works. Then we plant the saved pumpkin seeds, and the cycle starts all over again."
Janet's story and many others clearly show the rich and varied ways that time teaching in the school garden and time teaching in the classroom can go hand-in-hand and make it possible for powerful learning to occur. To make that synergy and partnership between school garden and classroom learning more likely to happen, there are design principles for school gardens that pre-date CitySprouts. Ideally, school gardens have a border serving to define that what happens in the garden learning space is different from what happens outside the border. And ideally, there is a gathering space for the whole class, enough growing spaces for children to dig as well as to plant, and a few nooks and crannies for children to explore. Of course, these are design principles for meeting an ideal – not every school has the luxury of being able to use them all – but having them in mind can help design any school garden to be good enough, that is, good enough to become laboratories for learning where children connect with nature in important and memorable ways. This is especially needed in our urban schools.
Jane Hirschi is founder and director of CitySprouts, which has for over two decades developed school garden programs for Cambridge and Boston Public Schools.