October is a great time to talk about LGBTQ+ identity in museums! You may be thinking, "Isn't Gay Pride in June?" and you'd be right, but October is also a key month for discussing more than just pride. Not only was National Coming Out Day held on October 11th, but it also happens to be LGBT History Month in the US and UK. Additionally, the first annual International Pronouns Day was observed this year. This event seeks to normalize the practice of recognizing preferred pronouns and asking for them in public spaces. Considering as well the recent rumors that the Department of Health and Human Services is about to propose changes to the federal definition of of gender to exclude trans and genderqueer people from federal civil rights protections, the time is right to evaluate how museums are treating their LGBTQ+ audiences, staff, and subjects.
The American Alliance of Museums has made a guide for welcoming LGBTQ+ people available for several years now and it is an excellent place to start when evaluating if your museum is doing all it can do to support the LGBTQ+ members of its community. The guide is multi-faceted, applying LGBTQ+ concepts to AAM's seven Standards of Excellence, ranging from Facilities Management to Public Trust and Accountability and everything in between. Like their Standards of Excellence, the LGBTQ+ Guidelines provide a handy self-assessment checklist to aid museum staff in evaluating their own institutions. So what do these standards look like?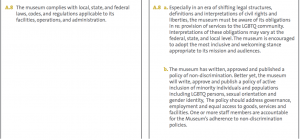 In this example from the Public Trust and Accountability section, you can clearly see how a Standard of Excellence, in this case adherence to all federal, state, and local laws, can be put through an LGBTQ+ critique that results in guidelines that surpass the requirement to comply with laws. While your institution will of course continue to follow any governing statutes, regulations do not always protect people from harassment on the basis of gender identity or sexual orientation, for example. In a case like this, creating an internal policy that assures your LGBTQ+ staff and visitors that harassment or bias is not permitted on site helps your organization move from indifference to welcome.

Here, within the Mission and Planning standard, the recommendation to be inclusive of local communities when making decisions regarding collections, exhibits, or programming is applied specifically to the LGBTQ+ community. Moving beyond "token" attempts at diversity to build relationships with your local LGBTQ+ community groups shows an investment in the people that make up your audience. Consulting with LGBTQ+ experts and groups when putting together exhibits demonstrates an interest in accurately representing a marginalized community.
The intention of these guidelines is to provide measurable benchmarks that indicate that an institution has moved past "tolerance" of LGBTQ+ people into "inclusion" or better yet, ownership and community collaboration. In a time where rights that have been secured are at risk of being rolled back, it is worth taking a fresh look at these guidelines to consider if your institution is doing all it can to be an ally of the LGBTQ+ community.