The Shultz Group, Fall 2018. Left to right: Nick Anderson, Joam Marmolejos, Tongzhou Xu (visiting scholar), Amanda Carey, Rebecca Davies, Patrick Bisson, Mary Shultz
Mary Jane Shultz
Contact
Professor, Department of Chemistry
Pearson Chemistry Laboratory
62 Talbot Avenue
Tufts University
Medford, MA 02155
Laboratory: P100
Office: P100-D
Tel: 617-627-3477
Fax: 617-627-3443
E-mail: mary.shultz@tufts.edu
Education
B.S., 1970, University of Wisconsin, Madison, WI
1970-1971, Kansas State University, Manhattan, KS
Ph.D., 1975, Massachusetts Institute of Technology, Cambridge, MA
Current Members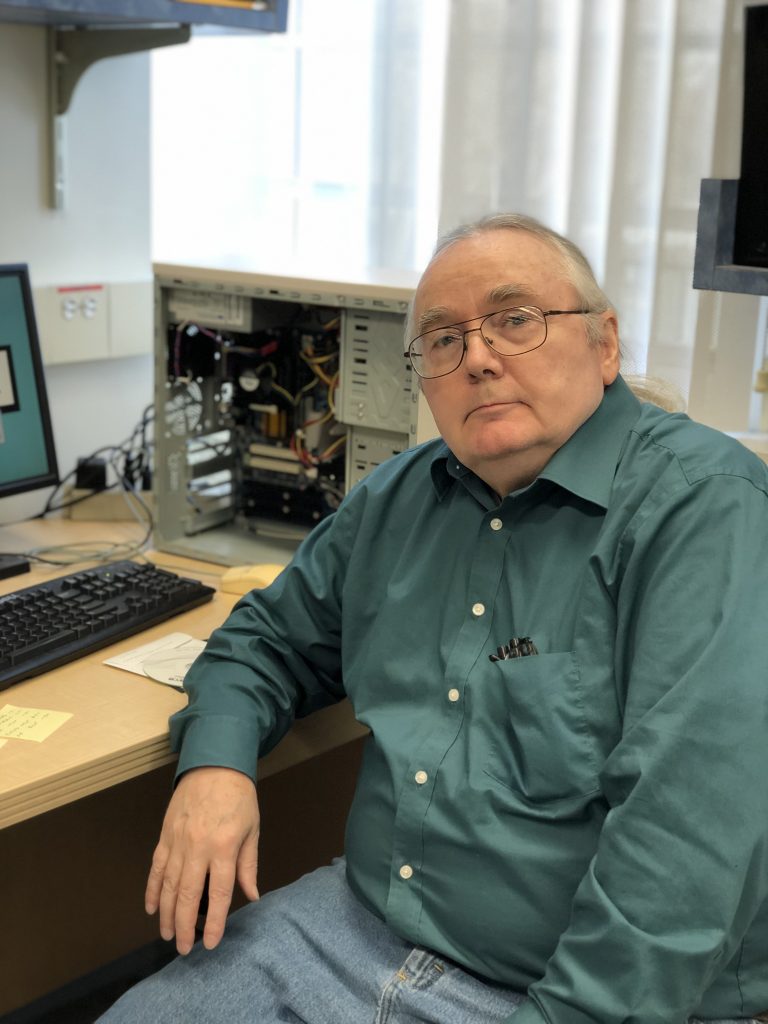 After working for years as an electrical engineer, Patrick earned his Ph.D. in Chemistry from the Shultz group in 2013. Since then, he's completed a postdoctoral fellowship at Dartmouth College and returned to Tufts, continuing to study ice and lend indispensable support to nearly all of the group's projects.
Joam grew up in the greater Boston area and has since graduated from the University of Massachusetts Boston in 2015. There he worked under the guidance of Professor Michelle Foster studying TiO2 nanoparticles using DRIFTS. He has always had a love for the interaction of light and matter, and he is currently working on the SBW nonlinear interferometer to better understand liquid-air interfaces. When not in lab he enjoys training Brazilian jiujitsu, traveling, and spending quality time with his loved ones.
Nick grew up in the Chicago area and emigrated to Boston for undergraduate work at Boston College. After performing work running computational chemistry simulations in neurobiology, pharmaceutical research, and chemical catalysis, he joined the Shultz group in fall 2016. His current project focuses on ultrasmall TiO2 nanoparticles, their characterization, and deposition of atomically dispersed metal dopants to improve their photocatalytic efficiency for wastewater purification. Outside of lab he can be found meditating, watching bad movies, and catering to the every demand of his cat, Gustav. He hopes to find work after graduate school in science communication to spread awareness of the science behind environmental issues and improve public scientific literacy.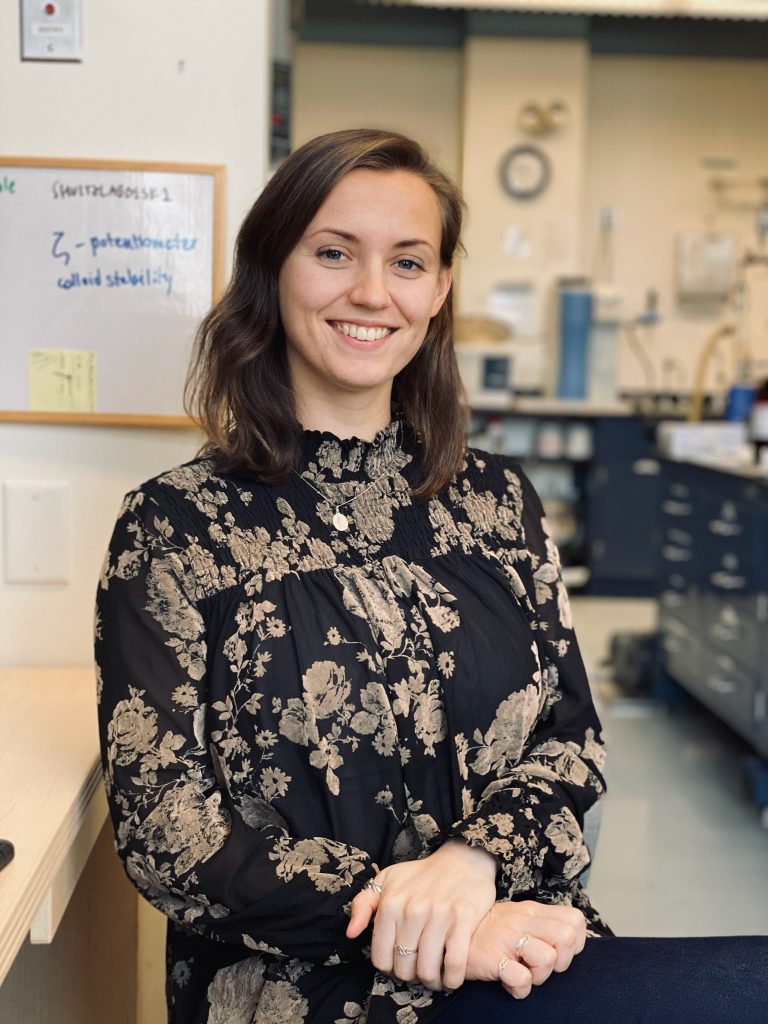 Becca graduated with a B.A. in Chemistry from the College of the Holy Cross, where she worked under the guidance of Professor Amber Hupp. Having joined the Shultz group in the Fall of 2017, she spearheads the silica scaffold project with the goal of immobilizing titania nanoparticles on a device for water remediation. Becca also uses SFG to characterize the TiO2 -silica interface and aims to use the nonlinear interferometer study reactions at the water- TiO2 interface. When she's not in lab, she can be found starting a crochet project that may never get finished or binging Netflix comedy specials.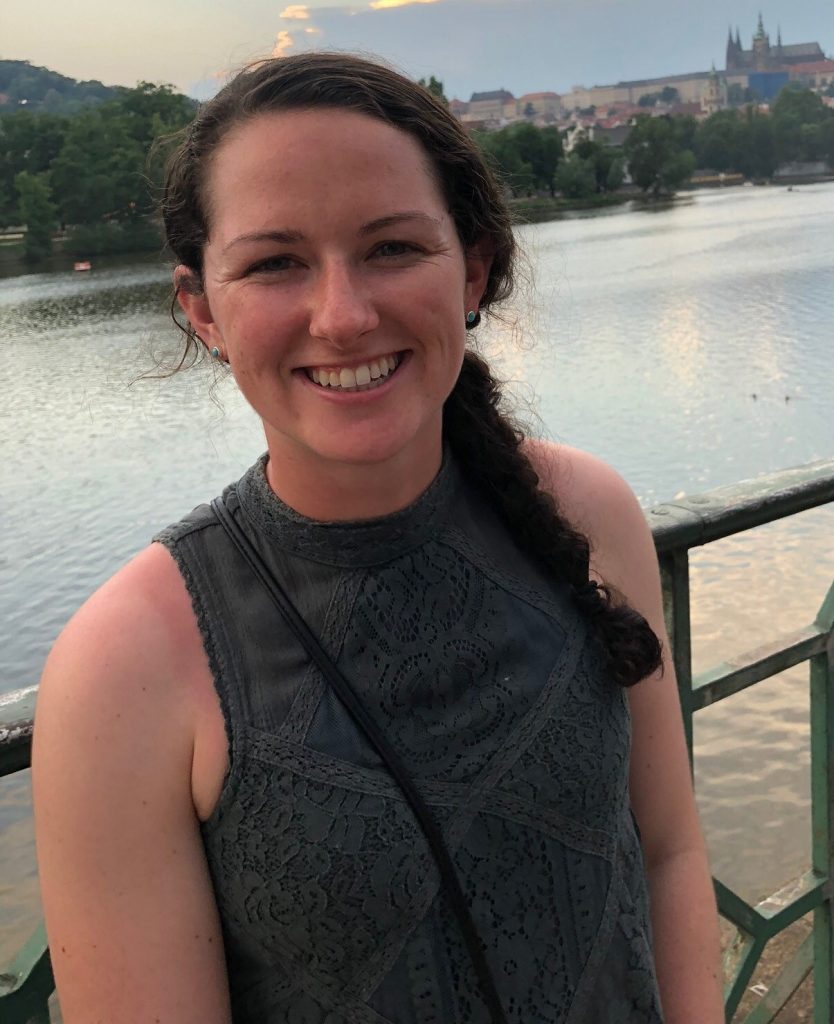 Emma graduated with a B.A. in Chemistry from Smith College in 2018 where she worked under Professor Andrew Berke. She then worked in a trace metals analysis lab at Dow Chemical for one year before joining the Shultz lab in Fall 2019. She is currently working with Joam on the SBW nonlinear interferometer. When she is not in lab she enjoys playing soccer, wheel throwing, hiking, and traveling.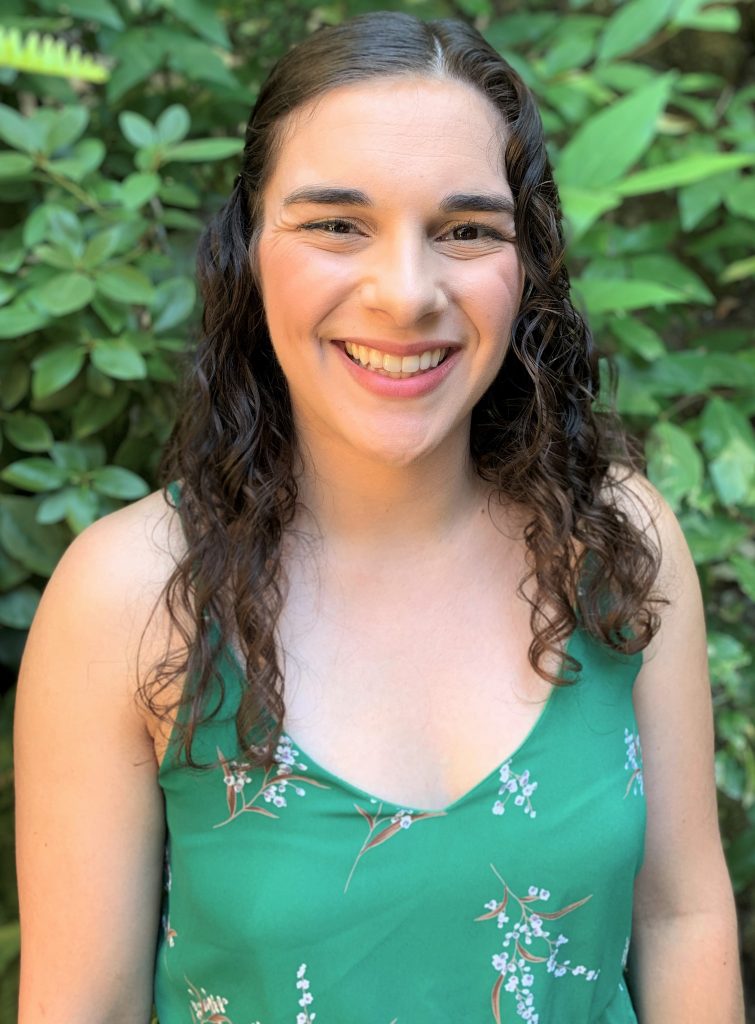 Ally graduated with a B.S. in Chemistry from Stonehill College in 2015, where she worked with Professor Leon Tilley. She then sidestepped into the world of engineering, earning a master's degree in Chemical Engineering from Brown University in 2017 under the direction of Professor Eric Suuberg. From there, she went on to work as a Chemical Engineer at the Naval Undersea Warfare Center (NUWC) in Newport, RI in the Undersea Vehicles Propulsion and Energy Branch. Knowing her true passion was for chemistry, she decided to go back to school and joined the Shultz group in the Fall of 2019. She is working with Becca on the silica scaffold project and with Nick on TiO2 nanoparticle project in hopes of developing a device for water remediation. When she's not in lab she can be found spending time with friends and exploring Boston or re-reading the Harry Potter series (…again…).
Alumni
Steve Baldelli, Ph.D 1998 | Professor, University of Houston
Karen Batchelder, M.S. 2017
Alexandra Brumberg, B.S. 2016 | Graduate Student, Northwestern University

Amanda Carey, M.S. 2019
Faith Dukes, Ph.D. 2013 | Lawrence Berkeley National Lab
Carolyn Gin, M.S. 2002
Joshua Golubovsky, B.S. 2016
Henning Groenzin, Ph.D. 2007 | MB-Technology GmbH, Germany
Drew Hyde
Sarah Kalin, B.S. 2009 | Skadden, Arps, Slate, Meagher, and Flom LLP
Noelani Kamelanela, M.S. 2008 | Massachusetts Institute of Technology
Thien Khuu, B.S. 2018 | Graduate Student, Yale University
Margaret Kuo, Ph.D. 2008
Irene Li, Ph.D. 2008 | Postdoctoral Fellow, NASA Jet Propulsion Laboratory
Rui Liang
Jordin Metz, B.S. 2016 | Graduate Student, Rice University
Bryce Meyer, B.S. 2013
Cheryl Schnitzer, Ph.D. 1999 | Associate Professor, Stonehill College
Danielle Simonelli, Ph.D. 2000 | Intel Corporation, Hillsboro, OR
Tuan Vu, Ph.D. 2014 | Technologist, NASA Jet Propulsion Laboratory
Chuan-Yi Wang, Postdoc 2006 | Professor, Technical Institute of Physics & Chemistry, China
Jing Wang, Ph.D. 2017

OCT 2019 | Trip to Argonne National Lab