INSciDE Researchers Grow Functioning Human Neural Networks in 3D from Stem Cells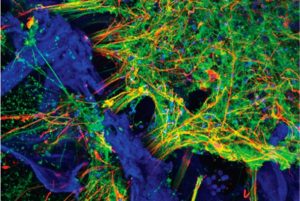 Oct. 18, 2018
A team of Tufts University-led researchers has developed three-dimensional (3D) human tissue culture models for the central nervous system that mimic structural and functional features of the brain and demonstrate neural activity sustained over a period of many months. With the ability to populate a 3D matrix of silk protein and collagen with cells from patients with Alzheimer's disease, Parkinson's disease, and other conditions, the tissue models allow for the exploration of cell interactions, disease progression and response to treatment. The development and characterization of the models was reported today in ACS Biomaterials Science & Engineering, a journal of the American Chemical Society.
INSciDE Bioengineered 3-D Stem Cell Model Discussed as Part of NYSCF Panel on Parkinson's Disease & Stem Cells: Current & Future Treatments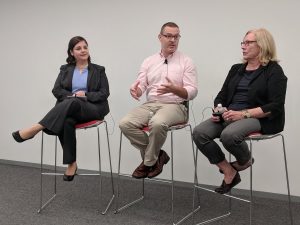 Sept. 12, 2018
The New York Stem Cell Foundation (NYSCF) held an event to discuss the latest breakthroughs and new and developing treatments for Parkinson's disease. The scientific panel talked about the collaboration with INSciDE to investigate how the gut-brain-immune axis contributes to neurodegeneration and how engineered 3D induced pluripotent stem cell (iPSC) models are used to study these complex systems in a dish.
Read about our collaboration >>