At the time of its launch (spring 2022), this site is aligned with a book. Over time, the site will evolve to diverge from the book because the world will change, new research will be conducted, and people with other ideas and perspectives will contribute to the site.
Levine, Peter. (2022). What Should We Do? A Theory of Civic Life: Oxford University Press
ISBN: 9780197570494, 248 pages
Available from Oxford University Press, Amazon, or an independent bookstore–in hard cover or Kindle editions.People who want to improve the world must ask the fundamental civic question: "What should we do?" Although the specific issues and challenges people face are enormously diverse, they often encounter problems of collective action (how to get many individuals to act in concert), of discourse (how to talk and think productively about contentious matters), and of exclusion. To get things done, they must form or join and sustain functional groups, and through them, develop skills and virtues that help them to be effective and responsible civic actors.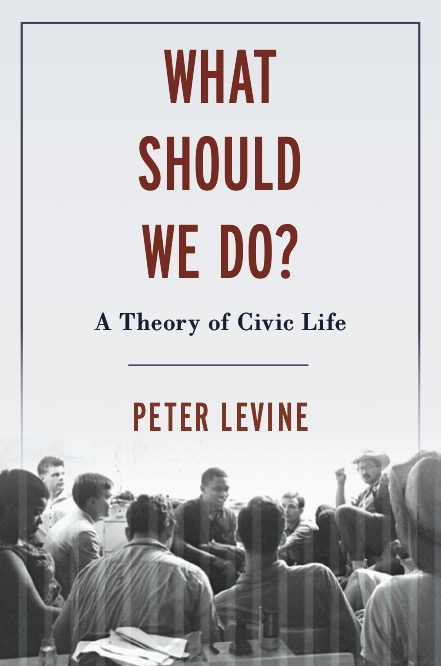 In What Should We Do?, Peter Levine, one of America's leading scholars and practitioners of civic engagement, identifies the general challenges that confront people who ask the citizens' question and explores solutions. Ultimately, his goal is to provide a unified theoretical foundation for effective civic engagement and citizen action. Levine draws from three rich traditions: research on collective action by Elinor Ostrom and her colleagues, work on deliberation and discourse by Jürgen Habermas, and the nonviolent social movements led by Gandhi and Martin Luther King, Jr. Using real-world examples, he develops a theory of citizen action that can effectively wrestle with these problems so that they don't destabilize movements.
A broad theory of civic life, What Should We Do? turns from the question of what makes a society just to the question of how to relate to our fellow human beings in a context of injustice. And it offers pragmatic guidance for people who seek to improve the world.
"Peter Levine is among the leading philosophers of civic life of his generation. What Should We Do? is his magnum opus. It ranges widely from a masterly review of political philosophy to practical suggestions for addressing issues like the Black Lives Matter movement. For anyone concerned about the state of our democracy and what our role should be, this book is must reading." — Robert D. Putnam, Research Professor of Public Policy, Harvard Kennedy School, and coauthor of The Upswing: How America Came Together a Century Ago and How We Can Do It Again
"What Should We Do? offers a compelling, thought-provoking, and urgently-needed framework for anyone trying to understand how we can relate to and act with each other to co-create a more just world. I love this book and you will too." — Hahrie Han, Stavros Niarchos Foundation Agora Institute Professor of Political Science, Johns Hopkins University
"Peter Levine makes everyone think more clearly about everything. How fortunate for our country that he's applied this gift to the realm of civic life. In this insightful and wise book, Levine reveals what it truly means to cooperate, deliberate, and activate—and challenges us to do all three more mindfully." — Eric Liu, CEO of Citizen University, and author Become America
Podcast
Melissa Harris-Perry interviews Peter Levine about the book on this episode of WCNY's The Takeaway: