Ericsson's Sale of Radar Systems to Greece
Introduction
The economic and fiscal crisis that struck Greece in 2009 has also led to widespread corruption investigations, unearthing vast corruption by politicians and others across Greek industry that is widely seen as one of the factors behind the crisis. The military sector is certainly no exception, and whistleblowers have suggested that virtually all arms contracts signed by Greece in the 1990s and early 2000s were subject to commissions, or bribes. Former Defence Minister Akis Tsohatzopoulos is one of those who has been imprisoned as a result of the scandals (see German submarine sales to Greece).
One contract that has come under particular scrutiny is the sale, in 1999, of four Erieye Airborne Early Warning and Control (AEW&C) systems by Swedish company Ericsson Microwave (subsequently sold by Ericsson to Saab in 2006). The radar systems were mounted on Brazilian Embraer AEW&C aircraft. The sale was an important one for Ericsson as it was the first of the Erieye to a NATO member. Whistleblowers from both the Greek Ministry of Defence (MOD) and from Ericsson have revealed bribes amounting to USD 13 million. Investigations are ongoing, with Greek prosecutors recently recommending that 17 individuals stand trial.
Key Facts
Buyer: Greece
Sellers: Ericsson (Sweden), Embraer (Brazil)
Year of order: 1999
Equipment sold: 4 Erieye AEW&C systems; 4 Embraer EMB-145H aircraft.
Value of deal: EUR 532 million
Sum involved in corruption investigations: SEK116 million (USD 13 million)
Dramatis Personae
Akis Tsohatzopoulos – Greek defence minister (1996-2001); served five years of a 20-year jail sentence from 2012-2017 for receiving bribes on various arms contracts.
Antonis Kantas – deputy armaments chief at the Greek Ministry of Defense (1997-2002); admitted to receiving bribes totaling USD 13 million in relation to the Erieye sale and other arms deals. Began providing evidence to Greek prosecutors in 2013 and received a 10-year suspended sentence for his involvement in the Erieye case.
Yannis Sbokos – Greek General Secretary for Procurements; primary recipient of bribes in Greece for the deal. Currently serving a life sentence on two separate counts of money laundering.
Thomas Liakounakos – Greek businessman, Saab's main Greek agent for the deal. Received a 16-year suspended sentence.
Christos Toumbas – Saab's secondary agent for the deal.
Giorgos Kamaris – friend of Yannis Sbokos, and official owner of shell company Highwood; admitted in 2015 that Sbokos was real beneficial owner.
Bertil Hellström – export marketing chief at Ericsson Microwave Systems at the time of the deal. Managed company's relations with agents, signed order for payment of SEK116 million to Liakounakos.
Liss-Olof Nenzell – former Ericsson employee who organized worldwide system for paying agents for the company. Started providing evidence to SEC in 2012.
Peter Coleridge – British businessman in Monaco who handled money transfers from Ericsson through various accounts to ultimate recipients.
The Arms Deal
Greece selected the Ericsson Microwave Systems Erieye AEW&C radar system, to be mounted on the Brazilian Embraer EMB-145 transport aircraft, over an American competitor, in December 1998.[1] The planes and accompanying radars are intended to monitor Greek airspace and islands, where Greece has long-running territorial disputes with Turkey. While the risk of armed conflict is very low, the disputes are frequently the precipitant of aerial mock dogfights between Greek and Turkish planes. A sale to Greece would therefore allow Ericsson's system to be tested in action, as well as mark an entry into the NATO market.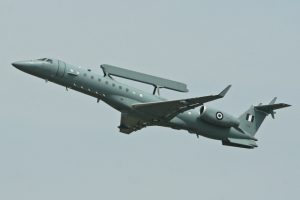 Following further negotiations, Greece signed a contract with Ericsson in July 1999 for four Erieye systems, for over SEK 4 billion (about USD 500 million at the time). Including the four Embraer aircraft, the total value of the deal is usually cited as being worth USD 575 million.
The systems were delivered from 2002 to 2008, and entered service in 2009.
Corruption Allegations
During the 1990s, Ericsson retained the services of two agents in Greece to help sell its Erieye system to the Greek government: Thomas Liakounakos, a leading Greek arms sales agent, and retired air force officer Christos Toumbas. Contracts signed with Ericsson provided for Liakounakos to receive 6% of the value of the deal, of which two-thirds was to be transferred to a company controlled by Yannis Sbokos, General Secretary for Procurement at the Greek Ministry of Defence. In 2000, SEK 116 million (about USD 13 million) was transferred to the agent's company via a series of transactions through Switzerland, Monaco, and Liberia. The money was subsequently transferred to Sbokos and other Greek officials over 2000-2002, being partly invested in property in Beirut and Russia.
The Investigations and Outcomes
Serious investigations into the case began in 2012 when former Ericsson executive Liss-Olof Nenzell began providing evidence to the U.S. Securities and Exchange Commission (SEC) regarding a worldwide network of commission payments to agents he had managed during the 1990s and 2000s. Nenzell claimed that he only began to be suspicious over time that these payments were for corrupt purposes, and that he expressed his concerns to management but was ignored. Among the payments with which he was involved was a USD 12 million transfer, related to the Greek deal, to the Monaco bank account of British agent Peter Coleridge. When Barclays Bank refused to release the payment, suspecting that it was corrupt, Nenzell and another Ericsson executive traveled to Monaco to secure the payment's release. Nenzell says the money was used to bribe decision-makers in Greece.
The case in Greece developed in 2013 when Antonis Kantas, formerly deputy head of armaments at the Greek MOD, began providing evidence to prosecutors regarding this and other deals. One of the decision-makers in the deal, he had received at least one bribe of EUR 250,000 from agent Christos Toumbas, and had over five years managed to hide at least €10 million in corrupt payments in various bank accounts.
The story became public in 2014 when Swedish Radio program Ekot broadcast a report detailing the allegations from Nenzell and Kantas, including a SEK 116 million payment to Peter Coleridge, and conducted its own investigation.
After Toumbas provided evidence to police, the lead agent in the affair, Thomas Liakounakos, was arrested and charged with paying bribes of at least EUR 2 million to Yannis Sbokos and former defence minister Akis Tsohatzopoulos. Both of these were already serving jail terms for money laundering and corruption in relation to other cases.
In 2016, Greek prosecutors published more documents from the case, pointing to Yannis Sbokos as the key recipient of bribes in the affair, and the true beneficial owner of Caribbean-registered company Highwood, nominally owned by his friend Giorgos Kamaris, which had received the USD 13 million in commission payments from Ericsson. (See graphic.) Seven current or former Ericsson employees were among those suspected of involvement in the affair. The payment order for the key transaction was signed by Ericsson's export marketing chief, Bertil Hellström.
In March 2017, prosecutors recommended to an Appeals Court panel that 17 individuals should stand trial in relation to the case. In May 2018, Liakounakos was handed a 16-year suspended sentence, while Kantas received a 10-year sentence. Fifteen other co-defendants were also punished, and total damages of EUR 48.4 million were awarded the state.
As yet, no investigation has been opened in Sweden, as bribery crimes have a statute of limitations of ten years. (See here).
Banner Image Credit
Image Caption: Akis Tsohatzopoulos (fourth from left) at an unknown date.
Image Source: Wikimedia/Creative Commons, DiviFilius.
Sources (Click to Expand)

Bo-Göran Bodin and Daniel Öhman, "Full report: Ericssons millions were transfered to Greece," Sverige Radio (online), Apr. 2, 2014, http://sverigesradio.se/sida/artikel.aspx?programid=83&artikel=5826945.

"Greek businessman arrested on arms deal bribery charges-court," Reuters, Sep. 29, 2015, http://www.reuters.com/article/greece-corruption-arrest-idUSL5N11Z44F20150929.

Daniel Öhman, "Ericsson misstänks ha mutat Greklands regering," Sverige Radio (online), June 20, 2016,
http://sverigesradio.se/sida/artikel.aspx?programid=83&artikel=6456885.

Daniel Öhman, "Ericssons villospår och mutanklagelserna," Sverige Radio (online), June 21, 2016, http://sverigesradio.se/sida/artikel.aspx?programid=1637&artikel=6457493.

Daniel Öhman, Liv Widell, and Nils Lindström, "Grafik: Mut­anklagelser och agenter i Ericssons Erieye-affär," Sverige Radio (online), June 21, 2016, http://sverigesradio.se/sida/artikel.aspx?programid=83&artikel=6455795.

Daniel Öhman, "Känsliga dokument om Ericsson lämnas till USA," Sverige Radio (online), Nov. 22, 2016, http://sverigesradio.se/sida/artikel.aspx?programid=83&artikel=6569981.

Claes Petersson, "Han vill avslöja Ericssons mutor," Dina Pengar (online), Nov. 22, 2016, https://www.expressen.se/dinapengar/han-vill-avsloja-ericssons-mutor.

Erik Grönlund, "Så jobbade Ericsson med mutor – smörjde ministrar med miljoner," Sveriges Television (online), Nov. 22, 2016, https://www.svt.se/nyheter/ekonomi/avslojar-sa-jobbade-ericsson-med-mutor-smorjde-ministrar-med-miljoner.

"Greek Prosecutor Ties 17 Suspects to Defense Ministry Bribes," The National Herald (online), Mar. 14, 2017, https://www.thenationalherald.com/154429/greek-prosecutor-ties-17-suspects-defense-ministry-bribes.

E. Tsiliopoulos, "Heavy sentences for defendants in the SONAK military procurement scandal," New Greek TV (online), May 3, 2018, http://www.newgreektv.com/english-news/item/24966-heavy-sentences-for-defendants-in-the-sonak-military-procurement-scandal.

[1] SIPRI Arms Transfers Database