Saturday, November 20, 10:00-11:00 AM
The panel will explore queer perspectives, both academic and personal, in the field of International Relations (IR). Queer theories, identities, and experiences are too often overshadowed and ignored in IR, and it is our hope that this panel will provide the opportunity for panelists to speak on issues facing the international LGBTQ+ community, share their work, and join us in working towards a more just, inclusive, and open future.
Panelists: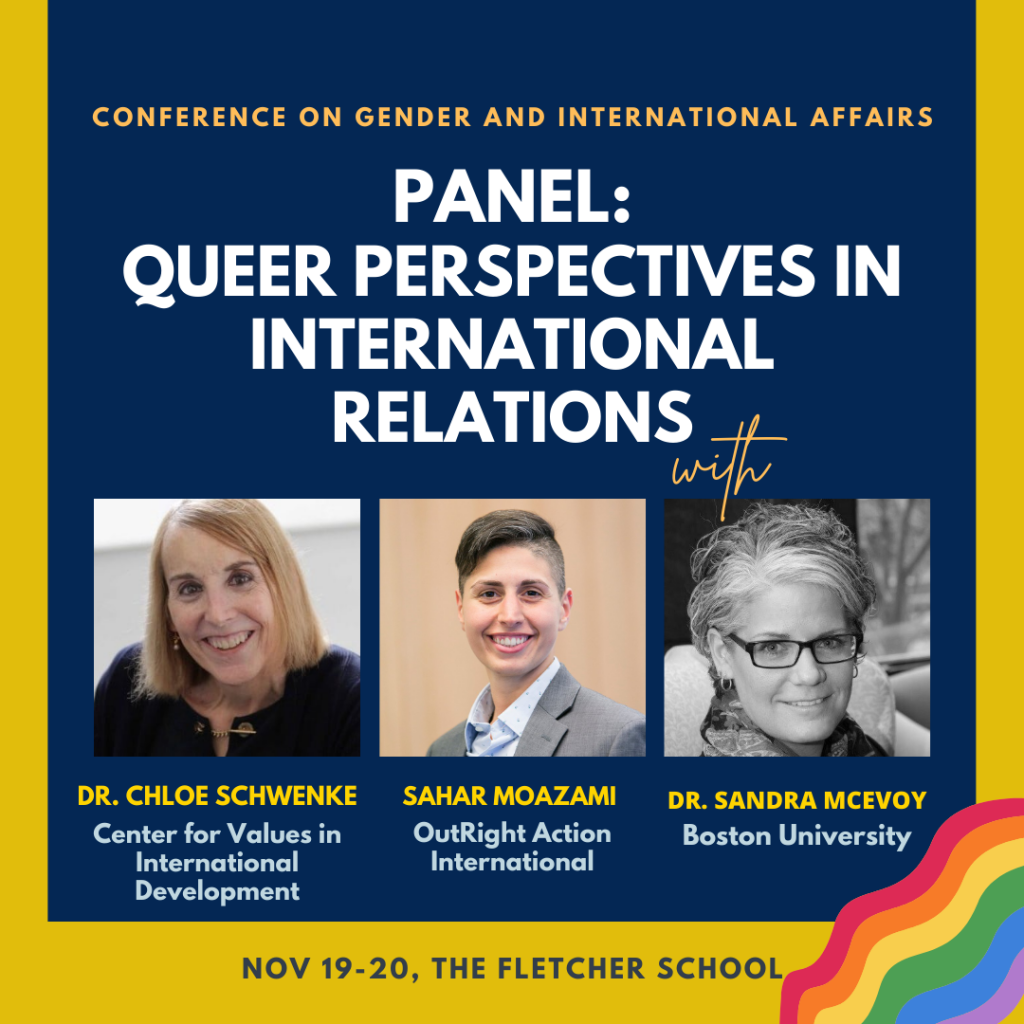 Dr. Chloe Schwenke is the president and founder of the Center for Values in International Development. She is an international public policy advisor, development ethicist and practitioner, human rights scholar and activist, researcher, and educator. Her career has focused on gender equality/equity, LGBTQ+ issues, inclusive development, democracy strengthening, and on human rights. She recently completed serving as the Team Leader for an Inclusive Development Assessment in India – the first and largest such study ever undertaken for USAID anywhere.
Sahar Moazami currently serves as a UN Program Officer at OutRight Action International. OutRight Action International is an NGO working to promote and protect the rights of LGBTI individuals globally. Sahar received their JD from Fordham Law school and is a New York State bar admitted attorney with a focus on international human rights law. Prior to law school, they attended Boston University for their undergraduate degree, majoring in Political Science and minoring in American and Persian history.
Dr. Sandra McEvoy is a Clinical Associate Professor of Political Science & Women's, Gender, and Sexuality Studies at Boston University. Her research focuses on gender and conflict, particularly related to how war creates vulnerabilities and opportunities that are both gendered and sexed. Her research draws on fieldwork in post-conflict Northern Ireland, where she has worked for many years with women members of paramilitary organizations. She co-edited The Oxford Handbook on Global LGBT and Sexual Diversity Politics (2020) which examines the historical emergence of LGBT politics and the social significance of sexualities as a gateway to political demands. More recently, her work has focused on the gendered experiences of queer forced migrants.