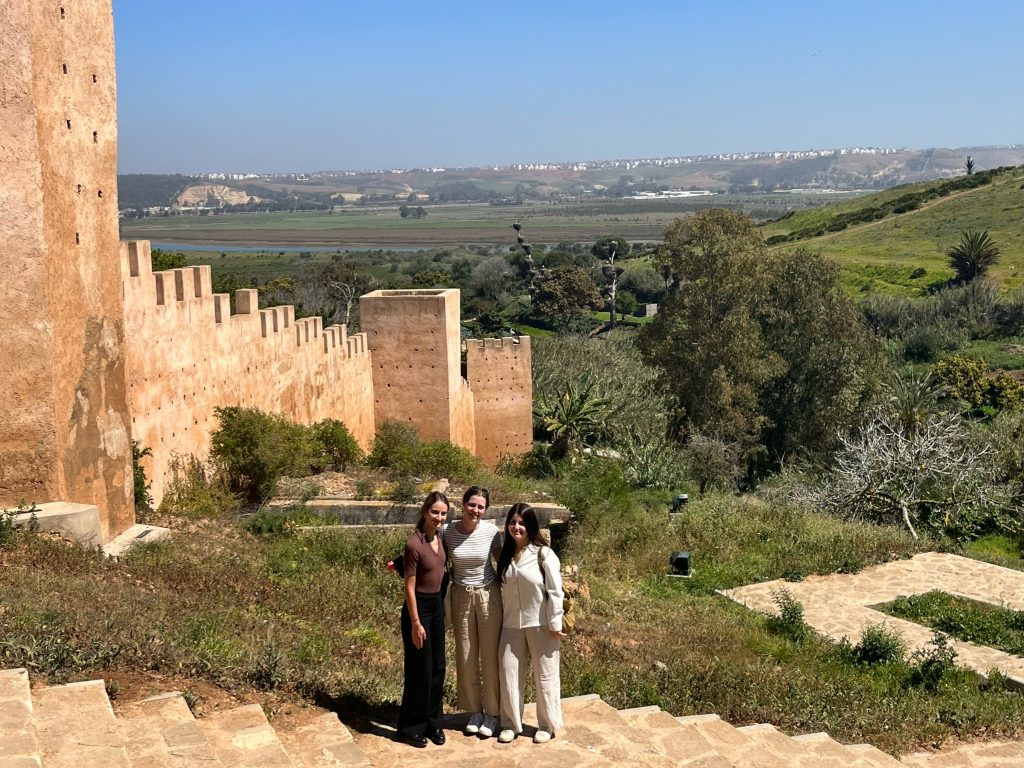 By: Sage Spalter
Morocco sits in a unique position with immense geographical significance at the intersection of several important regions. The country is a part of the greater Middle East and North Africa (MENA) region, holds formal and informal positions within the continent of Africa, and sits in proximity to southern Europe leading foreign relations to be a center point of discussions and public policy in Morocco. For this reason, Grace, Paloma, and I chose to travel here to learn more about the ever-present topic of migration. Each of us with a focus on a different aspect of the subject came to speak with experts and professionals in migration to gain a better understanding of the intricacies of government and multilateral policies and their perceived outcomes on the experiences of migrants in the country.
With only a week to explore and learn in Morocco, we hit the ground running upon our arrival in Rabat. Our first conversation was with a specialist in migration health policy at the International Organization of Migration (IOM), an organization that is a part of the United Nations System as the leading inter-governmental organization on migration. We learned about the barriers to healthcare that migrants face and the ameliorations IOM supports. We came to better understand the role UN agencies play in this work—one that works to research, mobilize, and coordinate between governmental and non-governmental entities. This first conversation gave us a helpful landscape of the issues we sought to research and was a great beginning to our week of interviews.
On Saturday, we sat down with a journalist based in Rabat who reports on an array of issues but has significant experience reporting on the topic of migration. He recounted his stories of traveling across the country to document the tribulations of being a migrant at the borderlands living in liminality. Not only did he give us first-hand insight into stories he has heard echoed across migrant communities, but he described how he navigates being a journalist covering salient topics of human rights. Our engaging conversation left the three of us inspired by the many roles that exist within the field of migration.
Outside of our fact-finding, we have found time to explore the wonderful scenes and sites of Rabat. On Friday night, our dinner was a spread of delicious food both traditional to Morocco and to the fast-breaking evening meal of Ramadan, Iftar. As we strolled the streets on Saturday morning, we noticed how tranquil the city is and joyously basked in the warm weather that we heard was uncommon this early in the year. We saw the Hassan Tower in all of its glory and circled the Chellah, a medieval fortified Muslim necropolis and ancient archeological site.
As I look toward the days ahead, I look forward to hearing more perspectives on migration particularly as it relates to the gendered aspects of migration. In the coming days, we will meet with an official from an independent government institution, a couple of professors, a consultant on migration, and leaders of non-governmental organizations. I imagine we will hear more about the strife of Moroccan migrants and continue to be reminded of the interstitial and oftentimes treacherous situations that migration causes people. We keep in mind the many experiences of people who migrate that we will not hear and that, with very limited time in-country, we will only scratch the surface of one of the most pressing issues of human rights and public policy in our world today.