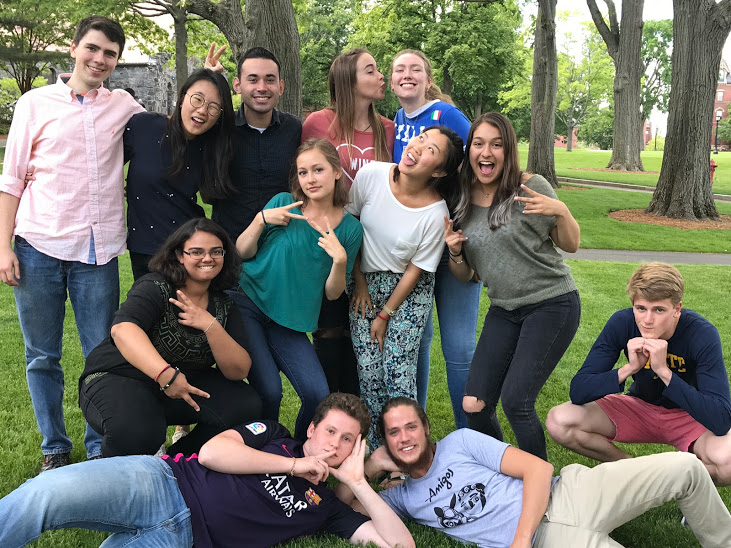 by Mikel, Tufts 1+4 Participant
After a seemingly eternal journey back home, that provided almost too much time to reflect and get emotional about my 9 months in Spain, we arrived in Boston. Passing through security a TSA officer said welcome home Mr. 'Quintana', crudely mispronouncing my last name in a very Bostonian accent. It was a subtle yet strong reminder I was back in the US.
When we arrived on campus we were joyously received by the Brazil fellows, signalling the start of the retreat. Being on campus with the other fellows, Jessye, Mindy, and other familiar faces, all interested in talking about our time abroad, created a small bubble that removed us for a few days from our new reality; being back home, being back in the US. It was helpful and at times emotional to reflect on our 9 months with people who went through similar experiences, but was also a perfect time to share fun and crazy stories from our 9 months. We were able to reconnect with fellows from other countries and reinvigorate an important bond that will surely connect us in some way during our time at Tufts and beyond.
Reflecting on our experiences was a great way to deepen these bonds, but I found that talking about what opportunities we want to take advantage of next year helped us see another side of each person. Learning about some of the opportunities that we will have at Tufts also reignited my excitement to be on campus in the fall, and gives me something to look forward to this summer. Talking with Sawyer and Justin during the last dinner, we were able to share our gap year experiences with Justin, and he was able to tell us more about the many opportunities there are on campus during the academic year, as well as during the summers.
The drive home on Saturday was definitely a weird and jarring experience. On one side it was nice to talk with my mom and my German host sister, but on the other I realized that I was returning to the middle of nowhere. The natural beauty of where I live, it's green foliage and abundance of water, was a relief from the dryness  and scorching sun of Spain. On the other hand, the distance between towns, cities, and any sign of civilization, made me remember how huge the US is, making me miss Europe and its relatively small scale. Being back home, in the tiny village of Clinton, seeing the same people I have seen for the past 8/9 years in almost every public place, is a hard and drastic switch from living in a big and bustling city like Madrid. Seeing my friends again is great, but when we can only choose to meet up and do 3 or 4 activities at a very limited amount of places, it makes you long for the seemingly unlimited options Madrid has. This summer is not going to be the best or most interesting summer of my life but it is an opportunity prepare for and look forward to what comes ahead.
Exchange programs, gap year programs, study abroad programs, always talk about culture shock before you leave, and although it is true, I have found reverse culture shock to be much harder. Experiencing something new and having to adapt to it is hard enough, but having to re adapt to something familiar you had learned to leave behind is even harder. I am looking forward to adapting to something new in the fall. It will be great to challenge myself, explore, discover again…and of course see some familiar faces that shared this amazing experience with me.