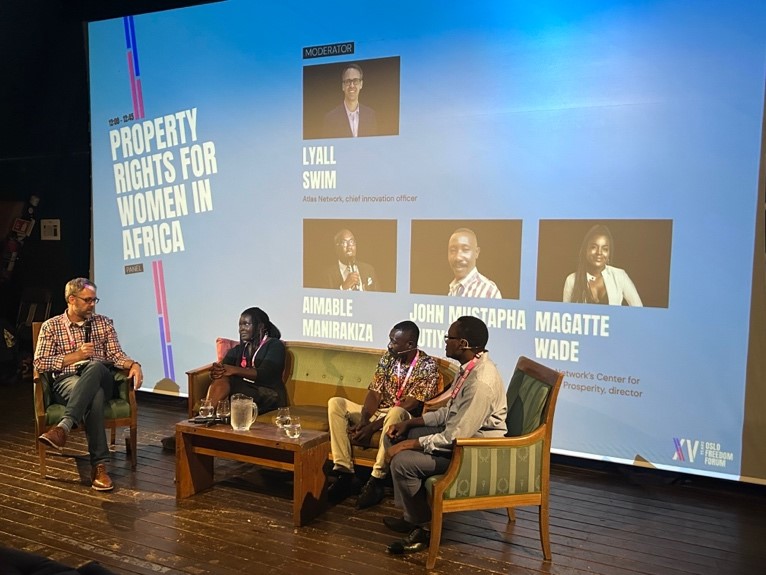 By: Chasya Cohen
Today is the third and final day of the 2023 Oslo Freedom Forum. Though the past couple days have been filled with an abundance of new experiences, today definitely felt the most unique.
During yesterday's theatre session it was announced that the final day of OFF would be different this year: the forum would take over a festival venue called SALT located on the beautiful Oslo waterfront. The day would be filled not only with OFF's regular panels and discussions, but also art, food-trucks, music, and saunas. This was not what I had in mind when picturing a prominent human rights conference, but it was definitely intriguing.
When we arrived at SALT the set-up was exactly as they had described, like a human rights festival. Some rooms were filled with art-installation while others had interactive booths, food, or drinks. At first it seemed odd to me that a human rights conference could be so casual and lively. But I quickly realised that OFF's purpose is to bring human rights defenders from all corners of the world together so that they can support one another, and the best way to bring people together is through celebration. In effect, this joyful environment fostered the most profound and productive conversations about human rights and cemented long-lasting bonds between all attendees. Plus, it was fun!
During my day at SALT I attended a panel on Property Rights for Women in Africa as well as a panel on Rethinking ESG: Prioritising Human Rights and Democracy in Corporate Ratings.
The first panel on property rights was particularly striking to me because I learned from Senegalese activist Magatte Wade that women are denied land in Africa because they are considered minors under law. This ultimately affects women's treatment in society, how their families treat them, their ability to work, and more. The panel emphasised the importance of both cultural change, through educating women on their constitutional rights, as well as policy change, through advocating for new laws. Possibly the most memorable point made during this panel was that alleviating poverty cannot just mean giving individuals more money, but it must mean building long-term prosperity, as these activists are doing for women in Africa.
The other panel about the human rights approach to ESGs, was much less suited to my knowledge. However I did learn from prominent economist Marcos Buscaglia that democracies are proven to be much more prone to long-term economic growth than autocracies, which is why it is better to invest in democracies. Towards the end of the panel Jianli Yang powerfully declared that if human rights are not adhered to by autocracies the 'S' in ESG must be dropped. Ultimately the panel called for a divestment of autocratic nations in the name of human rights.
Other than attending panels, my mentor Pema Doma from Students from a Free Tibet spent a lot of time introducing me to some of the leaders of the human rights world. Most notably she introduced me to many allies from the cross-cultural movement, including Uyghur, Hong Kong, and Taiwanese activists. As someone who experienced China's brutal lawfare and human rights abuse in Hong Kong, I found it energising to be in a group of people who were all so passionately fighting against the same authoritarian regime. I had some amazing conversations and was really able to connect with people over our shared goals and priorities in the human rights field. This was a truly fulfilling final day at OFF.