Dr. Marfeo and team disseminate research findings to a broad array of audiences locally, nationally, and internationally.
Below includes a selection of manuscripts recently published by the HPAL team!



Note: Please contact Dr. Marfeo by email (elizabeth.marfeo@tufts.edu) with questions or for copies of manuscripts not freely available via Open Access sources
For a complete list of Dr. Marfeo's published works please find the link to her Google Scholar Profile here.
Peer-reviewed Scientific Journals
Marfeo, E., Grinnell, M., Coffey, A., & Ward, N. (2021). Driver rehabilitation utilization and need among community-dwelling older adults. American journal of occupational therapy, 75(2), 7502205040p1-7502205040p7.
Cheville, A. L., Wang, C., Yost, K. J., Teresi, J. A., Ramirez, M., Ocepek-Welikson, K., … & Weiss, D. J. (2021). Improving the Delivery of Function-Directed Care during Acute Hospitalizations: Methods to Develop and Validate the Functional Assessment in Acute Care Multidimensional Computerized Adaptive Test (FAMCAT). Archives of Rehabilitation Research and Clinical Translation, 100112.
Marfeo, E. (2020). The Supporting Older Americans Act of 2020: How Policy Connects With Occupational Therapy Principles and Practice. American Journal of Occupational Therapy, 74(5), 7405090010p1-7405090010p6.

Costa, K.G.D., Hussey, E.K., Fontes, E.B., Menta, A., Ramsay, J.W., Hancock, C.L., Loverro, K.L., Marfeo, E. and Ward, N. (2020) Effects of Cognitive Over Postural Demands on Upright Standing Among Young Adults. Perceptual and Motor Skills, p.0031512520972879.

Marfeo, E. E., & Ward, C. (2020). Older Adult Productive Activity Participation Using the National Health and Aging Trends Study. Gerontology and Geriatric Medicine, 6, 2333721420910657.

Millner, U. C., Brandt, D., Chan, L., Jette, A., Marfeo, E., Ni, P., … & Rogers, E. S. (2020). Exploring Counselor‐Client Agreement on Clients' Work Capacity in Established and Consultative Dyads. Journal of Employment Counseling, 57(3), 98-114.

Barnes, M. A., Schwartzberg, S. L., Bedell, G., Counselman, E., & Marfeo, E. (2020). The Group-Leader Self-Assessment (GLSA) Tool: Preliminary Study of Reliability and Validity. The Journal for Specialists in Group Work, 45(4), 277-291.

Hoffman, L., Hutt, R., Tsui, C. K. Y., Zorokong, K., & Marfeo, E. (2020). Meditation-Based Interventions for Adults With Dementia: A Scoping Review. American Journal of Occupational Therapy, 74(3), 7403205010p1-7403205010p14.
Mentored Student Presentations:
American Occupational Therapy Association Annual Conference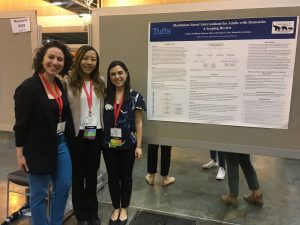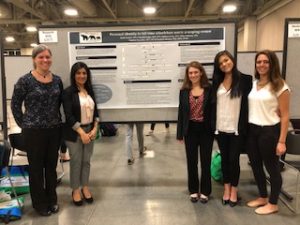 Massachusetts Occupational Therapy Association Annual Conference