It is the long history of humankind (and animal kind, too) those who learned to collaborate and improvise most effectively have prevailed. —Charles Darwin
Dr. Elizabeth (Beth) Marfeo –Principal Investigator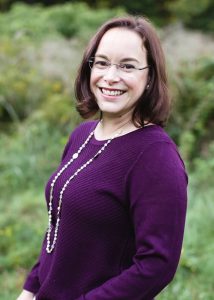 Dr. Marfeo is the Director of the Health & Productive Aging Lab (HPAL) at Tufts University. She leads the research team and develops the portfolio of research conducted through HPAL.  Dr. Marfeo is an occupational therapist and health services researcher. Her goal is to conduct rigorous, interdisciplinary research aimed at addressing complex challenges related to aging, disability, and health among adult populations. Much of Dr. Marfeo's research draws upon paradigms of health that encompass social, environmental, and participation factors related to the aging process.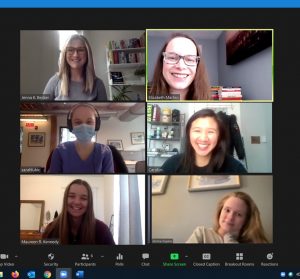 Dr. Marfeo and team have embraced virtual lab meetings, data collection using online platforms, and continue to adapt to the "new normal" of conducting innovative research through the lab.
–Graduate Research Assistants
Carolyn Nguyen :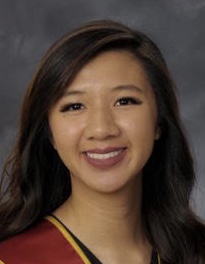 Carolyn is a student at Tufts University pursuing a doctoral degree in occupational therapy (EL-OTD). She is currently working on a research project at HPAL where she analyzes the physical and emotional requirements of job duties within a career. Her other research interests include exploring the barriers to productive aging experienced by those who have been incarcerated
Maureen Kennedy: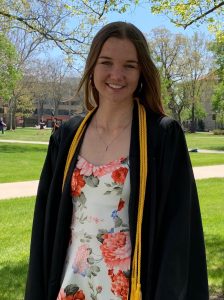 Maureen Kennedy is currently in the EL-OTD program at Tufts. She is interested in research about how health with aging can affect mental health, physical dysfunction, and sexual health, as well as rehabilitation for post-stroke and TBI patients all within OT. Outside of work and Tufts, she enjoys staying active, whether it be going for walks, hiking, and playing soccer; as well as enjoy reading, trying new restaurants and foods!
–Doctoral Experiential Capstone Mentees
Emma Haan Ospina: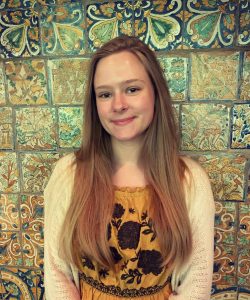 Emma is an Entry-Level Doctor of Occupational Therapy student at Tufts University. She is working with Dr. Marfeo and HPAL on her Doctoral Experience Component (DEC) analyzing data from the National Health and Aging Trends Study (NHATS) to determine the impact of arthritis on the social and leisure participation of older adults.
Sarah Lubic: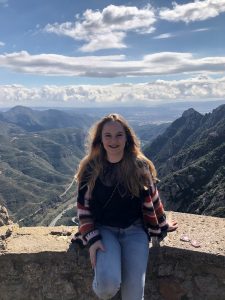 Sarah is a doctoral student in the Tufts University Occupational Therapy Program. She has a background in Kinesiology and Exercise Science and health behavior research. She is interested in the biopsychosocial factors that influence health status and how they change across the lifespan, how neurological events impact social and leisure participation, and how participation influences perceived well-being and life satisfaction.
Jenna Becker: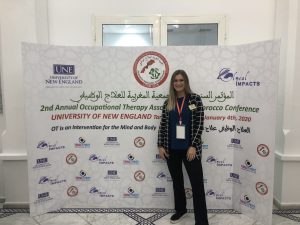 Jenna K. Becker is a Doctor of Occupational Therapy student at Tufts University. She previously earned her Bachelor's of Science in Kinesiology with a minor in health promotion from Michigan State University in 2018.  She is interested in enabling individuals of all ages to engage in leisure and social participation through policy evaluation and through rehabilitation in physical dysfunction. Her current project in the HPAL lab is in regards to transportation policy and how it effects social and leisure participation for the aging adult population.
Post-Professional Occupational Therapy Doctorate Trainees
–Roni Herbst
---
HPAL Alumni
Caroline (Carrie) Ward, OTR/L–alum of Tufts OT program (2017-2019)
Dr. Meredith Grinell, OTD–Post-Professional OTD committee (2017-2018)
Dr. Rawan AlHeresh, PhD–Post-Doctoral Fellow/Visiting Scientist (2015-2017)
---
Team Science
Much of Dr. Marfeo's research is conducted in collaborative teams spanning academic departments at Tufts University, other universities and institutions, clinical settings, and community organizations.