It is the long history of humankind (and animal kind, too) those who learned to collaborate and improvise most effectively have prevailed. —Charles Darwin
Team Science
Much of Dr. Marfeo's research is conducted in collaborative teams spanning academic departments at Tufts University, other universities and institutions, clinical settings, and community organizations.
Dr. Elizabeth (Beth) Marfeo–Principal Investigator
Dr. Marfeo is the Principal Investigator & Director of the Health & Productive Aging Lab (HPAL) at Tufts University. She leads the research team and develops the portfolio of research conducted through HPAL.  Dr. Marfeo is health services researcher and occupational therapist. Her goal is to conduct rigorous, interdisciplinary research aimed at addressing complex challenges related to aging, [dis]ability, and quality of life among adult populations. Much of Dr. Marfeo's research draws upon paradigms of community-based health that encompass social, environmental, and participation factors related to the aging process.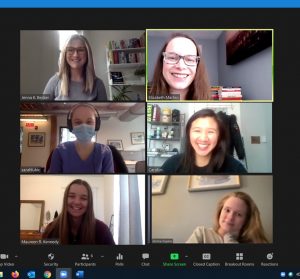 "We cannot direct the wind, but we can adjust the sails." – Dolly Parton
Dr. Marfeo and team have embraced virtual lab meetings, data collection using online platforms, and continue to adapt to the "new normal" of conducting innovative research through the lab.
Current Doctoral Experiential Capstone Mentees
Sienna Carpenter
Sami Basnet
Hailey Pister
Emily Berlin
Rebecca Cohen
Sydney Gill
HPAL Alumni
Jenna Becker (EL-OTD capstone mentee )
Emma Haan Ospina (EL-OTD capstone mentee)
Sarah Lubic (EL-OTD capstone mentee)

Carolyn Nguyen (Graduate Research Assistant)

Maureen Kennedy (Graduate Research Assistant)
Roni Herbst (PP-OTD mentee, committee Chair)
Caroline (Carrie) Ward (MSOT mentee and Research Assistant)
Meredith Grinnell (PP-OTD mentee, committee member)
Rawan Alheresh, PhD (Post-Doctoral Fellow/Visiting Scientist)
Research Collaborators
Boston-metro area Councils on Aging
Dr. Nate Ward, Tufts Applied Cognition Lab
NIH Clinical Center Department of Rehabilitation Medicine
VA Geriatric Research, Education, and Clinical Center
Study participants, community members and more!