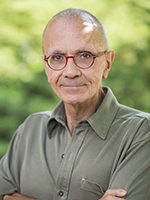 The international security environment of the twenty-first century contains formidable challenges, revealing both opportunities for advancing stability and change, as well as a spectrum of new and complex threats to stability. To address them, the international community, to include the United States, will continue to require a corps of creative and innovative professionals to anticipate and manage security, defense, conflict, and conflict resolution issues.
Since 1971, the International Security Studies Program at the Fletcher School prepares its students for these challenges. It's courses and seminars, as well as programmatic activities, to include our senior level speakers series, military fellows program, Leadership forum, and Red Team are all aimed at developing professionals able to analyze, understand, and respond to the security challenges and opportunities of today and the crises of tomorrow. The reputation of International Security Studies as a leading program within national and international security circles is consistently reinforced by the public and private career achievements of its graduates.
Click here to learn more about our 50+ year history.
Richard H. Shultz, Jr.
Director, International Security Studies Program
Lee E. Dirks Professor of Diplomatic History