In Memoriam
By Gail Bambrick
January 18, 2015
William C. Martel, an associate professor of international security studies at the Fletcher School, died on Jan. 12 after a yearlong fight with leukemia. He is remembered as a leading scholar in the foreign policy community, but equally as an unusually devoted teacher and as a caring individual who always put others before himself. He was 59.
"When he became ill last February, he couldn't see people because of his compromised immune system," said Torrey Taussig, F15, one of Martel's doctoral students. "But what was truly amazing was that he arranged to teach all of his classes over Skype from the Dana-Farber Cancer Institute as he was going through treatments."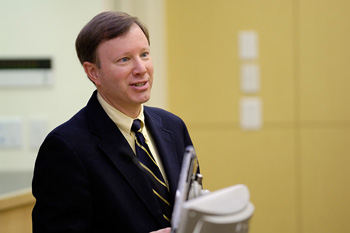 "Bill was a terrific colleague and friend within the school: always upbeat, positive, warm, welcoming and friendly," said Dean James Stavridis."Bill Martel was an incredible teacher above all," said James Stavridis, F83, F84, dean of the Fletcher School. "His students adored him, and his mentorship followed them throughout their lives. He was also a leading writer on strategy and security studies, whose work I regularly read as the Supreme Allied Commander of NATO as well as throughout my career."
Martel's books include Grand Strategy in Theory and Practice: The Need for an Effective American Foreign Policy (Cambridge University Press, 2015) and Victory in War: Foundations of Modern Strategy (Cambridge University Press, 2011). He was a frequent contributor to print and broadcast media on international security issues and was active in national and New Hampshire politics. He served as a senior foreign policy adviser to Mitt Romney during his 2012 presidential campaign. Martel was also the principal investigator in joint Fletcher School-MIT Lincoln Laboratory studies that formulated cyber codes of conduct and outer space rules of engagement.
A 2013 Boston Globe profile of Martel described him as "among a handful of scholars and military experts trying to solve one of the most nettlesome problems in modern foreign policy: coming up with a new definition of 'victory' that matches the complexity of our conflicts."
Students Came First
But it was Martel's dedication to his students that set him apart. Close friend and colleague Richard Shultz, a professor of international politics at the Fletcher School, recounted his last conversation with Martel during his final hours in hospice.
" 'Take care of Torrey, take care of my students,' he told me—those were his last words," Shultz said. "Those words illustrate what kind of a person this was. He was really engaged with the students; they loved him."
Taussig, his doctoral student, said, "He just went out of his way every day to include me in his work. He started as a professor, but really became a good friend, and I think a lot of students had that experience with him."
She said Martel was among the brightest and most inquisitive strategists and scholars who never ceased to ask big and important questions—and he pushed his students to do the same.
Martel was chosen by the Fletcher student body to receive the James Paddock Award for Excellence in Teaching at the Fletcher commencement ceremony in May 2014. Because he was too ill to attend, Shultz accepted on his behalf and read Martel's prepared remarks:
"I believe that being positive is an essential ingredient for achieving success in all those things that are really important in life," Martel wrote. "No matter how difficult the fight you find yourself in or how daunting the challenge you face seems to be, a positive and can-do attitude will help get you through the darkness to a successful outcome. I believe it is always the way forward."
Stavridis stressed that Martel's contribution to the spirit of the Fletcher community cannot be underestimated. "Bill personified what the Fletcher School is all about," Stavridis said in a letter to the Fletcher School community.
He was equally beloved by all members of the community, as evidenced by the tribute posted by the Fletcher School admissions staff on their blog.  Martel served three years as chair of Fletcher's admissions committee.
"The Fletcher faculty is loaded with nice people, but in any group of nice people, someone can still be the nicest. Bill was the nicest," wrote Jessica Daniels, senior associate director of admissions. "As he walked through the building, he greeted everyone by name. If he didn't recognize someone, he introduced himself. With his incredible ice-blue eyes, he transmitted kindness and warmth. He was one of those very rare individuals in the world about whom everyone had something good to say."
Shultz said he has received hundreds of emails mourning Martel. "People around the world are just heartbroken," he said. In answering the emails, Shultz said, he writes, "We needed Bill here at Fletcher, not with the angels . . . they could have waited."
After graduating from St. Anselm College, Martel earned a Ph.D. in political science at the University of Massachusetts, Amherst, and was a postdoctoral research fellow at Harvard's Kennedy School of Government.
Prior to joining the Fletcher School faculty in 2005, Martel was professor of national security affairs at the Naval War College. He also worked at RAND Corp. in Washington, D.C., and served as an adviser to the National Security Council, a consultant to the Defense Advanced Research Projects Agency, the Office of the Secretary of Defense and the U.S. Air Force. He was the founder and director of the U.S. Air Force's Center for Strategy and Technology.
"Bill was a terrific colleague and friend within the school: always upbeat, positive, warm, welcoming and friendly. He could disagree without ever being in the least disagreeable," Stavridis said. "He was a devoted father and husband, and his family above all will miss him forever. We mourn his loss, celebrate his life and will cherish his memory."
Martel is survived by his wife, Dianne; his children, William Cyprien Martel Jr. and Catherine Martel of Washington, D.C.; and his parents, a sister and two brothers. The Fletcher School will hold a memorial service to celebrate Martel's life later this semester. Donations may be made to the Professor William C. Martel Memorial Fund, Fletcher School of Law and Diplomacy, Tufts University, 160 Packard Ave., Medford, MA 02155, or to the Dana-Farber Cancer Institute Leukemia Fund, 10 Brookline Place West, 6th floor, Brookline, MA 02445.
Gail Bambrick can be reached at
gail.bambrick@tufts.edu
–
(Click bottom right corner for full screen)
Asean Auditorium
Cabot Intercultural Center
OPENING WORDS
Jim Stavridis, Dean
REFLECTIONS
Dick Shultz, Professor
Nick Kenney, PhD Student
Laurie Hurley, Dir. of Admissions
Lulu Cheng, F13
Nihal Chauhan, F14
Toni Chayes, Professor
Jane Kaminski, F14
Torrey Taussig, PhD Student
Bob Pfaltzgraff, Professor
CLOSING WORDS
Dianne Martel