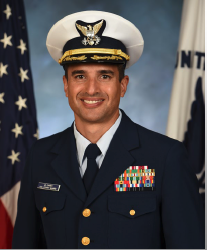 United States Coast Guard
Captain Marc Zlomek comes to the Fletcher School from U.S. Coast Guard Headquarters, where he served as the Chief of Operational Law, within the Office of Maritime and International Law. In that capacity Marc advised the service's most senior leaders on legal matters affecting everything from counterdrug operations off South and Central America to quarantine measures implemented in response to the coronavirus pandemic. He led negotiation of bilateral maritime law enforcement agreements with Ecuador and the Seychelles, supported the negotiation of Search and Rescue Agreements with Peru and Mexico, and worked with Embassy Nairobi to provide legal support for the newly formed Kenya Coast Guard Service. Before reporting to Coast Guard Headquarters, Marc served as the Staff Judge Advocate for Joint Interagency Task Force South in Key West, FL and as the Coast Guard's Attorney Liaison to the U.S. Department of State (DoS). While at DoS, Marc worked out of the Office of Ocean and Polar Affairs. He led the U.S. delegation to the Arctic Council's Task Force on Oil Pollution Prevention and he was instrumental in helping to develop the International Maritime Organization's Polar Code.

Marc's operational tours include an assignment as a Deck Watch Officer aboard the Coast Guard Cutter MARIPOSA and as the Operations Officer at Coast Guard Group Seattle. He has also served as a deployed judge advocate with the Operational Law Division of Multi-National Force – Iraq. While deployed he helped design the legal frameworks that transformed the multi-national command structure of Multi-National Force – Iraq into the unilateral command structure that would become U.S. Forces – Iraq.

Marc's first tour as a Judge Advocate was with the Eighth District (D8) Legal Office in New Orleans. At D8 Marc provided legal guidance to Coast Guard commands along the Gulf Coast, worked with the Department of Justice in Louisiana and Texas on several significant vessel pollution cases, and prosecuted numerous courts-martial.

From 2008 thru 2011, Marc was the Deputy Staff Judge Advocate for the Thirteenth Coast Guard District in Seattle. During this period, he was also a Special Assistant United States Attorney (SAUSA) for the Western District of Washington. As a SAUSA, Marc prosecuted two oil pollution cases resulting in over $850,000 in fines against the polluting companies. He also prosecuted U.S. v. Sin, a case in which a Korean merchant mariner was accused of operating a 600ft cargo vessel while under the influence of alcohol. A jury found Captain Sin guilty at the end of a weeklong trial.

Marc's personal awards include two Defense Meritorious Service Medals, three Meritorious Service Medals, a Coast Guard Achievement Medal, and a Navy & Marine Corps Achievement Medal. Marc is a 1998 graduate of the United States Coast Guard Academy. He earned his Juris Doctorate from Tulane University in 2006 and his Master of Business Administration from U.C. Berkeley in 2013.