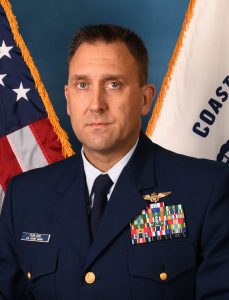 United States Coast Guard
Captain Matthew Furlong comes to the Fletcher School from Coast Guard Air Station Elizabeth City, located in North Carolina, where he served as the Executive Officer from June of 2018 through June of 2021.
Prior to his tour at Air Station Elizabeth City, Captain Furlong served as the Rotary Wing Assistant Operations Officer and then as the Operations Officer at Air Station Clearwater, FL (2014-2018). Other Coast Guard assignments include: Regional Planner/Liaison Officer in the Outreach Directorate (J9) at the United States Africa Command, Stuttgart, Germany (2012-2014); student at the Joint Forces Staff College, Norfolk, VA (Joint Advanced Warfighting School, resulting in an MS in Joint Campaign Planning and Strategy) (2011-2012); MH-60T Transition Cell Team Lead & Flight Examiner, Aviation Training Center in Mobile, AL (2007-2011); and Instructor Pilot & Standardization Officer, Air Station Cape Cod, MA (2004-2007).
Captain Furlong entered the Coast Guard through the Direct Commission Aviator program in August of 2001 after serving 10 years in the US Army as an Aviation Officer. His first Coast Guard assignment was at Air Station Clearwater, FL (2001-2004) where he served as an Instructor Pilot & Schedules Officer.
Captain Furlong began his Army career in 1991 when he graduated from Providence College in Rhode Island as a Distinguished Military Graduate with a BA in English.He received a commission through the ROTC program as a Second Lieutenantin the Aviation Branch and received orders to attend the Army's Aviation Officer Basic Course and Flight School, graduating as a UH-60 rated Aviator.As an Army Officer he served in a variety of conventional and special operations assignments that include: UH-60 Platoon Leader and Battalion Adjutant in the 4-1 Aviation Regiment, 1st Infantry Division, Fort Riley, KS (1993-1995); MH-60K Platoon Leader, Company Executive Officer, Company Operations Officer, Headquarters & Headquarters Company Commander and Liaison Officer to the 75th Ranger Regiment, while assigned to the U.S. Army's 160th Special Operations Aviation Regiment (Airborne) at Fort Campbell, KY (1996-2001).
A rated Coast Guard Aviator, he also earned the Senior Army Aviator Badge, Parachutist Badge, Air Assault Badge, and Ranger Tab.His awards include the Defense Meritorious Service Medal, the Meritorious Service Medal x3, Air Medal, Army Commendation Medal, CG Commendation Medal x 2, CG Achievement Medal, Army Achievement Medal x 2, and various other personal and unit awards.
Captain Furlong is a native of Ansonia, Connecticut and is married to Tammie M. Corbin from Hopkinsville, Kentucky.