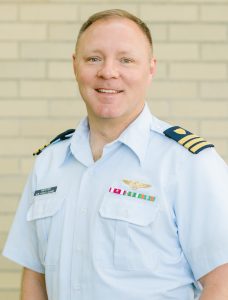 Commander Wesley H. Hester, United States Coast Guard
Commander Wes Hester is the US Coast Guard International Security Studies Program (ISSP) Fellow at the Fletcher School of Law and Diplomacy at Tufts University.
Prior to the Fletcher School, he served as the Chief of Arctic Strategy at US European Command (USEUCOM) in Stuttgart, Germany.
He has held a variety of staff and operational positions throughout his career, including four operational flying assignments. Most recently completing a tour of duty as the Operations Officer and Chief Pilot of Coast Guard Air Station Cape Cod where he directed operations for 40 pilots and 130 aircrew. As the sole aviation unit in the Northeast, he managed search and rescue and law enforcement operations from New York to Canada.
A certified instructor pilot and flight examiner in the HC-130H, his additional aviation assignments include Coast Guard Air Stations Elizabeth City, North Carolina, and Sacramento, California. He was also selected to serve as an exchange pilot with the Royal Canadian Air Force (413 Transport and Rescue Squadron) in Greenwood, Nova Scotia.
His staff positions include serving as the Aviation Assignment officer where he managed the careers of over 800 Coast Guard pilots. He was one of two Coast Guard officers in his year group chosen to attend the US Army Command and Staff College where he participated in a six month inter-agency scholars program focused on Southwest Border Security.
Commander Hester hails from Sarasota, Florida and graduated from the US Coast Guard Academy with a Bachelor of Science in Government. He holds a Master of Science in Management from Liberty University, a Master of Science in Military Studies with a concentration in Homeland Security from the US Army Command and Staff College, and completed his Joint Professional Military Education at the US Army Command and Staff College.