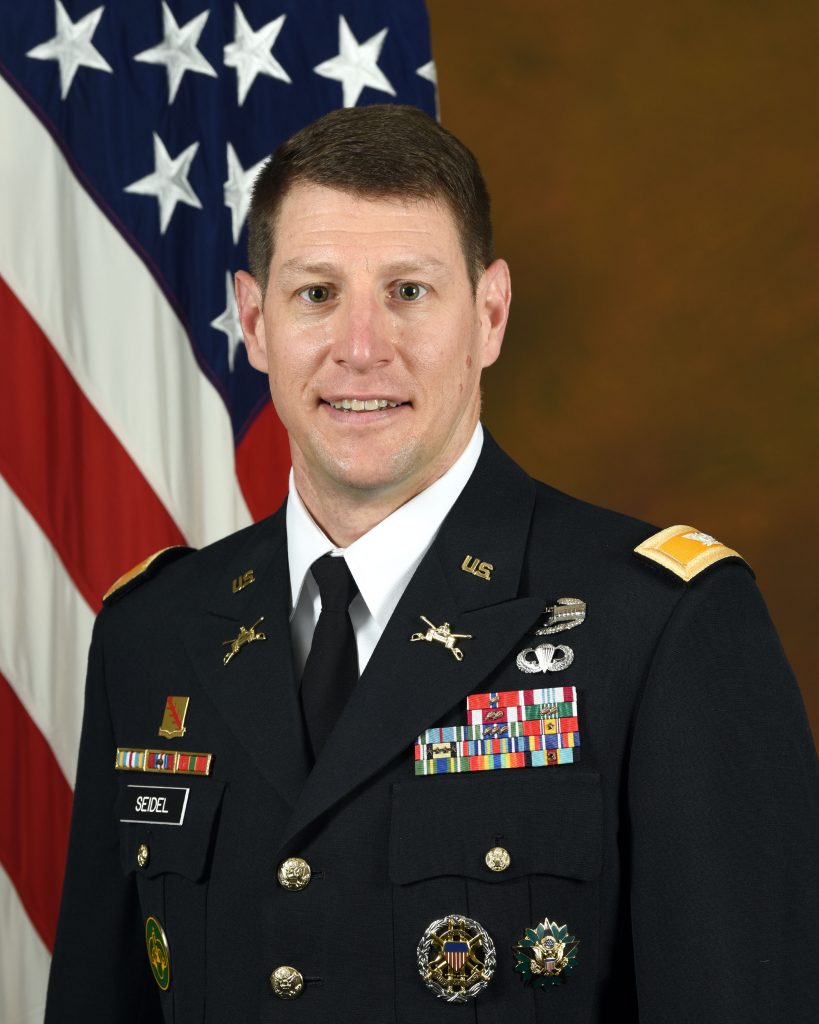 Colonel Scott B. Seidel, United States Army
Originally from Strawberry Point, Iowa, Colonel Scott Seidel was commissioned as a Second Lieutenant in Armor in 1997 after graduating from the United States Military Academy at West Point. Following the completion of the Armor Officer Basic Course, Colonel Seidel served as a Platoon Leader and Company Executive Officer in 1st Battalion, 32nd Armor, in the 2nd Infantry Division, Fort Lewis, Washington. Continuing service at Fort Lewis, he was part of the transformational brigade that would eventually become the first Stryker Brigade Combat Team. In that interim unit, he served as an Anti-Tank Company Executive Officer and as a Squadron Assistant Operations Officer (Training) with the 1st Squadron, 14th Cavalry Regiment.
Following his assignment in Fort Lewis, Colonel Seidel was assigned to Ft. Knox, Kentucky, where he completed the Armor Officer Advanced Course and Cavalry Leaders Course. In 2001, Colonel Seidel was assigned to 2nd Infantry Division in South Korea, where he served for a year as a Battalion Assistant Operations Officer (Training) in the 2nd Battalion, 72nd Armor. He then returned to the states and was assigned to the 3rd Squadron, 3rd Armored Cavalry Regiment in Fort Carson, Colorado. Colonel Seidel served as the Squadron Assistant Operations Officer (Plans) and deployed with the unit in April 2003 to Al Anbar, Iraq, on a twelve month rotation in support of Operation Iraqi Freedom I. Upon redeployment, he took command of Ironhawk Troop. Eleven months after returning from the first deployment, in the spring of 2005, he deployed to South Baghdad, Iraq, for another twelve month rotation as a Troop Commander in support of Operation Iraqi Freedom 04-06.
After returning from his second deployment, Colonel Seidel switched his Army career management field from Armor to Operations Research/Systems Analysis. He was then assigned to the Training and Doctrine Command Analysis Center at Fort Leavenworth, Kansas, from 2006-2008, as a Combat Operations Analyst where he used modeling and simulation to inform the procurement of the next generation of weapons systems. From 2008 to 2010, Colonel Seidel attended and graduated from Massachusetts Institute of Technology with a Master of Science in Operations Research. His master thesis modeled how to maximize security in an insurgency based on Combat Outposts emplacement. While attending MIT, Colonel Seidel also completed a fellowship at Draper Laboratory in Cambridge, Massachusetts.
From 2010 – 2013, he served as an instructor and assistant professor in the Department of Mathematical Science at the United States Military Academy at West Point, New York, primarily teaching probability & statistics. In 2013, Colonel Seidel moved to the National Capital Region where he served as a Joint Planner and Analyst in the Future Concept of Operations (CONOPs) Division; Force Structure, Resource, & Assessment Directorate (J-8); Joint Staff in the Pentagon, Washington, DC.
Colonel Seidel's most recent assignment, from 2016 – 2019, was also in the Pentagon with the Office of the Deputy Chief of Staff G-1, Headquarters, Department of the Army, as the officer career analyst in the Directorate of Military Personnel Management. COL Seidel provided the analysis for how best to shape and size the officer corps and other officer personnel policy decisions.
Colonel Seidel is a graduate of Airborne School. His awards and decorations include the Bronze Star Medal, Defense Meritorious Service Medal, Meritorious Service Medal, and the Combat Action Badge.