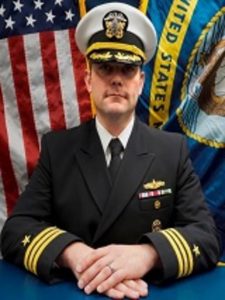 United States Navy
Commander Buford is a native of the Fourteenth Ward of New Orleans. He was graduated from the Massachusetts Institute of Technology in 2002 with a Bachelor's Degree in Aerospace Engineering. He received his commission through the NROTC program and reported to the Surface Warfare Officers School in Newport, RI for the Division Officer's Course.
CDR Buford reported to USS LAKE ERIE (CG 70) in Pearl Harbor, HI for his first division officer tour, where he served as Anti-Submarine Warfare Officer and First Lieutenant, participating in three operational tests of the AEGIS Ballistic Missile Defense System. Following Advanced Engineering Training in Newport, RI he reported to USS RUSHMORE (LSD 47) in San Diego, CA as Auxiliaries Officer.
After his division officer tours, CDR Buford served as Flag Lieutenant for Commander, Military Sealift Command, headquartered in the Navy Yard in Washington, DC. He then studied at the National Defense Intelligence College, receiving a Master's Degree in Strategic Intelligence in 2009.
CDR Buford reported to USS JOHN S. MCCAIN (DDG 56), forward-deployed to Yokosuka, Japan, for his first department head tour, where he served as Engineer Officer. During his tour, the ship provided disaster assistance as part of Operation Tomodachi. His second department head tour was as Operations Officer in USS SAN JACINTO (CG 56), homeported in Norfolk, VA, where he deployed to the Mediterranean Sea and Arabian Gulf.
In July of 2014, CDR Buford assumed command of USS CHINOOK (PC 9), forward-deployed to Manama, Bahrain. During his time onboard, USS CHINOOK conducted wide-ranging maritime security operations throughout the Gulf of Arabia and the Arabian Sea, participated in multiple international exercises, and conducted more than 30 transits of the Strait of Hormuz.
From April of 2016 to April of 2018, CDR Buford served within the Strategic Plans and Policy directorate on the Joint Staff, Washington, DC, as the Saudi Arabia and Yemen Desk Officer. He reported to USS MOMSEN, homeported in Everett, WA Executive Officer in October of 2018, and assumed command in July of 2020.