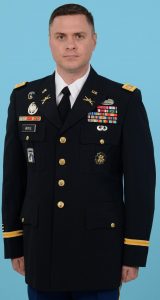 United States Army
Lieutenant Colonel Geoffrey Heiple is from Johnstown, Pennsylvania. He graduated from the University of Notre Dame with a BA in Government and International Studies and was commissioned a Second Lieutenant of Armor through ROTC in 2001. LTC Heiple served as a Tank Platoon Leader, Scout Platoon Leader, Troop Executive Officer, and Assistant S3 in the 1st Squadron, 7th Cavalry Regiment, 1st Cavalry Division, Fort Hood, Texas from March 2002 to June 2005. He deployed to Baghdad for OPERATION IRAQI FREEDOM II from March 2004 to March 2005.
LTC Heiple entered the Army Reserve in 2006 as an Assistant Professor of Military Science at the University of Pittsburgh and later was the Keystone Region Team Chief with 8th Brigade, 80th Division, reflagged to 4th Battalion, 415th Regiment (SROTC), 3rd Brigade, 104th Division. From 2009 to 2011, he served as a G3 Plans Officer and later was the Command Historian with the 316th Expeditionary Sustainment Command, Coraopolis, Pennsylvania. From 2011 to 2013, he was the Battalion Operations Officer for 3rd Battalion, 312th Regiment (CS/CSS), 174th Infantry Brigade, First Army at Fort Meade, Maryland. He transitioned to Active Reserve (AGR) status as an Army Strategist (FA59) and served as a Future Operations Planner, G35, XVIII Airborne Corps, Fort Bragg, North Carolina from June 2015 to November 2016. He then served as a Plans Team Chief, CJ5, Combined Joint Task Force-OPERATION INHERENT RESOLVE, Camp Arifjan, Kuwait from November 2016 to August 2017. From August 2017 to May 2019, he served as a Senior Strategist, CAR/CG's Action Group, Office of the Chief of Army Reserve, Fort Belvoir, Virginia. From June 2019 to June 2021, LTC Heiple commanded the 10th Battalion, Army Reserve Careers Group, in Whitehall, Ohio.
LTC Heiple earned a Juris Doctor with honors from the Duquesne University School of Law in 2010; a Master's Degree in Public Policy and Management with a certificate in African Studies from the University of Pittsburgh in 2011; and two Master's Degrees in Military Art and Science from the U.S. Army Command and General Staff College—Strategic Studies (2014) and Theater Operations (2015). He is admitted to the practice of law in the Commonwealth of Pennsylvania and the U.S. District Court for the Western District of Pennsylvania.
LTC Heiple is a graduate of the Armor Officer Basic Course, Maneuver Captain's Career Course(RC), U.S. Army Command and General Staff College, School of Advanced Military Studies, Basic Strategic Arts Program, Defense Strategy Course, and the Reserve Components National Security Course. His awards and decorations
include the Bronze Star Medal, Defense Meritorious Service Medal, Meritorious Service Medal (2 OLC), Army Commendation Medal (1 OLC), Iraq Campaign Medal, Inherent Resolve Campaign Medal, Combat Action Badge, and Basic Parachutist Badge. His amazing wife, Courtney, is from Sylvania, Ohio. She is an Associate General Counsel and Ethics Program Specialist for the Special Inspector General for Afghanistan Reconstruction (SIGAR). They have two adorable children, Carson and Evelyn, and two very fluffy cats.