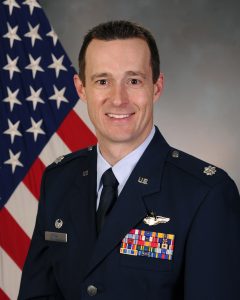 United States Airforce
Lt. Col. Joshua O. Arki is a US Air Force Fellow at the Fletcher School of Law and Diplomacy at Tufts University in Medford, Massachusetts.
Lt. Col. Arki entered the Air Force in 2004 after receiving his commission from the U.S. Air Force Academy. Following graduation, he attended Undergraduate Pilot Training at Vance AFB followed by F-16 training at Luke AFB. In 2014 he was selected to transition to the F-35A.Lt. Col. Arki is a command pilot with more than 2,000 flying hours including more than 400 combat hours in the F-16C and F-35A in support of Operation Iraqi Freedom and Operation Inherent Resolve. In 2019, he commanded the first-ever F-35A combat deployment in support of Operation Inherent Resolve and the Resolute Support Mission. Prior to his current position, he was the Commander, 4th Fighter Squadron, Hill AFB, Utah.
Education
2004 Bachelor of Science in Astronautical Engineering, U.S. Air Force Academy, Colorado Springs, Colo.
2011 Squadron Officer School, Maxwell Air Force Base, Ala.
2012 Weapons Instructor Course, Nellis AFB, Nev.
2012 Masters of Business Administration, University of Nebraska, Lincoln
2014 Air Command and Staff College, Maxwell AFB, Ala., by correspondence
2017 Masters of Science in National Security and Strategic Studies, United States Naval War College, R.I.