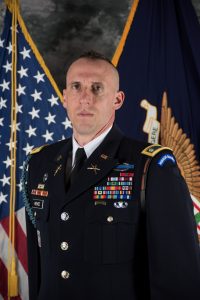 United States Army
A native of Snellville, Georgia, Lieutenant Colonel Kehoe graduated and received his commission as an Infantry Officer from North Georgia College and State University in 2001. His first assignment was as a Brigade Reconnaissance Troop (BRT) Platoon Leader in B Troop, 9thCalvary, 3rdBrigade, 4thInfantry Division, Fort Carson, Colorado. Following this assignment, he was selected and served as a Rifle Platoon Leader and Company Executive Office in Charlie Company, 3rdBattalion, 75thRanger Regiment, Fort Benning, Georgia. After attending the Captain's Career Course, he moved to Italy to serve with the 173rdAirborne Brigade as an Assistant S-3 and later as the Delta Company Commander in 1stBattalion (Airborne), 503rdInfantry Regiment. In 2009, LTC Kehoe returned to the United States where he commanded CharlieCompany, 5thRanger Training Battalion, Dahlonega, Georgia. Upon completion of command, he attended the U.S. Command and General Staff College at Fort Leavenworth, Kansas. From 2011-2012, he served with the 1stInfantry Division at Fort Knox, Kentucky as the 2ndBattalion S3 and Brigade Operations Officer in the 3rdBrigade Combat Team. Following this assignment, he served as the Deputy Branch Chief for Current Operations (Ground Operations) at United States Central Command, MacDill Air Force Base, Tampa, Florida. He later went on to serve as the Iraq/Syria Lead portfolio manager for CENTCOM Commanders Action Group (CAG). Upon selection for Battalion Command, LTC Kehoe moved to Fort Myer, Virginia to initially serve as the Deputy Commander of the 3d U.S. Infantry Regiment (The Old Guard). In 2018, he assumed command of 1stBattalion, 3d U.S. Infantry Regiment (The Old Guard). In this assignment, LTC Kehoe was responsible for all Army burials in Arlington National Cemetery, while also providing joint service support through Caisson and the Presidential Salute Battery. Today, LTC Kehoe serves as Executive Officer to the Director of Program Analysis and Evaluation (PAE), HQDA-G8. Earlier this year, LTC Kehoe was selected as a War College Fellow at Tufts University–Fletcher School of Law and Diplomacy, International Security Studies Program (ISSP)for the 2021-2022 Academic Year.
His operational deployments include one deployment to Iraq(2003-2004) and four deployments to Afghanistan (2005, 2006, 2007-2008, 2013-2014).
LTC Kehoe's military training includes the Infantry OfficerBasic Course and Advanced Courses, United States Army Command and General Staff College, Joint and Combined Warfighting School (JPME2), Mechanized Leader, Airborne School, Basic Instructor Training Course, Tactics Certification Course, and Ranger School. He holds a Bachelors' degree in Criminal Justice from North Georgia College and State University and a Master's Degree in International Relations from Webster University.
His awards and decorations include the Bronze Star Medal, Defense Meritorious Service Medal, Meritorious Service Medal, Army Commendation Medal, Joint Service AchievementMedal, Army Achievement Medal, IraqCampaign Medal, Afghanistan Campaign Medal, Global War on Terrorism Service Medal, Armed Forces Expeditionary Medal, National Defense Service Medal, NATO Medal, and the General Douglas MacArthur Leadership Award. Unit awards include the Joint Meritorious
Unit Award, Valorous Unit Award, and the Meritorious Unit Citation. He is authorized to wear the Combat Infantryman Badge, Expert Infantryman Badge, Parachutist Badge, and the Ranger Tab.
LTC Kehoe married the former Christie Williams of Plains, Georgia in 2004. She is also a graduate of North Georgia College and State University, class of '00 and '02. They are the proud parents of a daughter, Kate (11), and currently live in Arlington, Virginia.