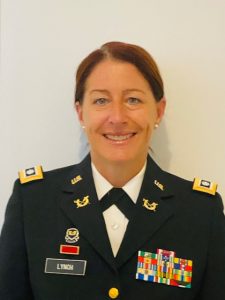 United States Army
Lieutenant Colonel Sue Lynch is a United States Army War College Fellow at the Tufts Fletcher School of Law & Diplomacy for Academic Year 2022. She received a Direct Commission as a Judge Advocate General in 2000. She is a graduate of the Judge Advocate Basic Course, the Judge Advocate Advanced Courses, and the Intermediate Level Education Course.
Prior to her arrival at Tufts Fletcher School, Lieutenant Colonel Lynch served as Medical Legal Advisor with the National Guard Bureau, Office of the General Counsel advising on health law issues, including COVID-19 related issues and the Disability Evaluation System.  
Lieutenant Colonel Lynch enlisted in the U.S. Army Reserve in 1987 as a paralegal specialist (72D) and served for 14 years at the 3rd Judge Advocate General (JAG), Boston, Massachusetts. She deployed to Saudi Arabia with the 46th JAG Detachment, 3rd JAG, in support of Operation Desert Shield and Operation Desert Storm. After commissioning, Lieutenant Colonel Lynch served as Defense Counsel (DC) with the 154th Legal Support Organization (LSO), the first Reserve Component Trial Defense Service (TDS) command, on the Boston Team representing Soldiers in the New England Region. In August 2004, she deployed to Camp Bondsteel, Kosovo to serve as Senior Defense Counsel (SDC) in support of Task Force Falcon representing Soldiers in Kosovo and Bosnia. Upon returning from Kosovo in January 2005, Lieutenant Colonel Lynch served as an Assistant Staff Judge Advocate at Headquarters, 94th Regional Readiness Command, Fort Devens, Massachusetts. In January 2007, she was assigned to the 655th Regional Support Group to serve as Assistant Command Judge Advocate/Brigade Judge Advocate. In February 2008, Lieutenant Colonel Lynch returned to the 154th LSO to serve as SDC for the Fort Dix team serving the Mid-Atlantic Region.
In October 2011, she returned to the 3rd Legal Operation Detachment (formerly known as the 3rd JAG),as the team leader for newly established MEB/PEB mission until May 2012 when she mobilized to serve as a Senior Soldiers' Physical Evaluation Board Counsel and Acting Deputy Supervisory Counsel until May 2014. Between June 2014and September 2015, Lieutenant Colonel Lynch served as a General Law Attorney with the Office of The Judge Advocate General. In October 2015, Lieutenant Colonel Lynch transferred to the Massachusetts Army National Guard with duty at the Army National Guard (ARNG) Trial Defense Service (TDS) at the National Guard Bureau. Between October 2015 and November 2017, Lieutenant Colonel Lynch served as the ARNG TDS Operations Officer responsible for training and operational support of ARNG TDS in 54 States and Territories. She also served as the ARNG TDS the Northeast and West Region Full-Time Support Attorney (FTSA) between November 2017 and October 2018. Between June 2018 and September 2020, Lieutenant Colonel Lynch served as the Northeast FTSA and the Assistant FTS Officer-in-Charge and served as the FTS Officer-in-Charge between June 2019 and September 2020.  
Lieutenant Colonel Lynch holds a Juris Doctorate from Suffolk Law School and a Bachelor of Science degree from Suffolk University. Her awards and decorations include the Meritorious Service Medal (4th Award), Army Commendation Medal (7th Award), Army Achievement Medial (3rd Award), Army Reserve Component Achievement Medal (4th Award), National Defense Service Medal (3rd Award), Global War on Terrorism Expeditionary Medal, Global War on Terrorism Service Medal, Kosovo Campaign Medal, Armed Forces Service Medal, Non Commissioned Officer Professional Development Ribbon, Army Service Ribbon, Armed Forces Reserve Medal with M Device (3nd Award), NATO Medal, Southeast Asia Medal (2 Bronze Service Stars), Kuwait Liberation Medal (Saudi Arabia), and Kuwait Liberation Medal (Kuwait).  
LTC Lynch currently resides in Hull, MA. She is blessed with the support of her partner, Dan, her family and friends residing in New England and across the country, including three amazing nephews and two nieces.