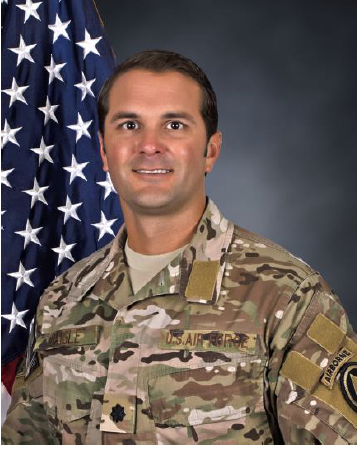 United States Air Force
Commander, Joint GEOINT Squadron
Lt Col Daigle is the commander of the Joint GEOINT Squadron, Ft Bragg NC where he leads over 430 joint personnel and is responsible for the Enterprise's 24/7 GEOINT hub.
Lt Col Daigle enlisted in the USAF in 1996 as an Imagery Analyst and was part of the initial cadre for Predator RQ-1/MQ-1 sensor operators accumulating +1200 hours and deploying on multiple occasions, prior to receiving his commission through Officer Training School as a distinguished graduate in 2003. He began his career as an Intelligence Officer as the chief of plans and readiness with the 25th Information Operations Squadron, Hurlburt Field, Florida and held various flight commander positions which later culminated as the Assistant Director of Operations. During his tenure with the 25 IS, Lt Col Daigle led a highly selective joint team in Iraq, supporting Operation IRAQI FREEDOM. In 2007, he was selected to be the Aide-de-Camp to the Commander, Air Force Intelligence, Surveillance and Reconnaissance Agency and was assigned to Lackland AFB, TX. In 2009, Lt Col Daigle served as the Senior Intelligence Duty Officer (SIDO) deployed to the Combined Air Operations Center, Combat Operations Division, Al Udeid Air Base, Qatar. Immediately following this deployment, in 2010, he was assigned to Offutt AFB, Nebraska for RC-135 V/W RIVET JOINT advanced flying training with a follow-on assignment to the 488th Intelligence Squadron, RAF Mildenhall, UK. Throughout his time at the 488 IS, he has deployed 5 times ISO Operations ENDURING FREEDOM, UNIFIED PROTECTOR and other nationally directed taskings across three Combatant Commands. He then went on to serve as the Director of Operations for the 22d Intelligence Squadron, followed by completing his second Master's from the Naval Postgraduate School, Monterey CA.
EDUCATION
2001 Airman Leadership School, Nellis AFB, Nevada (DG)
2001 B.S., Religion, Southern Christian University, Alabama (Magna Cum Laude)
2003 M.S., Business Admin/Organizational Leadership, Amridge University, Alabama (Magna Cum Laude)
2003 Officer Training School, Maxwell AFB, Alabama (DG)
2004 Intelligence Officer School, Goodfellow AFB (DG/Commandant Award)
2004 Air and Space Basic Course, Maxwell AFB, Alabama
2009 Squadron Officer School, Maxwell AFB, Alabama
2013 Air Command and Staff College, Correspondence
2016 M.S., Special Operations and Irregular Warfare, Naval Postgraduate School, Monterey, CA.
ASSIGNMENTS
1. Jul 1996 – Jul 2003, IN1 Imagery Analyst, Initial cadre RQ/MQ-1 Sensor Op Instructor/Evaluator.
(11RS/15RS/Det 4 53 Test and Evaluations Group Lead Sensor Operator), Creech AFB, NV
2. Jul 2003 – Sep 2003, Student, Officer Training School, 315 TRS, Goodfellow AFB TX (DG)
3. Sep 2003 – Jun 2004, Student Pilot Phase 1 Complete, Columbus AFB, MS
4. Jul 2004 – Apr 2004, Intelligence Officer's Course, 315th TRS, Goodfellow AFB TX (DG/Commandants Award)
5. Apr 2004 – Jul 2007, Flt Commander Mobility/Scheduling, SOF ISR Msn CC, Asst. Director of Operations, 25th Intelligence Squadron, Hurlburt Field, FL
6. Jul 2007 – Aug 2009, Aide-de-Camp to the Commander, Air Force Intelligence Surveillance and Reconnaissance Agency, Lackland AFB, TX
7. Aug 2009 – Feb 2010, Senior Intelligence Duty Officer, Combat Ops Division, CAOC, Al Udeid AB, Qatar
8. Feb 2010 – Mar 2010, Survival School (80/83/90/220), Fairchild AFB, Washington
9. Apr 2010 – Aug 2010, Aircrew Training, RC-135 Advanced Flying Course, Offutt AFB, NE
10. Aug 2010 – Aug 2011, Flight Commander, Operations Training, 488th IS, RAF Mildenhall, UK
11. Sep 2011 – Nov 2012, Asst. Director of Operations, 488th Intelligence Squadron, RAF Mildenhall, UK
12. Nov 2012 – Jun 2013, Director of Support, 488th Intelligence Squadron, RAF Mildenhall, UK
13. Jun 2013 – Jun 2015, Director of Operations, 22d Intelligence Squadron, Ft Meade, MD
14. Jun 2015 – Dec 2016, Student, Naval Postgraduate School, M.S., Special Operations/Information Warfare
15. Dec 2016 – Dec 2017, Deputy J3, JSOC Intelligence Brigade, Ft Bragg, NC
16. Dec 2017 – May 2018, Acting Deputy Commander, JSOC Intelligence Brigade, Ft Bragg, NC
17. Jun 2018 – Present, Commander, Joint GEOINT Squadron, Ft Bragg, NC
FLIGHT INFORMATION RC-135 V/W Information Integration Officer Flight hours: 1023
Combat hours: 523
RQ-1/MQ-1 Predator Sensor Operator
Flight Hours: +1200
MAJOR AWARDS AND DECORATIONS 1. Bronze Star 2. Meritorious Service Medal (+1) 3. Air Medal 4. Aerial Achievement Medal (+2) 5. Air Force Commendation Medal (+3)
EFFECTIVE DATES OF PROMOTION
Airman Basic 24 Jul 1996
Airman 24 Jan 1997
Airman First Class 24 Nov 1997
Senior Airman (BTZ) 24 Jan 1999
Staff Sergeant 01 Dec 01
Second Lieutenant 19 Sep 03
First Lieutenant 19 Sep 05
Captain 19 Sep 07
Major 1 Dec 13
Lt Col 1 Nov 17
(Current as of Jan 2020)