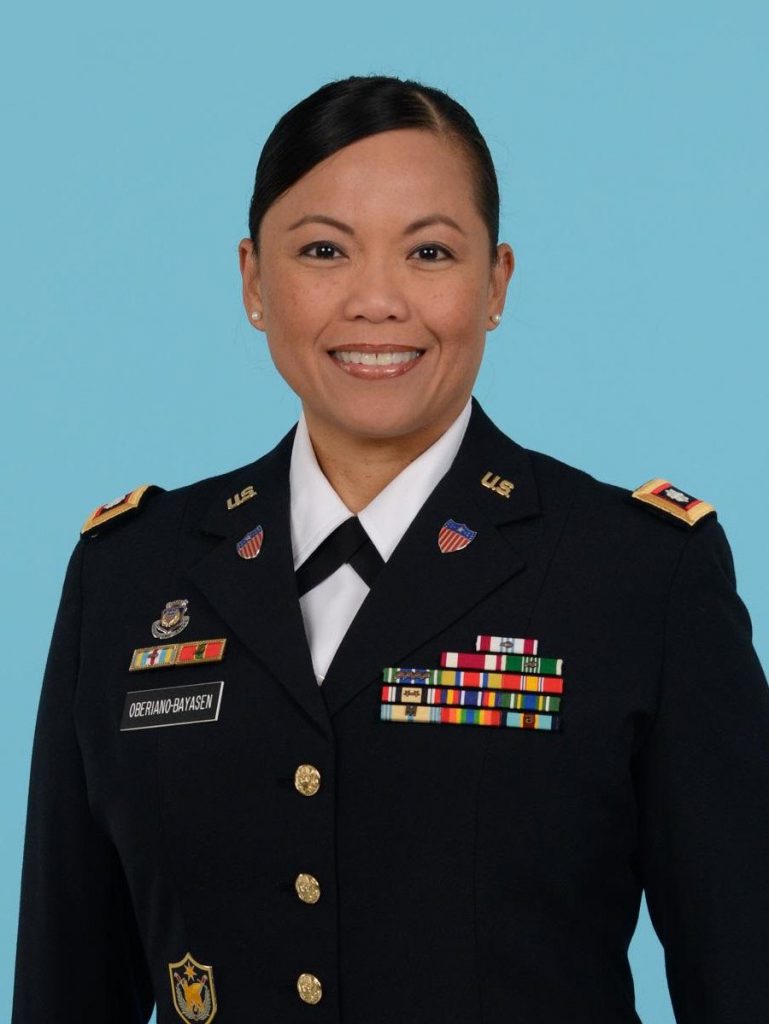 United States Army Reserve
Originally from the United States Pacific island territory of Guam, Lieutenant Colonel (LTC) Lily Oberiano-Bayasen commissioned as a Second Lieutenant Finance officer in 1997 through the Reserve Officer Training Corps (ROTC) program at the University of Guam.
Following the completion of the Finance Officer Basic Course, LTC Oberiano-Bayasen served her first assignment in the Republic of Korea as a Finance Disbursing Officer with the 177th Finance Battalion at Camp Casey. With an in-country follow-on assignment, LTC Oberiano-Bayasen served her second assignment with the 176th Finance Battalion in Yongsan as Detachment Executive Officer and Interim Detachment Commander. Following her overseas assignments in the Republic of Korea, LTC Oberiano-Bayasen was assigned to III Corps Secretary of the General Staff where she served as the III Corps Protocol Officer at Fort Hood, Texas. She then went on to assume command of Bravo Detachment, 215th Finance Battalion, at Fort Hood, Texas before leaving active duty.
In March 2007, LTC Oberiano-Bayasen joined the Army Reserve as a Troop Program Unit (TPU) Soldier and switched her career management field from the Finance Corps to the Adjutant General's Corps. Her first TPU assignment was with the 338th Military Intelligence Interrogation Battalion (reactivated) at San Antonio, Texas as the Battalion S1 Personnel Officer. One year after its reactivation, the battalion deployed to Iraq in support of Operation Iraqi Freedom where LTC Oberiano-Bayasen served as the J1 Joint Personnel Staff Officer at the Joint Interrogation Debriefing Center. Upon return from Iraq, she served as the S3 Operations Officer with the 338th Military Intelligence Battalion before her final TPU assignment with the 4/414th Regiment as Assistant Professor of Military Science (APMS) with the University of Texas at San Antonio.
In December 2011, LTC Oberiano-Bayasen was selected to the Active Guard Reserve (AGR) program which provides full-time support to Army Reserve Components. Her first AGR assignment kept her working with Army ROTC cadets as Executive Officer/APMS at Norfolk State University in Virginia. In August 2014, she served as the Joint Reserve Unit (JRU) Manager and Army Reserve Individual Mobilization Augmentee coordinator at Headquarters, US Army Africa Command in Stuttgart, Germany. During this time, she managed Reserve personnel assets for rapid expansion of the command's Active Army wartime structure in the event of military contingency operations. LTC Oberiano-Bayasen's most recent assignment was with the Office of the Chief of Army Reserve, Senior Leader Development Office where served as the Army Reserve Colonel Career Manager/ Assignment Officer.
LTC Oberiano-Bayasen's military education includes the Finance Officer Basic Course; Adjutant Generals Captain Career Course, SOCC Instructor Training Course, Human Resource Assistant Course, Intermediate Level Education- Common Core and Advanced Officer Course.
Lieutenant Colonel Oberiano-Bayasen graduated from the University of Guam with a Bachelor of Business Administration degree in Accounting and holds a Masters of Business Administration degree from Tarleton State University.