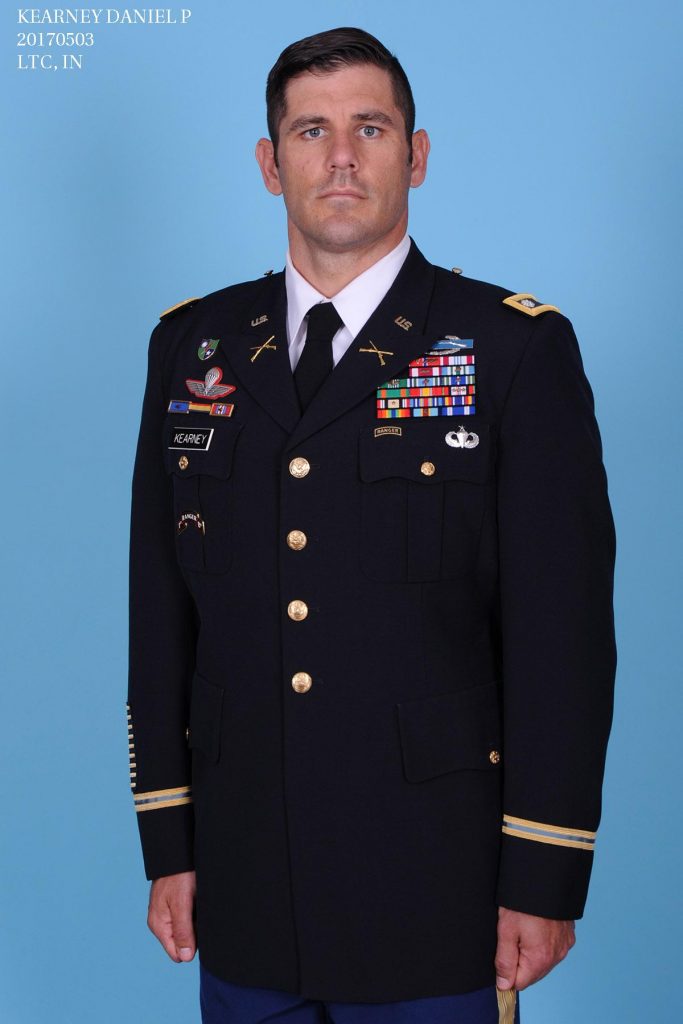 Lieutenant Colonel Daniel P. Kearney, United States Army
LTC Kearney was born an Army brat and calls Georgia home. He attended North Georgia College and State University, "The Military College of Georgia", and commissioned in August 2002 as a Second Lieutenant, while earning a degree in marketing.
LTC Kearney is a graduate of the Ranger course, Infantry Officer Basic Course (IOBC), Airborne School, Infantry Captains Career Course (ICCC), and the Infantry Mortar Leader's Course (IMLC) and holds a Masters degree from the Naval War College.
LTC Kearney's first assignment was as a Platoon Leader for 3rd Platoon, A Company, 1-24 Infantry (Stryker Brigade Combat Team) at Fort Lewis, WA. In 2004 he deployed to Mosul, Iraq in support of OIF III. After 8 months as a platoon leader, he took command of B Co. 1-24 Infantry and was later their Executive Officer for re-deployment. After completing the Captains Career Course, LTC Kearney was assigned to the 173rd Airborne Brigade, in Vicenza, Italy, where he served on the brigade staff as the S-3 Plans before taking command of Battle Company, 2-503rd Infantry (Airborne) in November 2007. During command, LTC Kearney led his company through a 15-month deployment in support of Operation ENDURING FREEDOM VIII in the Korengal Valley. Upon his return, he served as the Aide de Camp to the Commander of United States Army Southern European Task Force/ Army Africa (SETAF). In 2009, LTC Kearney moved to Fort Benning, GA and served as the battalion S4, A Company Commander, and Liaison Officer for 3d Battalion, 75th Ranger Regiment. During this time, he took part in numerous combat deployments to Iraq and Afghanistan, serving as a Company Commander and Assistant Operations Officer. Following his time at the Naval War College, LTC Kearney reported to 1st Ranger Battalion at Hunter Army Airfield, GA. Over the next two years he served as the Liaison Officer, Operations Officer, and Executive Officer and deployed to Afghanistan as an operations officer for a Joint Special Operations Task Force on numerous occasions before moving to the 75th Ranger Regiment headquarters. There, Dan served as the forward Joint Task Force Operations Officer in Afghanistan and as the Deputy Operations Officer for the 75th Ranger Regiment. Following his service in the 75th Ranger Regiment, LTC Kearney assumed command of 2nd Battalion, 501st Parachute Infantry Regiment at Fort Bragg, NC with the 82nd Airborne Division. There he led his battalion on a 9-month combat deployment to Afghanistan where they served as the Theater Reaction Force for CENTCOM and the Commander of Resolute Support. Following command, LTC Kearney was assigned to the 82nd Airborne Division Headquarters, where he served as the Assistant Chief of Staff for Operations, as the G3.
LTC Kearney's awards and decorations include 1x Bronze Star for Valor, 3x Bronze Stars, 2x Defense Meritorious Service Medals, 4x Meritorious Service Medals, 2x Joint Service Commendations Medals, 1x Army Commendation Medal for Valor, 1x Army Commendation Medal, 2x Joint Service Achievement Medal, and 2x Army Achievement Medal. He has earned the Ranger tab, combat infantryman's badge, expert infantryman's badge, senior parachutist badge, and the Italian parachutist badge. LTC Kearney is the recipient of the MacArthur Leadership Award and holds a Masters degree in National Security and Strategy from the Naval War College.
He is married to the former Lauren White of Atlanta Georgia, and they have 2 sons; Danny, 12 years old, and Jackson, 9 years old.