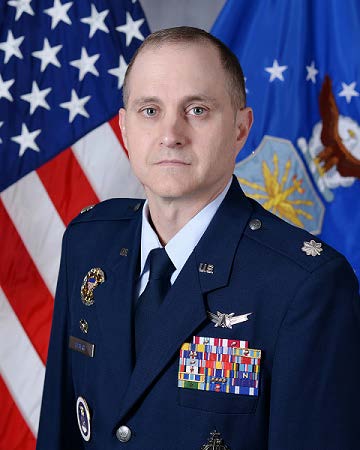 Lieutenant Colonel Robert W. Hebert, United States Air Force

Lieutenant Colonel Robert W. Hebert is the Commander, 343d Recruiting Squadron, Offutt Air Force Base, Nebraska. He leads a dedicated team in inspiring, engaging and recruiting future Airmen to deliver airpower for America. He oversees a squadron of nine enlisted accession flights with approximately 100 active duty and civilian personnel covering the states of Nebraska, Iowa, North Dakota, South Dakota, Minnesota, and Wisconsin – more than 370,000 square miles. He partners with military, civic, educational and community organizations to generate awareness of Air Force recruiting programs and develop public support for the Air Force. Lieutenant Colonel Hebert enlisted in the Air Force in 1996 and served as a radar technician before being commissioned through the Air Force Officer Training School in 2002. He has held various assignments in the nuclear and missile career field, including crew commander, standardization and evaluation senior crew, as well as staff assignments with Air Force Recruiting Services and the Air Force Nuclear Weapons Center.
Prior to this assignment, Lieutenant Colonel Hebert was a Joint Planner with the Joint Staff, J-5 at The Pentagon in Washington, DC. In this position, he worked to develop Joint Staff positions on policies related to Global Posture in order to support the Chairman of the Joint Chiefs of Staff.

EDUCATION
1999 Bachelor of Arts in Psychology, Langston University, Langston, OK
2003 Aerospace Basic Course, Maxwell AFB, AL
2005 Masters of Public Affairs, Park University, Parkville, MO
2006 Squadron Officers School, Maxwell AFB, AL
2014 Masters of Military Operational Art and Science, Air Command and Staff College, Maxwell AFB, AL
2015 Masters of Philosophy in Military Strategy, School of Advanced Air & Space Studies, Maxwell AFB, AL

ASSIGNMENTS
1.January 1996 – February 2002, Enlisted, Radar Journeyman, Tinker AFB, OK2.March 2002 – September 2002, Student, Missile Initial Qualification Training, Vandenberg AFB, CA3.September 2002 – August 2006, Missile Combat Crew Commander, Standardization and Evaluation Senior Crew Commander, 90th Operations Group, F.E. Warren AFB, WY4.August 2006 – August 2010, Operations and Support Flight Commander, 344th Recruiting Squadron, Arlington, TX5.August 2010 – August 2013, Executive Officer, Chief Commander's Action Group Chief, Air Force Nuclear Weapon Center, Kirtland AFB, NM6.August 2013 – July 2014, Student, Air Command and Staff College, Maxwell AFB, AL7.July 2014 – June 2015, Student, School of Advanced Air & Space Studies, Maxwell AFB, AL8.June 2015 – June 2017, Joint Planner, J-5, Joint Staff, Pentagon, Washington DC9.June 2017 – Present, Commander, 343d Recruiting Squadron, Offutt AFB, Nebraska

SUMMARY OF JOINT ASSIGNMENTS 1.June 2015 – June 2017, Joint Planner, J-5, Joint Staff, Pentagon, Washington DCMAJOR AWARDS AND DECORATIONS Defense Meritorious Service Medal with one oak leaf cluster Meritorious Service Medal with one oak leaf cluster Air Force Commendation Medal Air Force Achievement Medal Combat Readiness Medal Air Force Good Conduct Medal with one oak leaf cluster National Defense Service Medal Armed Forces Expeditionary Medal Afghanistan Campaign Medal Global War on Terrorism Service Medal Nuclear Operations Deterrence Medal with "N" device NATO Medal
EFFECTIVE DATES OF PROMOTION
Second Lieutenant March 1, 2002
First Lieutenant March 1, 2004
Captain March 1, 2006
Major January 1, 2012
Lieutenant Colonel November 1, 2016
(Current as of July 2017)