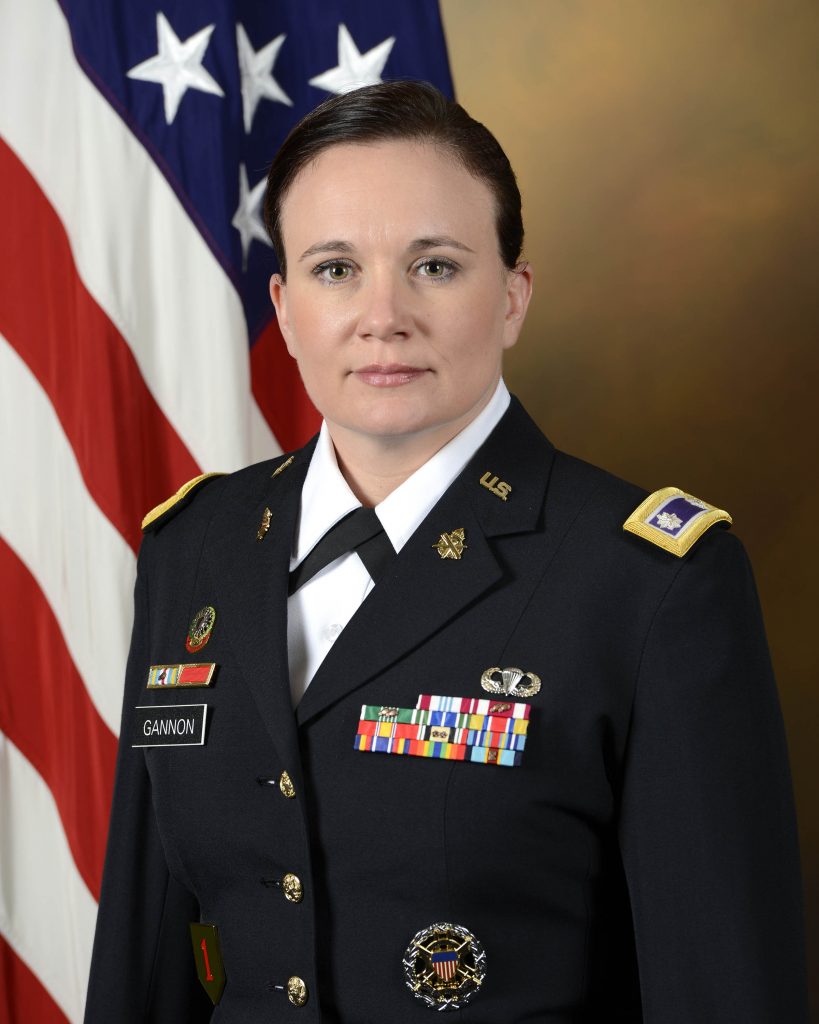 Lieutenant Colonel Susan M. Gannon, United States Army Reserves
Lieutenant Colonel Susan Gannon commissioned as an Air Defense Artillery officer in 2003 through the Reserve Officer Training Corps program at the University of Pittsburgh, Pennsylvania. She served her first assignment with Delta Battery, 4-3 Air Defense Battalion, 1st Infantry Division in Kitzingen, Germany where she deployed to Tikrit, Iraq as an Avenger Platoon leader in support of Operation IRAQI FREEDOM II. In August of 2005, LTC Gannon was assigned to Charlie Battery, 1-1 Air Defense Battalion, 31st Air Defense Brigade at Fort Bliss, Texas as the executive officer. In 2007, she assumed command of Headquarters Battery, 3-43 Air Defense Battalion, 11th AD Brigade at Fort Bliss, deploying to Camp As Salayiah, Qatar and Camp Arifjan, Kuwait. In August 2009, LTC Gannon was reassigned to the Joint Integrated Air and Missile Defense Organization (JIAMDO) on The Joint Staff at The Pentagon, Arlington, Virginia where she served as an exercise and wargame planner and executive assistant.
In June 2012, LTC Gannon left Active Duty and joined the United States Army Reserves where she assumed command of Delta Company, 450th Civil Affairs Battalion (Airborne). Upon completion of her company command in July 2014, she was assigned to the 352nd Civil Affairs Command as the Assistant G3-Air. In July 2015, LTC Gannon deployed to Camp Arifjan, Kuwait as a Civil Affairs Planner for Theater Security Cooperation in the Theater Civil Military Operations Cell (T-CMOC). From May 2017 until August 2019, LTC Gannon commanded the 450th Civil Affairs Battalion (Airborne) in White Plains, Maryland.
LTC Gannon's military education includes: US Army Airborne School, Air Defense Officer Basic Course – SHORAD Track, Air Defense Officer Advance Course, the Joint Staff Training Course, Ballistic Missile Defense Staff Course, Civil Affairs Qualification Course, Intermediate Level the Command and General Staff College, and the Security, Stability, and Development in Complex Operations course at the Naval Postgraduate School.
LTC Gannon hails from Eden, New York and currently lives in Falls Church, Virginia. She works for KBR as a Congressional and strategic communications analyst for the Headquarters, Department of the Army. She has Bachelors of Science in Psychology from the University of Pittsburgh and a Masters of Arts in Management and Leadership from Webster University. She is a volunteer coach with the Athletes Without Limits – DC Rowing Team.