Shelby Cullom Davis Professor of International Security Studies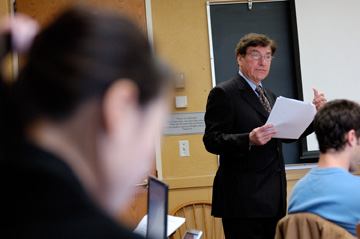 Since arriving at Fletcher in 1971, Professor Robert Pfaltzgraff has embodied the School's commitments both to an interdisciplinary approach to world issues and to the nexus of theory and practice. A political scientist by training, Pfaltzgraff may be best known by students in the field for his textbook, Contending Theories of International Relations, which continues to be a classroom staple. However, his intellectual interests run the Fletcher gamut: an MBA from Wharton has contributed to an enduring focus on economics and international business, his childhood passion for US and British history has evolved into a perennial intellectual pursuit, and an awareness of the transformative effects of technology on international affairs has inspired him to develop expertise in that area.
As the Founder and President of the Institute for Foreign Policy Analysis (IFPA), located in Cambridge and Washington, DC, Pfaltzgraff applies his academic knowledge within a practical setting. Through IFPA, which provides research and strategic planning assistance for government and business clients, Pfaltzgraff's recent projects have included homeland security initiatives and conferences, missile defense assessments and the development of counter-proliferation strategies. He has also advised U.S. officials on military strategy, modernization, and arms control policy, and participated in the development and conduct of security gaming exercises.
Pfaltzgraff is particularly intrigued by the "new security paradigm" which, he says, "extends from Tora Bora to Braintree." He recently assisted the Commonwealth of Massachusetts in developing a strategic plan for crisis management, and is currently embarking on a project examining US-Canadian and US-Mexican homeland security issues. He has also worked with the Marines, Coast Guard, and Navy on responses to maritime challenges in the post-9/11 security environment.
"It may sound trite," he says "but I really enjoy learning. There are tremendous opportunities at the moment for new avenues of research. I wake up each day with that in mind."
A life-long educator, Pfaltzgraff incorporates many of his practical experiences into the Fletcher curriculum. His seminars, "Proliferation-Counterproliferation and Homeland Security Issues" and "Crisis Management and Complex Emergencies" provide students with insights into the issues facing today's policymakers and practitioners. The crisis management course, held in the fall, culminates in a two-day simulation that brings together Fletcher students, West Point cadets, relevant government representatives, and war-gaming experts to tackle a realistic international crisis scenario.
Numerous international teaching experiences have "both contributed to and built on" Pfaltzgraff's Fletcher career. He has taught in various capacities at Scotland's University of St Andrews, Germany's Christian-Albrechts-University of Kiel, Japan's National Defense College, and the College of Europe in Bruges, Belgium. Lecturing in foreign settings, as well as the internationally diverse classrooms of Fletcher, has impressed upon him the fact that "the world can look very different from different vantage points."
So how does Pfaltzgraff manage to juggle the various elements of his wide-ranging career?
"You need a strategic vision of your goals, and then you need to organize your means to achieve that goal," he counsels. "And you also need to be a bit of a workaholic."
Contact information:
Email: Robert.Pfaltzgraff@tufts.edu
Telephone: 617-627-2738
Fax: 617-627-3933
Office: Cabot 609D
View faculty webpage