Leir Migration Monitor – January 2022
This month, we take a look back at some of our 2022 highlights and look forward to our 2023 plans, starting with our new program. Whether directly related to migration or not, our programs and research move us closer to a world where migration is a choice, and all are able to live free from fear and free from want. This year, we look forward to offering new tools that help policymakers and practitioners achieve this vision.
In this edition:
Announcing our new program, Hopes, Fears, and Illusions
Conversations with Recent Immigrants to the U.S. from Puebla, Mexico
Faculty Spotlight: Leir Director Dr. Katrina Burgess, Leir Director
Watch: Digital Portfolios of the Poor Launch Webinar
Corruption in Fragile States Blog's Best of 2022
Career Opportunities Spotlight: Mayors Migration Council
.
---
Introducing our new program: Hopes, Fears, & Illusions
We're pleased to announce our new program, Hopes, Fears, and Illusions: How Migrants Assess Risk and Process Information on their Journey to El Norte. Dr. Katrina Burgess and Senior Fellow Dr. Kim Howe serve as principal investigators.

The program seeks to gain a more systematic and rigorous understanding of what informs the hopes and fears of migrants regarding their prospects for entering the United States as they journey north through Central America and Mexico. The program will address two major gaps in our knowledge:

1. What information migrants get from where; and
2. How migrants interpret and then act on this information.

Through ethnographic research at migrant shelters in Colombia, Costa Rica, and Mexico, we will gather data directly from migrants on the move while testing and refining methodologies for conducting trauma-informed research with vulnerable populations.

Our results will be a key first step toward developing a more empirically robust and humane foundation for U.S. asylum and border policies, which are currently failing at their stated objectives while causing unnecessary human suffering.
---
Coyotes, Tandas, and a Quest for Closure: Conversations with Recent Immigrants to the U.S. from Puebla, Mexico
For the vast majority of Mexicans wishing to immigrate to the United States, being sponsored by a qualifying relative is not possible. Even for those who are eligible, waitlists to receive a visa can stretch for years if not decades. Facing this impediment, often in addition to other obstacles to legal immigration, many Mexican immigrants decide to immigrate instead by using the services of a smuggler, or coyote.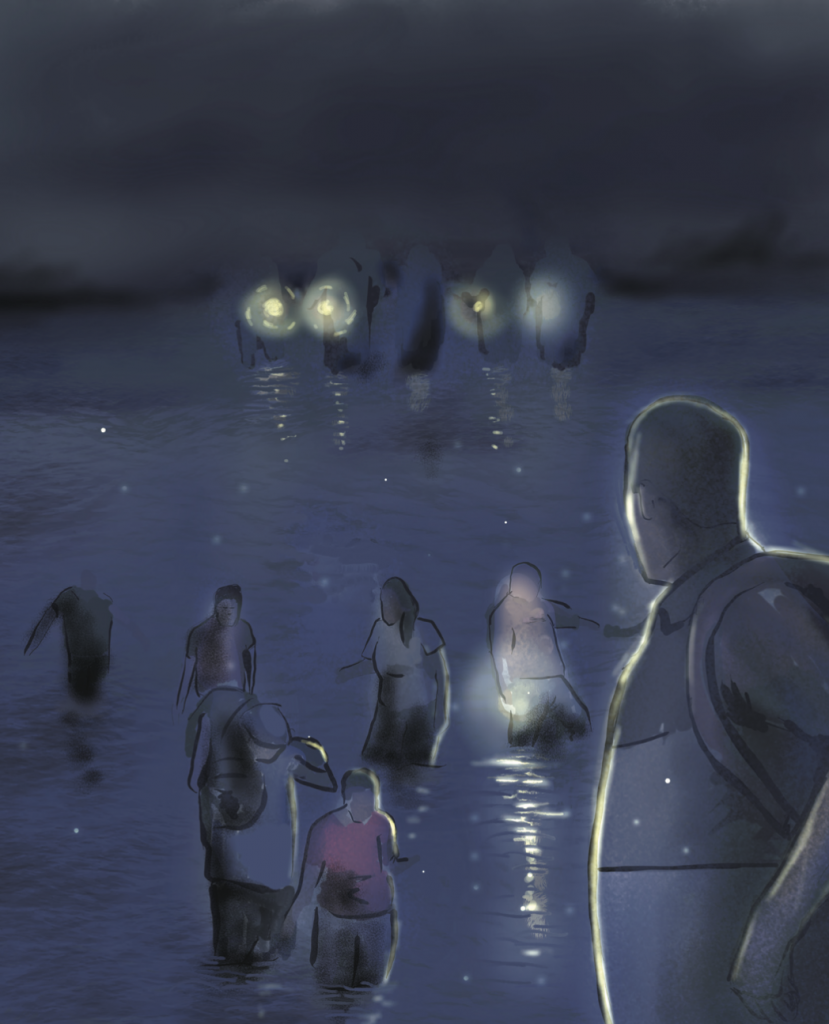 In his capstone thesis, alumnus Anargiros Z. Frangos (F22) explores the journey of 15 migrants from Puebla, Mexico to New Rochelle, New York, many of whom used coyotes. Frangos uncovers that:
Participants are motivated to migrate because of wage differentials, endemic corruption, and violence in Mexico.
Crossing the border with a coyote is highly organized and relatively low cost.
Once settled, participants are working, paying taxes, and saving money with Rotating Savings and Credit Associations (tandas in Mexican communities) in the hope of obtaining amnesty.
---
.
.