Searching for Respectable Work
The Nexus Between Marginalization and Gang Conscription Amongst Refugee Youth
In this issue of Fresh FINDings, we are excited to collaborate with Sarah R. Morehouse (Fletcher '22), a Livelihoods Consultant with Jesuit Refugee Service. Sarah shares findings from her recent research examining gang conscription of refugee youth in Utica, New York, adding to our broader understanding of refugee integration in urban spaces.
Please visit the Journeys Project at Tufts University for previous studies, ongoing research, videos, maps, and artwork on refugees and migrants around the world.
---
Civil War to Turf War: A Positive Deviance Approach to the Examination of Gang Conscription amongst Resettled Karen Refugee Youth in Utica, New York
By Sarah R. Morehouse
ABZ, LES, CHS. These are the initials of gangs sprawled across stop signs in inner-city Utica, New York, designating territories and borders of control. A once-booming economic center along the Erie Canal, the city of Utica is now a rustbelt city entrenched in poverty and systemic violence. During the late 20th century, a steep decline in manufacturing catalyzed a population crisis as Utica's population plunged from 100,000 to 60,000 in three decades resulting in empty storefronts, uninhabited apartments, economic desperation, and a cheeky bumper sticker reading Last One Out of Utica, Turn Out the Light. In recent years, though, Utica has opened its doors to thousands of refugees. In a symbiotic relationship, Utica's empty buildings provide asylum for individuals fleeing persecution, while the rise in population ameliorates the economy. According to the most recent census, over 20% of Utica's population are first-generation refugees.
.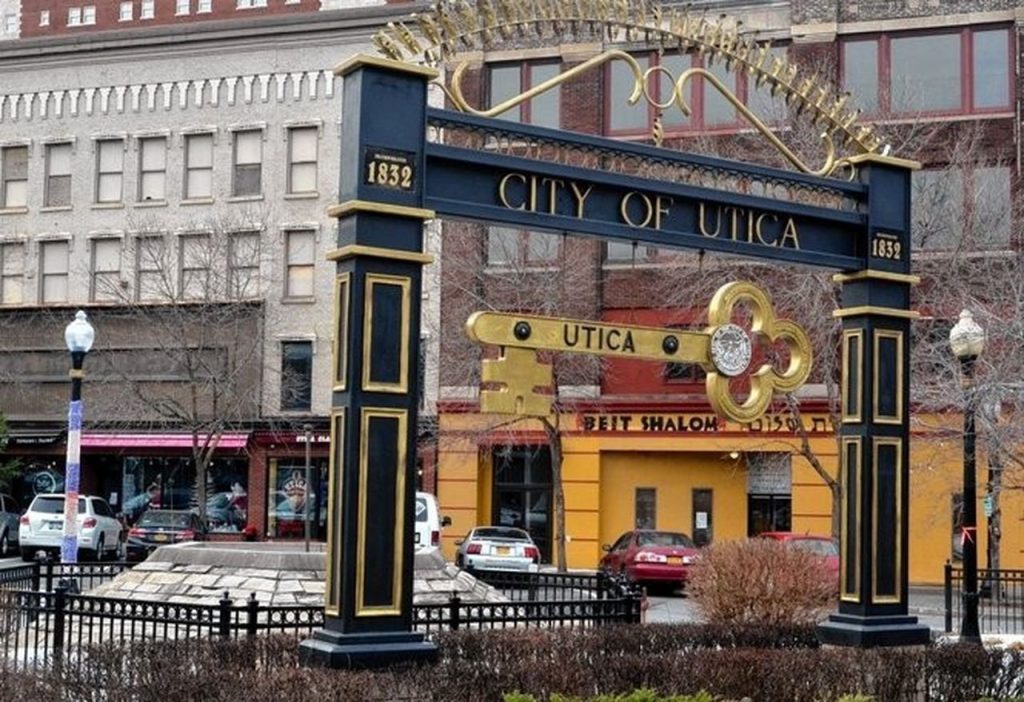 Though providing an escape from civil war and persecution in refugees' home countries, Utica does not offer a reprieve from violence. Ironically, the depressed housing market which "was a vital factor in helping the refugees establish themselves" placed refugees into neighborhoods already struggling with poverty and violence. According to a recent poll, Utica has one of the highest violent crime rates in the United States. Utica averages 145 crimes per square mile (compared to the national medium of 28.3 per square mile) and refugees have frequently found themselves victims of or forced to join in gang violence.
.
In 2021, lead researcher and Utica native, Sarah Morehouse, in partnership with Pyu Pyu Winn, a local research assistant and refugee from Myanmar, explored the epidemic of gang violence and conscription amongst Karen refugee youth in Utica, NY. More specifically, the research examined why Karen youth join the gang ABZ Crip. Through a positive deviance approach, this research employed qualitative interviews to examine at-risk Karen refugee youth from Utica who have avoided conscription into ABZ. By understanding why some at-risk members of the population avoided conscription, the hope is for communities to then support the replication of these circumstances in the greater community, ultimately leading to a decrease of refugee, gang-related violence. This research concludes with a series of recommendations, made with direct assistance from the participants, to the City of Utica and local community-based organizations.
The study found a nexus between marginalization and gang conscription amongst refugee youth in Utica. In addition to the compounding impact of various push and pull factors such as racism, poverty, overcrowding, distrust of law enforcement, lack of adequate education, and a need to belong, participants throughout the study highlighted that limited access to sustainable, dignified employment catalyzed gang conscription amongst refugee youth.
Previous studies demonstrate that disproportionate access to livelihood opportunities are drivers for immigrants and refugees, specifically men, to engage in illicit activities and negative coping mechanisms. Participants in the Utica study reported that economic opportunities for refugees in the city are limited. The language barrier was the most reported challenge to finding a decent job. "Decent" was defined by participants as jobs that both paid a fair wage and were deemed by respondents as respectable work. According to Key Informant 1 who taught English to new arrivals in the city, heads-of-households would often attend English classes for an average of two weeks before they had to take jobs as porters and cleaners in the local casino or in regional factory production sites. Participants described the jobs their parents had to take as "back breaking" and "shameful," particularly since it was perceived that no one in the local population chose to work in these job sectors. Even when work was secured, participants reported that the pay was so poor that families struggled to pay back resettlement fees (such as the flight), clothes, rent, and food.
.
Most companies take advantage [of refugees]. They do not pay you well, and though I had two parents that worked, my family had a hard time when we first came here. And the work is not worth what they pay. It's not worth $14 or $15 an hour. It's not worth it because you are breaking your back and smelling chemicals. That is a struggle too. They get taken advantage of in labor. In any situation, refugees get taken advantage of. I remember back then my dad and mom used to pick strawberries and it was a big pot for 5 dollars. They gave us 5 dollars and they took advantage of us, and they knew a lot of refugees went to do it because it was under the table. They treated a lot of us like slaves.

– Participant 8
.
Participants stated that older siblings and friends who ended up joining ABZ struggled to find work that both paid a decent wage and "gave them respect." (Participant 5) According to participants, youth who immigrated to the United States when they were older struggled to learn English and frequently dropped out of school. With no degree in hand and limited language skills, youth would have to take the same type of labor as their parents. ABZ Crip offered disenfranchised youth an alternative way to make money.
.
Yes, with the gang there's a lot of money… If you want to make good money, and keep your respect, you join it.

– Participant 4
.
In the gang you can make a lot of money. The small jobs, like selling weed, you can make enough. The real money is with the big job. Pushing the big drugs. But they are dangerous jobs.

– Participant 2
.
At the close of each interview, participants were prompted with the question, "If you were given $500,000 to fund programming to mitigate gang conscription rates amongst at risk refugee youth, what would you spend it on?" In addition to sharing their personal experiences in avoiding gang conscription, participants concluded the interview providing a series of recommendations to be disseminated to relevant stakeholders in Utica, New York. Some recommendations include:
.
Existing economic programs aimed at youth and offered by the city, such as small business development centers, must include cultural competency training for staff, prioritize hiring members from refugee communities, and provide access to translation services.
Summer Work Programs (which employ youth age 15-18 during the summer) offered by the Midtown Utica Community Center must seek additional funding sources to extend the work program to continue throughout the academic year.
ESL classes targeting older newcomer youth (particularly ages 15-21) must prioritize occupation relevant vocabulary.
Create additional programs that provide compensation in exchange for vocational or life skill classes. According to Participant 10, programs that pay youth to learn a basic trade, how to invest and save money, or how to apply to college will teach at-risk youth valuable skills, keep them off the streets, and provide them with a source of income.
Create mentorship programs between refugee youth and local businesses in the area that work in various trades as an alternative for refugee students struggling to complete high school.
As identified by participants throughout the study, access to fair employment opportunities that promoted economic inclusion, was deemed as respectful, and paid a livable wage would drastically decrease gang conscription rates amongst this population.
The Journeys Project is grateful for Sarah's collaboration and her reflections in this edition of the newsletter. If you are interested in this topic or want to learn more about this evolving research, visit our website or contact Kimberley.Wilson@tufts.edu.
---
Fresh FINDings is made possible through a partnership among Tufts University, the Katholische Universität Eichstätt – Ingolstadt (Catholic University or KU), the International Rescue Committee and GIZ. Fresh FINDings also features work sponsored by Catholic Relief Services, Mercy Corps, and the International Organization for Migration.