We're Moving: Fresh FINDings newsletter finds new home with Leir Institute
In this issue of Fresh FINDings, we share important updates about our newsletter, it's new location, and how you can continue to stay informed about the Journeys Project's latest publications and updates.
Please visit the Journeys Project at Tufts University for previous studies, ongoing research, videos, maps, and artwork on refugees and migrants around the world.
This month…
What is the Leir Migration Monitor?
How can subscribers stay in touch? Click this link
The future of Fresh FINDings
---
What is the Leir Migration Monitor?
The Journeys Project and the Leir Institute for Migration and Human Security are pleased to announce a new combined migration-focused newsletter. The aim of the inaugural Leir Migration Monitor, will be to provide policy-relevant, local angles to global issues in migration. The Journeys Project will continue to highlight our publications and those of other trusted researchers, charting each phase of migrant and refugees journeys.
We want to thank those that helped us launch Fresh FINDings, including Swati Mehta Dhawan who inspired us to write the monthly blog. We will be migrating past issues of Fresh FINDings to our new home, Migration Monitor.
Our joint newsletter will be published the third week of every month, starting this September.
In order to receive Migration Monitor, you must resubscribe to the Leir newsletter here. After this month, all future editions of Fresh FINDings will be published with Leir and will be released over the next few months.
Once you click this link to resubscribe, make sure under "Newsletter Subscriptions" you select "Leir Migration Monitor – Monthly Newsletter" to receive Journeys related content.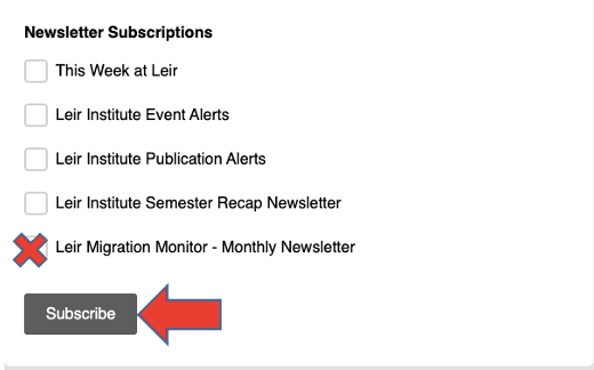 How can Journeys subscribers stay in touch?
After resubscribing to the new newsletter, Journeys followers can still find our full reports and publications, as well as archived newsletters, on the Journeys Project website, just as before.
Full length blog posts or entries from the Leir Migration Monitor newsletter will also be published on our website for your use.
Special announcements may appear in the future via this Fresh FINDings newsletter forum.
The future of Fresh FINDings
We are excited by this new partnership and look forward to continuing to provide scholars, donors, policymakers, and advocates (all of you!) innovative and culturally nuanced research on the financial lives of migrants and refugees.
If you have any questions please reach out to our team here.
---
Fresh FINDings is made possible through a partnership among Tufts University, the Katholische Universität Eichstätt – Ingolstadt (Catholic University or KU), the International Rescue Committee and GIZ. Fresh FINDings also features work sponsored by Catholic Relief Services, Mercy Corps, and the International Organization for Migration.
Contact: Kimberley.Wilson@tufts.edu
Leir Migration Monitor