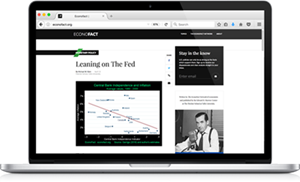 Published by the Murrow Center at The Fletcher School, Econofact is a non‐partisan digital media project designed to bring incisive economic analysis to journalists, policymakers, and the general public. While the national debate is filled with a growing use of pseudo‐facts and misinformation, EconoFact aims to shift the economic debate from ill-informed slogans to evidence‐based analysis of economic policy.
EconoFact is written by a network of leading academic economists from across the country. To date, 36 economists participate in the EconoFact network.
Launched on January 22, 2017, EconoFact has received positive attention from mainstream and social media. EconoFact's audience includes researchers, academics, government, media, corporations, foundations and international organizations.
Click here to see more information about EconoFact.

Fast Facts
Non‐partisan publication
35+ top economists
50,000 views in 1 week
50% repeat visitors
Over 3,000 subscribers/followers in 3 weeks
Strong reach across red and blue states
Economic analysis on a wide range of topics

Education
Immigration
Trade
Jobs
Climate
Poverty
Criminal Justice
Next Steps
Over the next year, we seek to develop and build out the design, functionality, and audience reach of EconoFact, including:
Newsletter
Website development–Phase 2
Audience engagement
Network expansion
Sustainability
Scalability