The Edward R. Murrow Forum on Issues in Journalism is held annually at Tufts University to highlight the many contributions that Murrow made to journalism and public diplomacy. Debuting in 2006, the Forum brings together interdisciplinary panels and leading industry voices to reflect on Murrow's legacy and contemporary issues in journalism.
Past Forums have featured such figures as former Nightline host Ted Koppel, former CBS News anchor Dan Rather, former NBC World News anchor Tom Brokaw, MSNBC's Hardball host Chris Matthews, then anchor of the CBS Evening News Katie Couric, and then NBC Nightly News anchor Brian Williams. Their thought-provoking discussions have covered issues ranging from the coverage of conflict to the state of the contemporary news business.
2016 Forum Featuring Anderson Cooper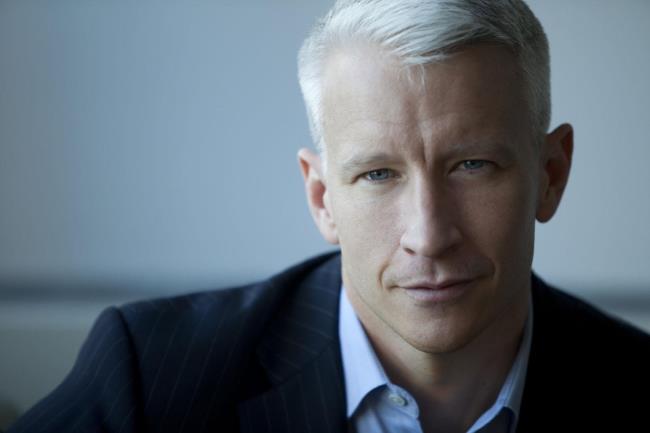 Anderson Cooper, anchor of CNN's Anderson Cooper 360, discussed contemporary media issues at the 11th annual Edward R. Murrow Forum on Monday, April 11th. In a conversation with moderator Jonathan Tisch, Cooper discussed his experience as an international correspondent covering war, natural disasters, politics, and more. Cooper also recalled his own career path – providing advice to the students in attendance – and reflected on the future direction of the news media.

Recent Forums
2015 George Stephanopoulos
George Stephanopolous, ABC News' Chief Anchor and anchor of Good Morning America and This Week with George Stephanopolous, headlined the 10th annual Murrow Forum. Interviewed by Jonathan Tisch, A76, he spoke about trust between citizens and the media in the 24/7 news cycle. Workshops on moving into digital platforms, engaging the audience through Facebook, covering politics, the future of investigative reporting, and women and race in journalism also highlight the 10th anniversary event.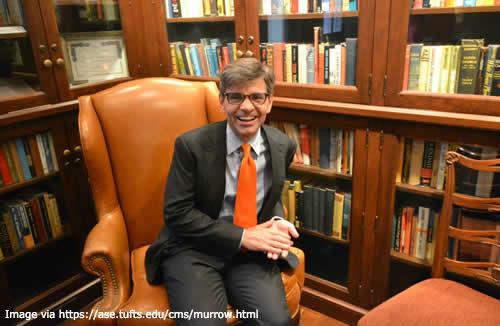 2014 Arianna Huffington
Arianna Huffington, chair, president, and editor-in-chief of the Huffington Post Media Group joined us for the 2014 Murrow Forum. Interviewed by Jonathan Tisch, A76, Huffington spoke about how technology is changing the way we communicate and disseminate news. "Millions of people are now bearing witness around the world," she told an audience of about 350 students, faculty, staff, and members of the public. Huffington said the totality of these accounts contains immense power and potential – having the ability to topple governments, institutions, and individuals. Yet there's also enormous potential, she said, for us to reaffirm our humanity through stories of courage and compassion, some of which are now the most widely read pieces on The Huffington Post.
Huffington founded the news aggregator in 2005, and has since helped to transform it into one of the most influential media outlets in the world. After the event, she met with students from TUTV, WMFO Radio, The Tufts Daily and the Tufts Observer, for a student-only press conference, where she answered questions about her past experiences and her opinions on the state of news today.
2013 Christiane Amanpour
Christiane Amanpour is CNN's chief international correspondent and anchor of "Amanpour," a nightly foreign affairs program on CNN International.
Christiane Amanpour joined the forum on April 26, 2013 for "International Reporting in the 21st Century: Coverage, Context and Courage." Amanpour joined Co-CEO of Loews Corporation Jonathan Tisch (A76) on stage for a probing discussion about her career as a foreign correspondent. Among the nearly 400 in attendance were Tufts University President Tony Monaco and Casey Murrow. Amanpour also met with members from Tufts' student-run media outlets following the event.