As of September 2020, we have planted three native pollinator gardens on the Medford/Somerville campus: outside 574 Boston Avenue, Tisch Library, and Barnum Hall totaling over 1500 sq. ft. Each garden contains a wide diversity of native plants, carefully selected to be attractive diverse pollinators and to bloom throughout the growing season. That means there should always be at least one plant in flower during your visit and pollinators to see! If you spot a pollinator, let us know and post your sighting to our iNaturalist project.
Read on to learn about our pollinator gardens and see the process from planting to blooms!
574 Boston Ave
This garden was planted in spring 2019. We had a fun day moving around some of the existing perennials and making room for our new plugs. Most plants in the garden didn't flower in 2019. Instead, they took this time to build strong, deep roots that would allow them to flower for years to come.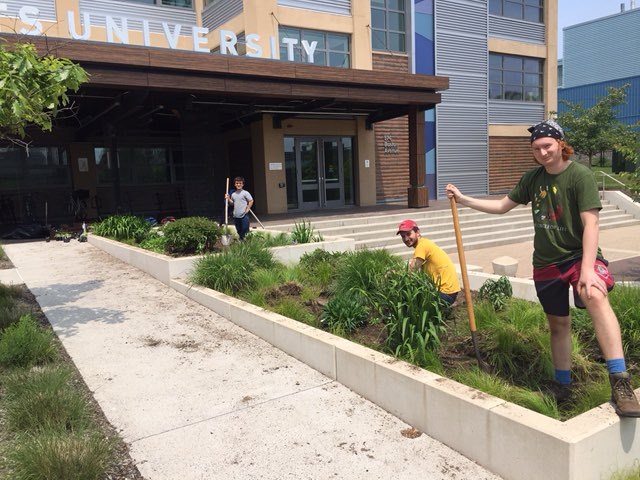 Over winter, our garden slept. We intentionally left spent flower heads and grasses to provide food for birds and refuge of insects. The best kind of pollinator garden is messy (but not too messy)! We cleaned up the twigs and grasses in early May, after most spring-emerging insects had left their winter homes.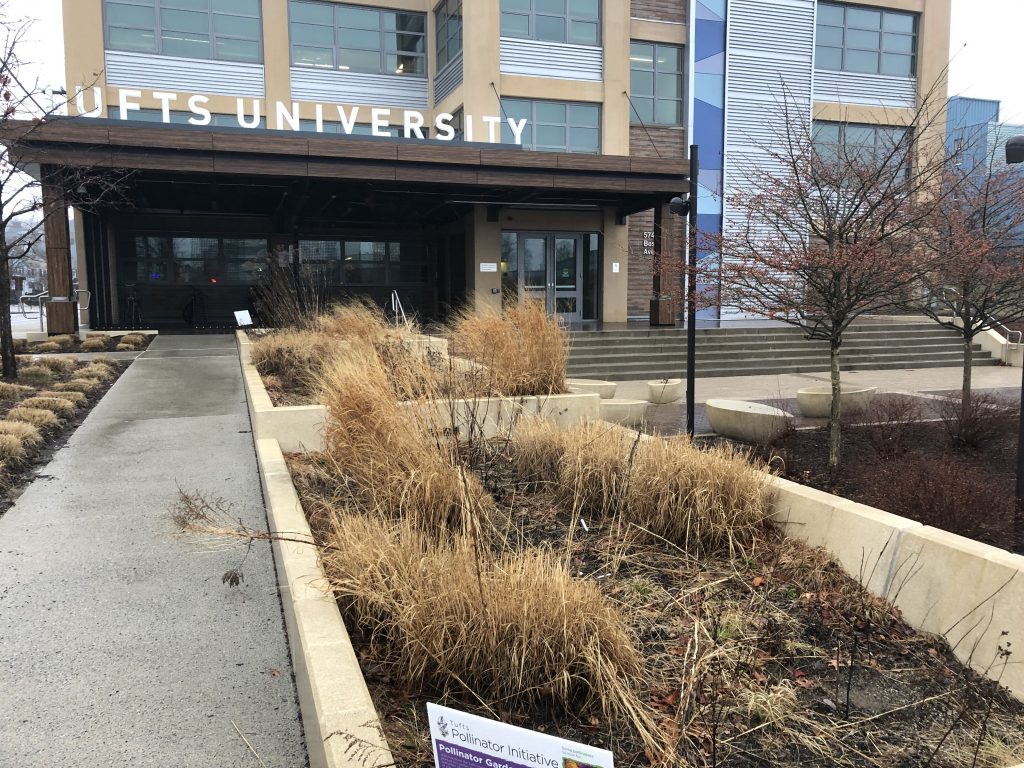 In May, our garden was looking great! Wool-carder bees, leaf-cutter bees, and sweat bees loved the white flowers of foxglove beardtongue (Penstemon digitalis; left). We were excited to see which pollinators would visit the other 15+ species of flowering plants in summer!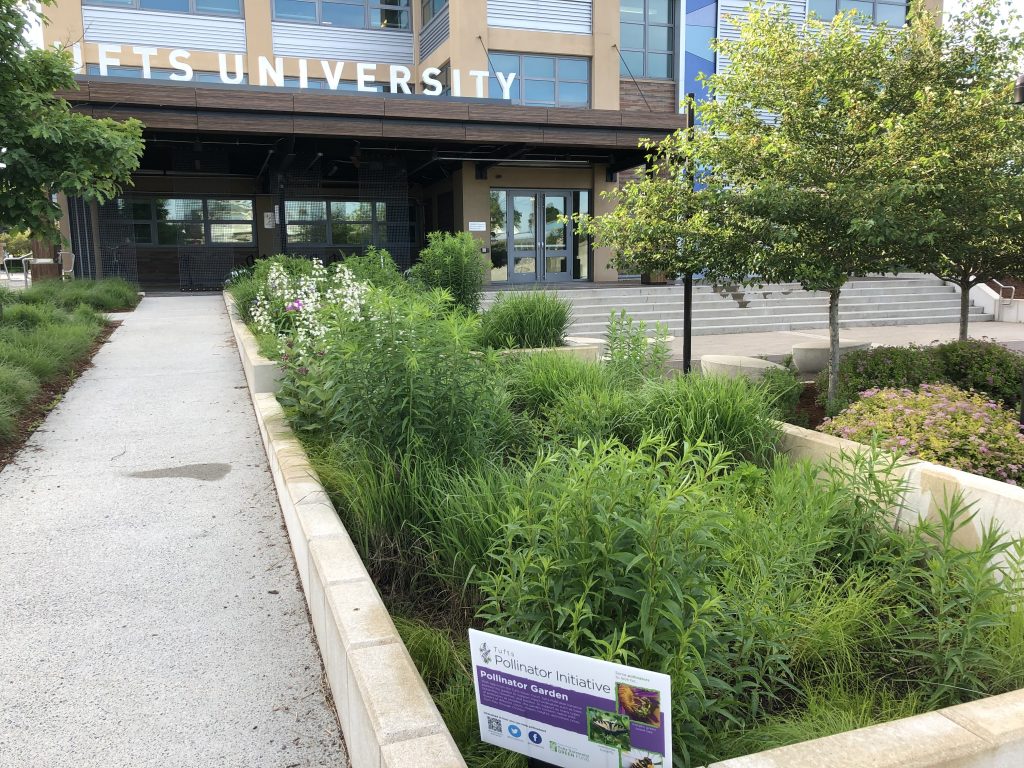 So. Much. Color. And pollinators! By early-August, our 574 Boston Avenue beds offered a diverse menu for urban pollinators, including goldenrods (Solidago spp.), which are true pollinator powerhouses; cupplant (Silphium perfoliatum; back right) which is a favorite among long-horned bees; and sweet coneflower (Rudbeckia subtomentosa, back left) which feeds hardworking sweat bees. This photo also features TPI member Maria collecting data for our biodiversity surveys. Stay tuned for a summary of the insects we found visiting our gardens in summer 2020!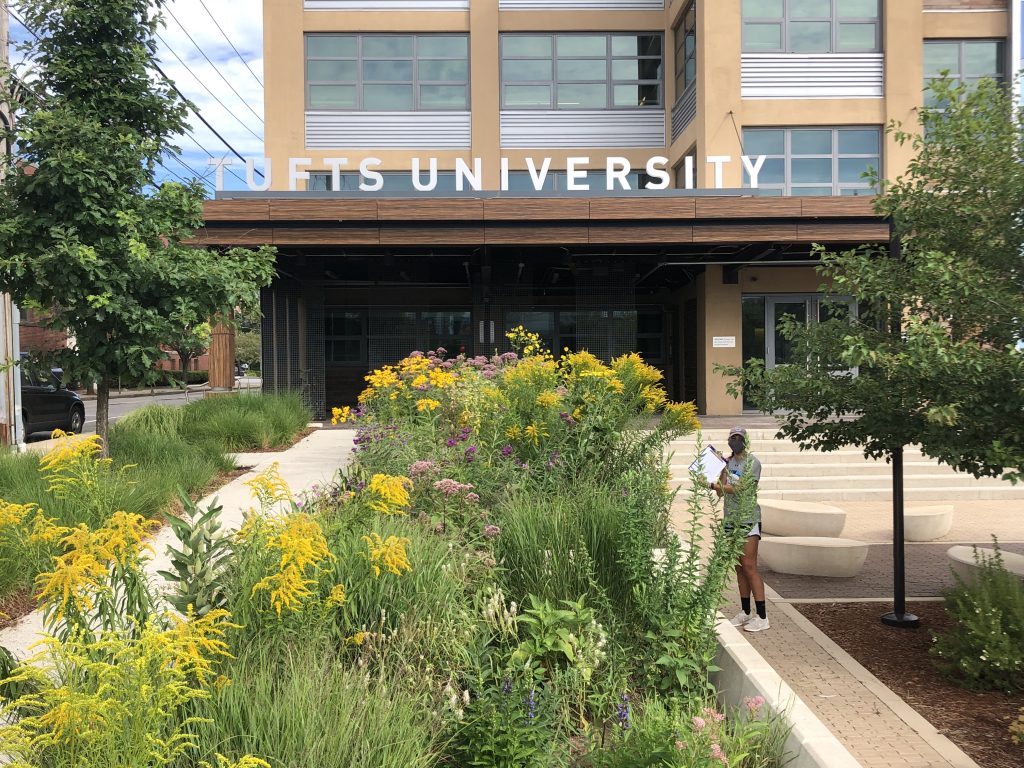 ---
Tisch Library
It took hard work to get this bed in shape for planting. We removed non-native day lilies and salvias and chose 15+ native perennial species for this bed. We planted this garden in spring 2019 and some additional native perennials were added in spring 2020 to fill in remaining gaps.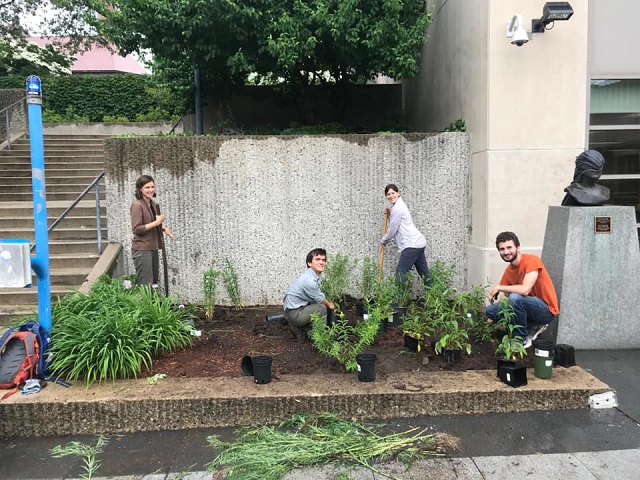 In spring, trees provide the bulk of floral resources for pollinators, but our Tisch Library garden was planted with red columbine (Aquilegia canadensis) and blue phlox (Phlox divaricata) to help out hungry pollinators during this time. Come summer, after most trees have finished flowering, our garden will move into the spotlight.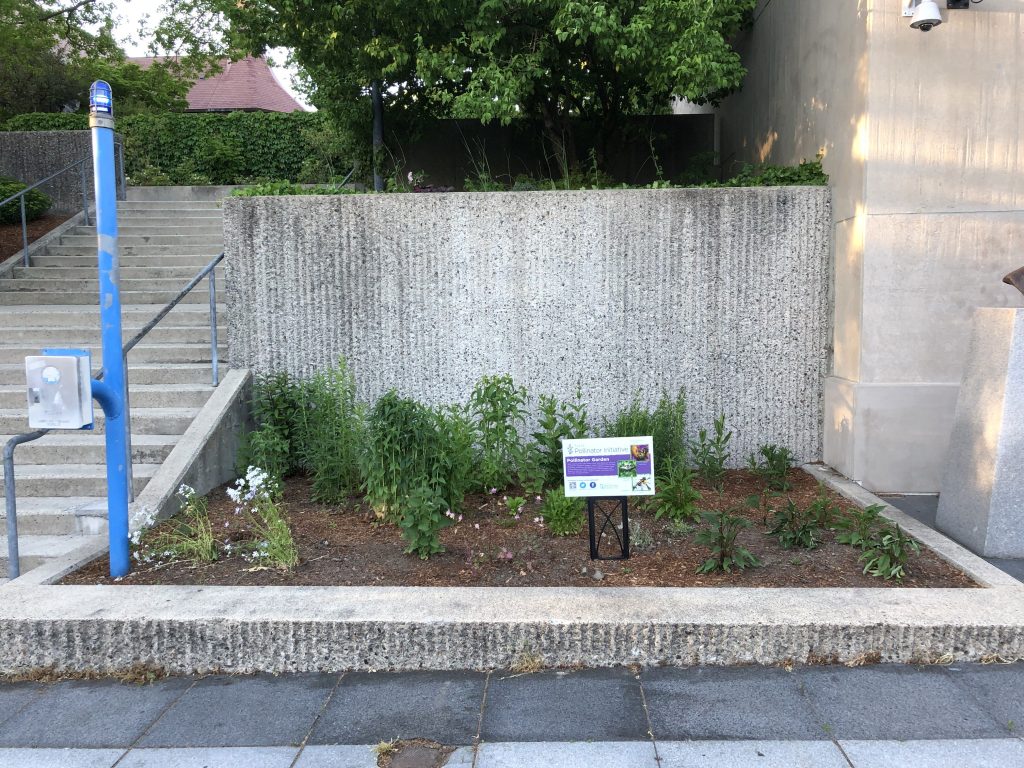 With a very wet spring, our garden was looking healthy for the hot summer ahead. By July 2020, bee balm (Monarda fistulosa; center) and purple coneflower (Echinacea purpurea; lower right) were flowering and offering large quantities of nectar to bees and butterflies. Soon, the rest of the garden would follow suit.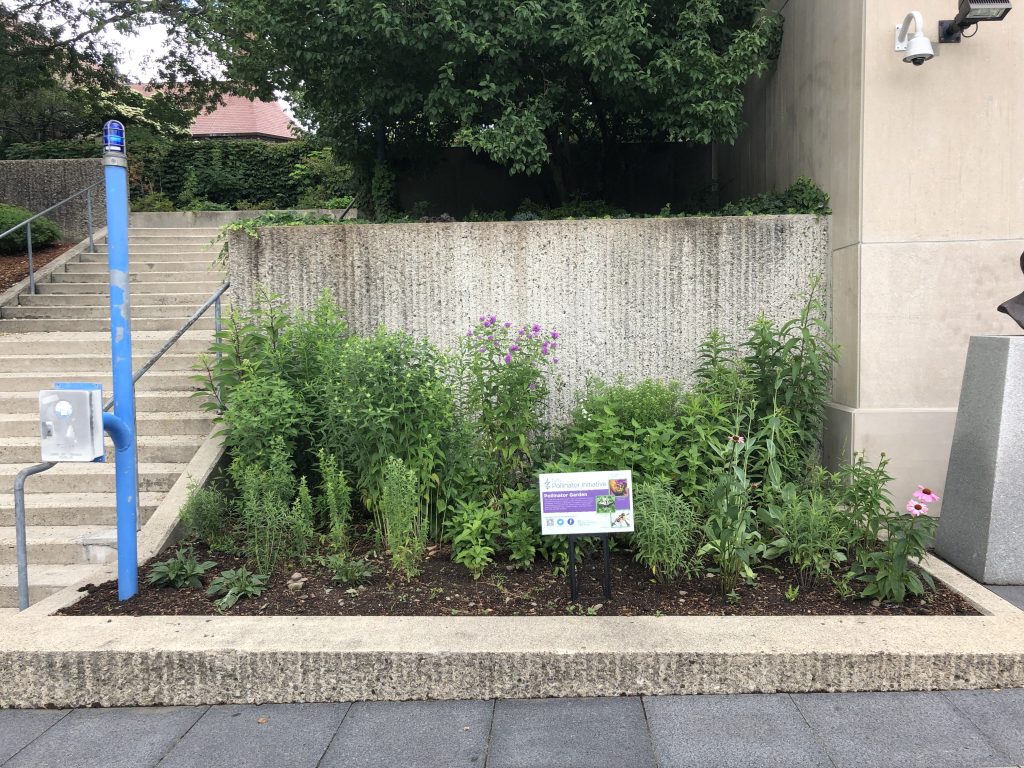 By August, our garden was popping! In flower: joe-pye weed (Eutrochium maculatum; top left), cutleaf coneflower (Rudbeckia laciniata; back center), New York ironweed (Vernonia noveboracensis; back right), and blue lobelia (Lobelia siphilitica; front center) among others. This diversity of late-summer flowers provided nectar and pollen to bumble bees, sweat bees, and leafcutter bees; sulphur, skipper, and hairstreak butterflies; and beneficial digger wasps, mason wasps, and beewolves!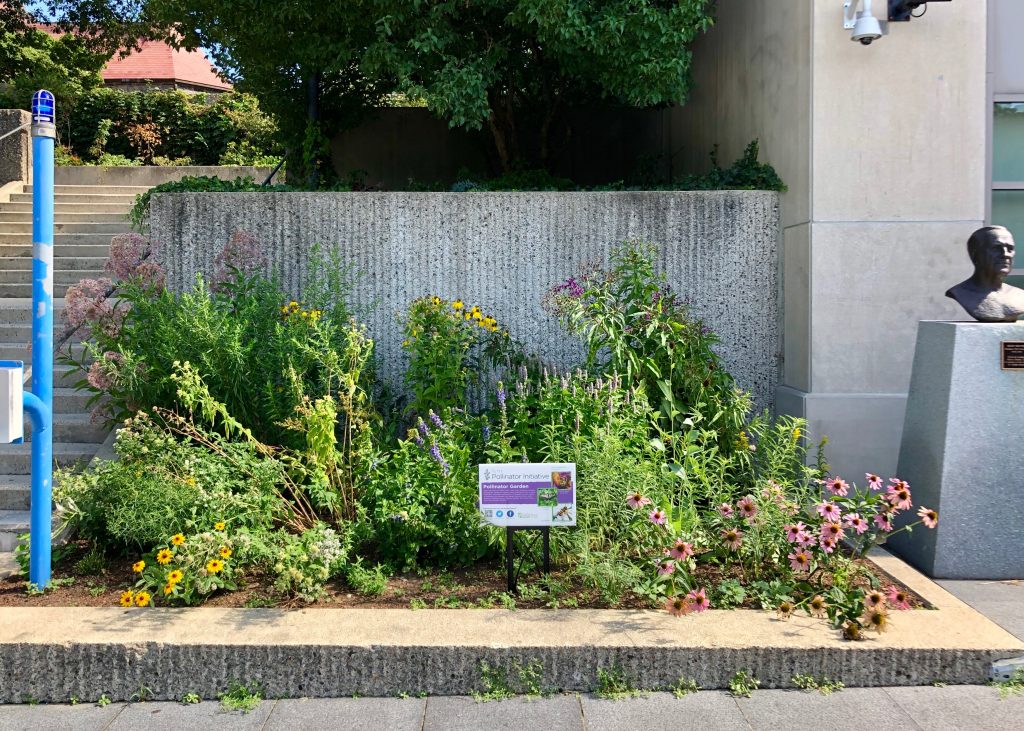 ---
Tisch Library Green Roof
The iconic "TUFTS" green roof garden underwent a partial revitalization Fall 2020 through a GreenFund project carried out by the Tufts Student Garden Club in consultation with TPI. Weeds and dead plants were removed from a portion of the existing flats in the line underneath "TUFTS" as well as the "S". The flats were replanted with native pollinator plants including bird's foot violets, black-eyed susans, butterflyweed, and others. These plants will help provide food and shelter to promote native pollinator populations.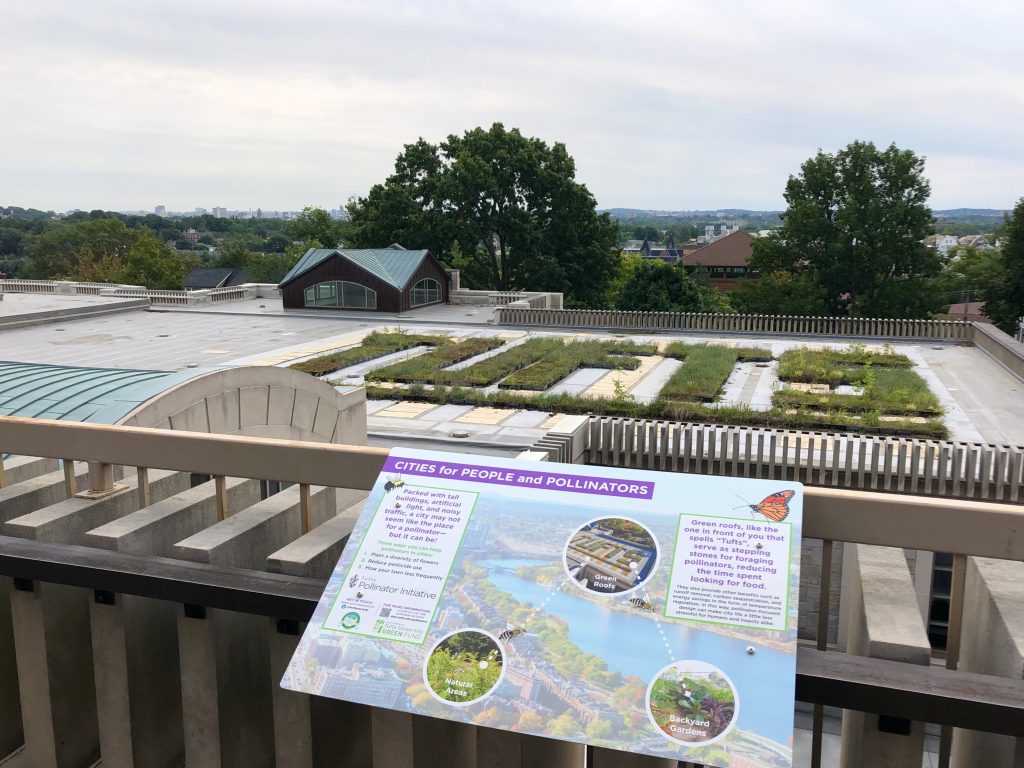 ---
Barnum Research Garden
This garden serves two purposes: to support insects and to grow seedlings for our plant sale in summer 2021. We're growing dozens of plant species from seed so that you can grow them in your garden.
Site preparation is important. Starting in late-summer 2019, we weeded the three raised beds and cleaned up abandoned research supplies from previous garden users. It is important that TPI gardens look aesthetically pleasing and support pollinators.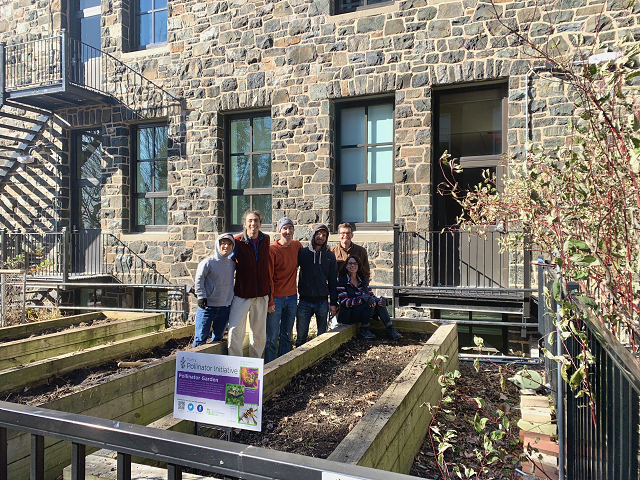 In winter 2019-2020, we stratified seeds outside on bare soil. Most native New England plants need some form of winter in order to germinate in spring. Stratifying seeds ensures a high proportion of them germinate. We germinated seeds of golden alexanders (Zizia aurea), bee balm (Monarda fistulosa), mountain mint (Pycnanthemum virginianum), blazing star (Liatris scariosa), great blue lobelia (Lobelia siphilitica), anise hyssop (Agastache foeniculum) and others!
In early summer, we transplanted our seedlings into 6×6″ pots for summer growth. Our seedlings appreciated the extra space.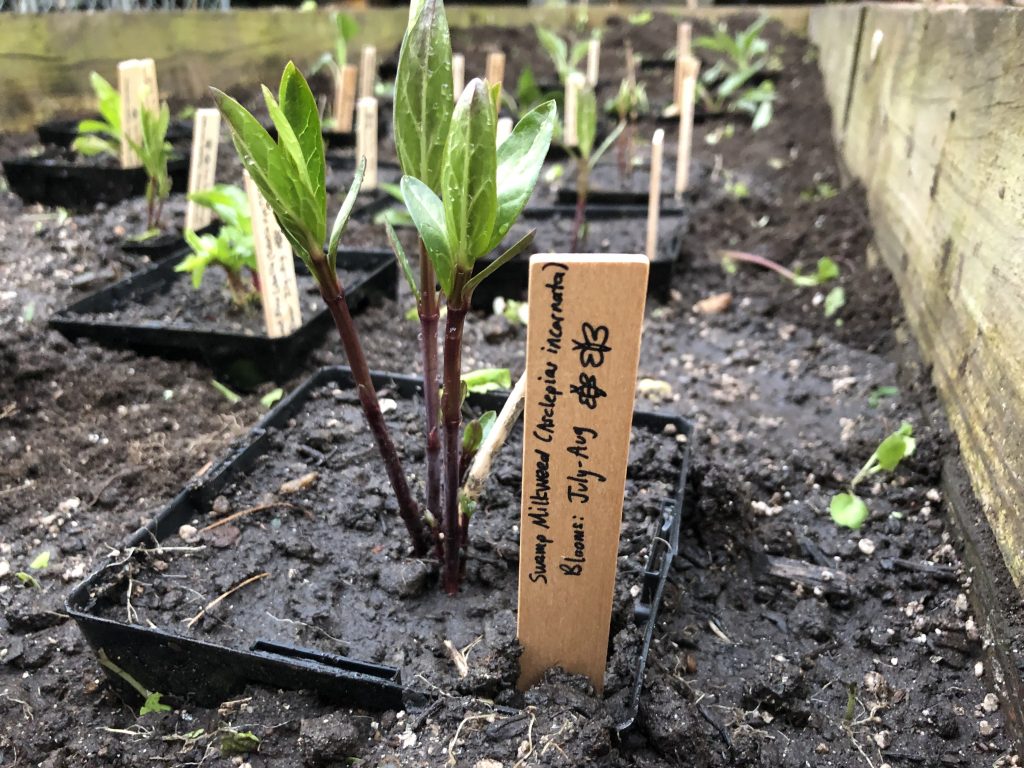 By August 2020, our nursery was thriving! We can't wait to share these plants with the Medford/Somerville community during our discount native plant sale in June 2021. Save the date 🙂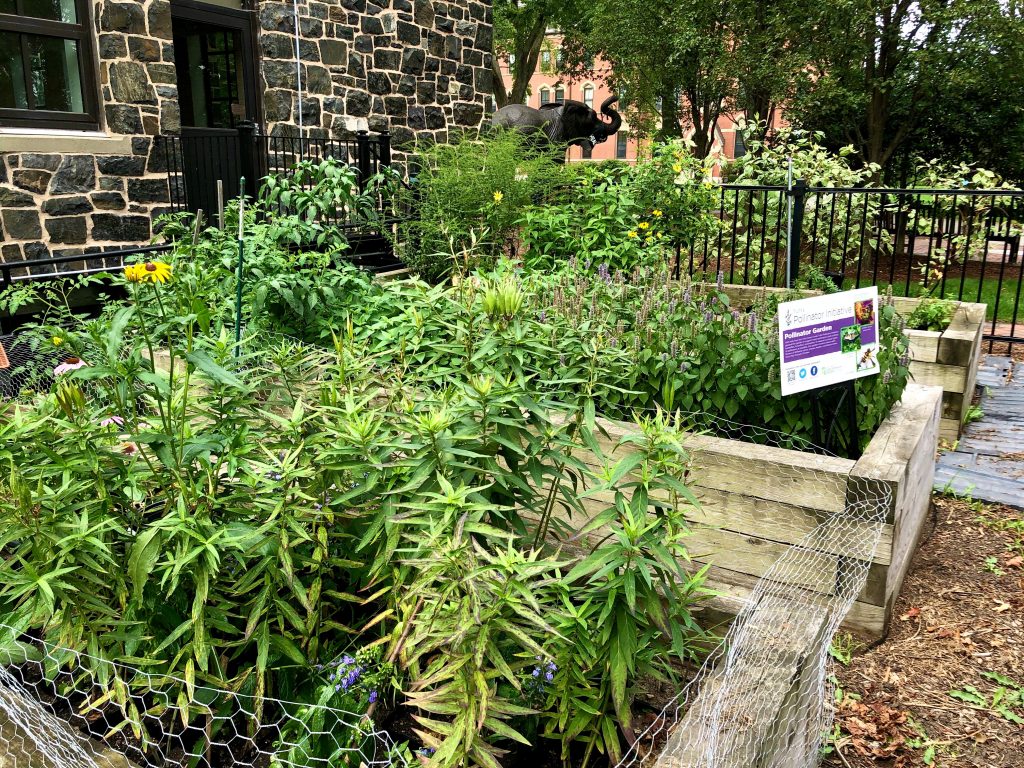 ---
Some of the plants you can find in our pollinator gardens:
foxglove beardtongue (Penstemon digitalis)
wild bee balm (Monarda fistulosa)
purple coneflower (Echinacea purpurea)
Culver's root (Veronicastrum virginicum)
false indigo (Baptisia australis)
goldenrod (Solidago spp.)
great blue lobelia (Lobelia siphilitica)
New York ironweed (Vernonia noveboracensis)
joe-pye weed (Eutrochium maculatum)
marsh phlox (Phlox glaberrima)
black-eyed susan (Rudbeckia hirta)
cutleaf coneflower (Rudbeckia laciniata)
New England aster (Symphyotrichum novae-angliae)
smooth blue aster (Symphyotrichum laeve)
swamp milkweed (Asclepias incarnata)
wild senna (Senna hebecarpa)
white turtlehead (Chelone glabra)
anise hyssop (Agastache foeniculum)