Applications for Spring 2023 Pollinator Ambassadors have closed.
What
Pollinator Ambassadors is an environmental education and leadership program run by Tufts Pollinator Initiative (TPI) and funded by Tufts Green Fund. By participating in the 8-session Pollinator Ambassadors program, you will:
Learn the fundamentals of plant and pollinator science, land stewardship, and urban conservation
Build confidence in engaging with diverse community stakeholders
Develop scalable solutions to pressing environmental issues and witness the real-world impact of your work
Join a network of passionate student leaders committed to urban conservation
Complete a minimum of 10 hours of service work through TPI channels
Who
Pollinator Ambassadors is open to all current Tufts students. Any current Tufts undergraduate, including seniors soon to be graduating, and graduate students are encouraged to apply. Though we started as a group of biologists, we are looking to add to new perspectives to our team from engineering, education, social science, anthropology, food systems, art, and more. Strong applicants will make a case for how they can bring their unique skills and interests to nature education, community engagement, and urban conservation.
Why
Recent declines in insect pollinators like bees, butterflies, and beetles have sparked concerns over ecosystem health and food security. Since 2019, TPI has taught thousands of people why pollinators matter and how anyone can make a difference through small, simple actions like planting flower gardens. As demand for our programming increases, we are looking to grow our outreach capacity and magnify our impact by training new members to raise awareness for pollinators.
When
Spring 2023. The program will consist of eight 90-minute evening sessions (Tuesday evenings, 6-7:30pm)
Where
Medford-Somerville campus, room TBD
Format
The program will be structured as a flipped classroom. You will spend 45-60 minutes outside of class watching instructional videos. Then each week, we will spend class time reviewing the material and working in small groups to practice explaining our knowledge. For a tentative syllabus of covered topics, see below.
Timeline
Applications will be reviewed on a rolling basis starting December 2nd, with a hard deadline on December 10th. Applicants will be notified of their status in the program by early January. This is a professional development opportunity. There is no stipend for participation in the program.
Questions? Please email: tuftspollinators@gmail.com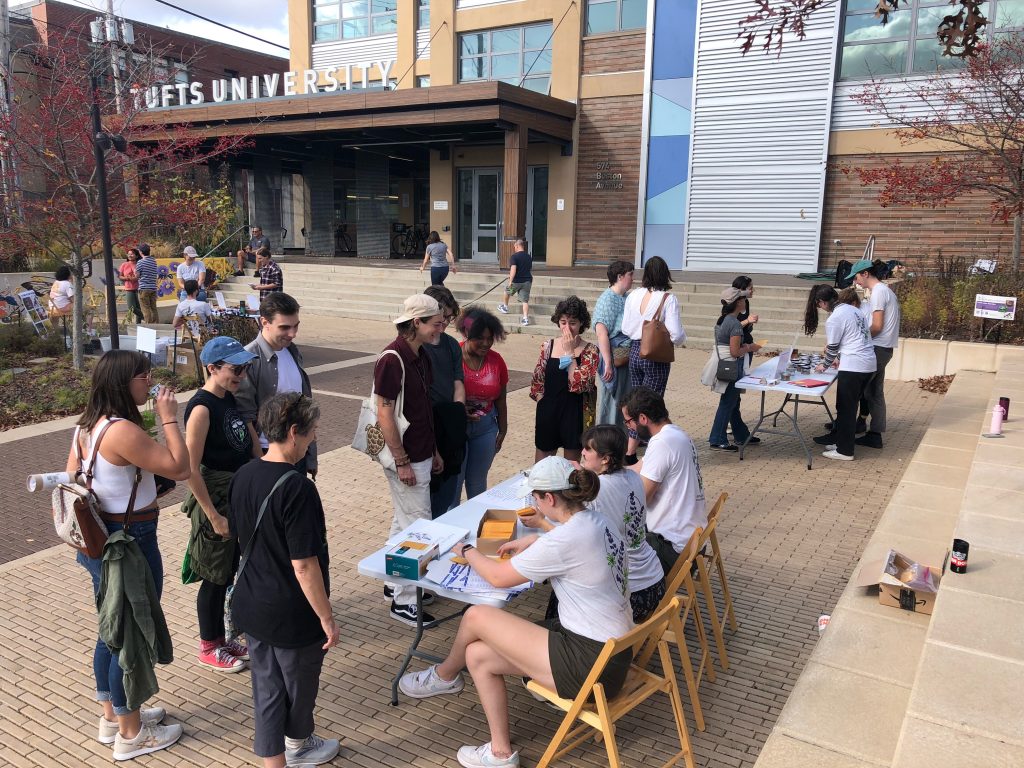 Tentative Syllabus
Session 1: Welcome, expectations, pre-course survey
What is TPI?
Intro to pollination
Session 2: Why are there honey bees on rooftops?
Honey bee biology
"Save the bees?" Threats to pollinators
Session 3: One bee, two bee, red bee, blue bee
All about bumble bees
Solitary bees
Session 4: It's a bug eat bug world—the carnivorous pollinators
Flower-visiting wasp
Hover flies
Session 5: Where do butterflies go in winter?
Butterflies & moth diversity
Case: monarch butterflies
Session 6: Human dimensions of urban conservation
Gardening for pollinators
Bottom-up conservation
Session 7: Develop educational activity
Session 8: Present activity to group, post-course survey