Welcome, Parents and Guardians!
If you are looking for information about the Literacy & the Arts summer program, please click on Jumbo:

To learn more about this year's academic year program, just keep reading!
This year, the Tufts Literacy Corps has been offering three tutoring programs for children in grades one through eight: Fostering Fluency, a reading program to help young readers "crack the alphabetic code" and gain reading fluency; Poetry to Prose, a writing and reading comprehension program for children in grades 4 and older; and "Making Math Meaningful," which supports children in Grades 1 through 8 in the math they are learning in school.
Who Are the TLC Tutors? TLC tutors are Tufts students who love kids and want to help them thrive. They make a year-long commitment to your children, and they participate in a training and supervisory program on the Tufts campus to make sure they are effective. Because their salary is paid through the Federal Work Study program, our academic year tutors are free of charge to families and school districts.
CORI Forms: We are committed to making sure children are safe, whether they are working with tutors on the Tufts campus or are engaged virutal tutoring. All Tufts tutors have completed CORI evaluations and training on safety precautions with children. For families who choose to remain on-line, tutors will be connecting with children through the Tufts zoom site, which requires a passcode that will be accessible only to you, your child's tutor(s) and the tutors' Tufts supervisor.
Fostering Fluency:
Since 1998, our tutors have offered reading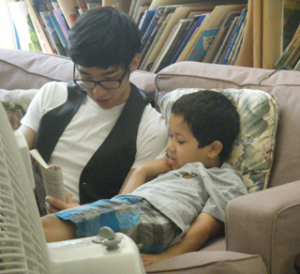 and writing support to young emergent and beginning readers. The TLC training program, run by Dr. Krug and supported by collaborating Tufts faculty and staff, prepares students to help children recognize print quickly and accurately, understand what they read, view writing as a form of self-expression and grow to love the world of written language.
From Poetry to Prose: the TLC writing/reading comprehension tutors, work with children in grades four through middle school. If your child recognizes print well, but continues to have trouble with reading comprehension and writing, a TLC writing tutor can be enormously helpful.
Making Sense of Mathematics: Tufts Literacy Corps math tutors will continue to be available to work with children who need additional support with math. Like all other tutors, the math tutors meet weekly for training, supervision and to talk to peers and supervisors about how to best support their young students.
Who will benefit from a Tufts Literacy Corps tutor? Tufts Literacy Corps tutors are highly successful at helping beginning readers and mathematicians, children with mild delays in reading and writing, and those who have fallen behind in math. They are creative, caring and dedicated to your children. In addition, weekly supervision provides them with a repertoire of methods and techniques used by experienced educators. However, if your child has significant academic delays or has been diagnosed with a learning disability, we encourage you to pursue professional assistance.
We expect professional conduct from every tutor. This means they should be prepared and on-time for their appointments with your children. We expect tutors to respond to your emails, texts and phone messages promptly, and cancellations should be rare. (Please let us know right away if your child's tutor repeatedly falls short of these expectations.)
At the same time, we ask you to remember that successful tutoring relies as much on your commitment to tutoring as the tutor's. Although some cancellations are unavoidable, please make your best effort to bring your children to tutoring on time and according to the schedule you arrange with your child's tutor. Sporadic schedules undermine the children's progress AND prevent the tutors from earning their salaries.
If you are interested in having your child work with a Tufts Literacy Corps tutor during the 2022-2023 academic year, please fill out the TLC Tutoring Registration Form and email it to tuftstlc@gmail.com. Please include the type of tutoring you are looking for in the subject of the email.
Thank you! We are looking forward to working with your children this year!
Dr. Cynthia Krug
Program Director, Tufts Literacy Corps
Founding Director, Literacy & the Arts Summer Writing Camp