The Tufts Literacy Corps is the America Reads/America Counts program at Tufts University. We began over 20 years ago, when the Clinton administration invited college students across the nation to use their federal financial aid awards to help children learn to read. Since then we have launched three core tutoring programs, in reading, writing and mathematics. We also staff homework centers and feature student-led initiatives (such as drama clubs and BookMatch). Our mission is to help all children gain the skills they need to succeed in school, grow to love learning – and thrive.
From September through April, all tutoring and enrichment programming is free of charge to families and school districts. Please click on each of the titles below to learn more about this year's programs.
Fostering Fluency Reading Tutors work with children in first through third grade, helping them "crack the alphabetic code," gain reading fluency and grow to love books. Most tutors visit local schools twice a week and work with children in one-on-one sessions; some also work with children on the Tufts campus.
From Poetry to Prose: Writing and Reading Comprehension:
"From Poetry to Prose" focuses on literacy development in grades 4 and up. For children who need help with writing, TLC tutors use poetry, prose, and picture storybooks to model great writing and inspire children to put words on paper. Many tutors also support children's reading comprehension by reading with them, and by teaching vocabulary and comprehension strategies.
Making Math Meaningful: The TLC math tutors have been our fastest growing tutoring group ever since the federal government added "America Counts" to its "America Reads Challenge." Math tutors work with children in grades one through nine, helping them with everything from memorizing math facts to gaining a deeper understanding of numbers and solving algebraic equations.
The TLC Homework Assistants visit local after school programs five afternoons a week to help children with homework and engage them in enrichment activities.
BookMatch is an annual tournament that challenges fourth and fifth graders to form teams, read a list of 25 great books and go head-to-head to determine which team read the books "best." The year ends with a final competition and pizza party on the Tufts campus.
Literacy and the Arts is a summer writing program started in 2010. Every morning, children work with their tutors on individualized writing projects. The rest of their time involves art, arts & crafts, drama, building with LEGOs and recycled materials, informal sports, and swimming. Please click on the title for more information.

At the end of each camp session, we showcase the children's projects. When the pandemic forced us on-line in 2020, we concluded the summer with an on-line showcase. For a sample of the kinds of projects children pursue (and some of our camp activities), please take a look.
A Few Words From Our Host Communities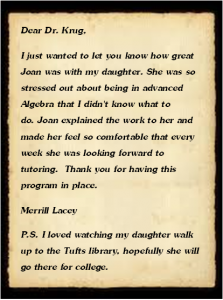 Please click on the link if you would like to see what parents, principals, teachers, and tutors have said about the Tufts Literacy Corps: A Few Words From Our Host Communities