On the Road in Gambella, Ethiopia: FDI, Development, and the Case of the Godere Forest by Claudia Schwartz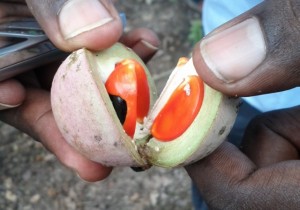 Situated in the far southwest of Ethiopia, on the border with South Sudan, is Gambella -one of the country's four "emerging regions." Unique in Ethiopia, Gambella is low and humid, encompassing several river basins and the country's sole tropical mountain rainforest in Godere. Gambella's unique climate has also produced some of the country's best-suited land for large-scale commercial agriculture. The forest and the farmland are two of Gambella's greatest resources, and efforts to best utilize them can sometimes be at odds. Yet as I learned on a trip through the Godere forest earlier this year, there is much to learn there about the challenges and opportunities for reconciling these competing demands.
A trip in the Gambella region almost always begins with a visit to Gambella town, the regional capital, the type of place where the majority of the vehicles on the road bear 3-letter acronyms (IOM, WFP, MSF, etc.), but also where one can get a cold soda, Arab Satellite TV, "the best pasta in Gambella," and a beautiful view from the hill overlooking town. One can acquire such skills as how to fashion a makeshift candleholder out of an empty can of beans, properly lock a Land Cruiser door, and drink and retain essentially one's own weight in water.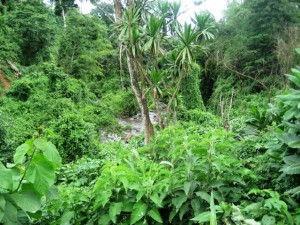 Our trip to Godere began by piling ten or so people into the back of a Land Cruiser with enough space to fit several bodies on the floor, and buying snacks. Since we worked closely with the local government, we traveled with several of our government partners. Through the driver's elaborate sound system we were able to listen to an extensive playlist of 90s pop, slow jams, and Beyonce throughout the course of the 500 km-plus trip – the sweet sounds of R. Kelly's "Your Body's Calling" wafting over the Gambellan countryside.
One interesting aspect of Gambella is the amount of foreign direct investment (FDI) it has drawn, particularly notable given lingering insecurity problems in the area. Ethiopia is committed to development across its diverse regions, as well as attracting foreign investment, and within just six years FDI increased by a factor of eight to $950 million in 2010.[1] In Gambella alone, given its climate's suitability for large-scale commercial farming, 228,000 hectares of land have been leased and another 877,000 earmarked for foreign investors (a total of 42% of the region's land according to government officials).[2] Investors like Saudi Star Agricultural Development, which is developing a large-scale rice plantation in Gambella, expect high returns and two harvests a year, with as much as 45% of the grain for export.[3]
Yet this investment has not come without its setbacks. In a region already known for insecurity challenges, in April 2012 five staff of the Saudi/Ethiopian rice project were killed while working on an irrigation canal, allegedly due to local resistance to the farming project. A month earlier gunmen shot and killed 19 people on a bus 20 kilometers from Gambella town, an incident suspected to be related to the irrigation scheme attack.[4]
None of these issues were in view on the road from Gambella town to Godere. We snaked through several other regions and then back into Gambella, passing lush and green countryside of rolling hills, the river valleys of the Baro/Bonga rivers, and increasingly dense forest heavy with precipitation and surprisingly chilly after dark. We made numerous stops by the side of the road for all the local specialties – honey, honey water, honey wine, raw coffee, roast corn, bananas.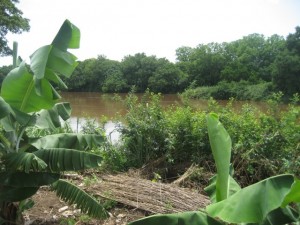 We arrived in Godere and were joined by several more carfuls of people from the local administration. Our "delegation" now numbering more than 30, we drove/walked into the forest. It was essentially everything I had ever expected a rain forest to be: humid, gorgeous, lush, green, tall. Everyone climbed around giddily like children on a school trip, even the forestry experts and members of the local ethnic group, the Majenger, who inhabited the area. Somehow the forest's beauty was equally exciting to everyone – from those who had grown up in the forest, to me, a born-and-bred city girl whose knowledge of rainforests was mainly from 3rd grade class projects. As we walked through the forest I talked to a member of the Gambella legislature, an ethnic Majenger, who recounted memories from his childhood of learning from his father to climb the massive trees, at the top of which they would cultivate the honey that was their traditional livelihood.
Though the mood of the visit was buoyant, there were sobering moments. There were some sections of the forest that were being cut down to make way for commercial farming. In some cases this seemed to be due in part to confusion over the exact types of land use each area was zoned for. In other cases the land had been specifically earmarked for plantations for crops such as tea and coffee. At times it was hard to reconcile the region's, and the country's, obvious need for as much investment as possible, with sustainably managing the forest. There are some strategies, such as shade-grown coffee plantations, which may allow commercial farming and forest management to coexist harmoniously.
In the end, none of us raced out of the forest ready to go hunt down the international investor companies, or skipped off to merrily hack down the rest of the forest to make way for more plantations. We walked out talking earnestly about the best approaches to this issue for all of the stakeholders – including the local community, the local government, and the federal government. After my walk through the forest, I could see more clearly the challenges of finding the delicate balance between the region's competing demands for development, FDI, farmland and forest, and the innovative approaches needed to reconcile them.
Claudia Schwartz is a master's candidate at the Fletcher School of Law and Diplomacy, where she is studying international business relations and international conflict and negotiation. She previously worked in Ethiopia, Kenya and Uganda for an international development NGO, on issues including cross-border conflict resolution and sustainable land-use planning.  
---