Recent Events
Tufts undergraduate students in the course Science and Civic Action developed four Civic Science Forums designed to help participants learn about and discuss important personal and collective choices about complex, uncertain and controversial contemporary science issues.
Understanding the Experience of Homelessness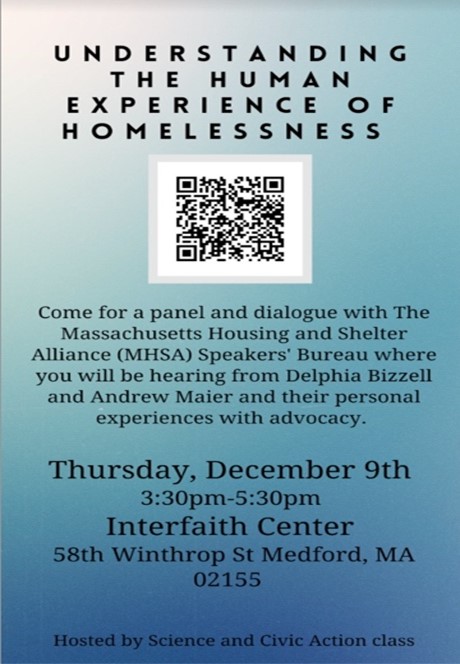 The goal of this Forum was to bring awareness to the issue of homelessness by better understanding it's impact on unhoused and houseless persons. Participants heard two speakers from the Massachusetts Housing and Shelter Alliance and then held small group, facilitated dialogues to speak about ways people can work to take action.
The Impact of Warming in Cities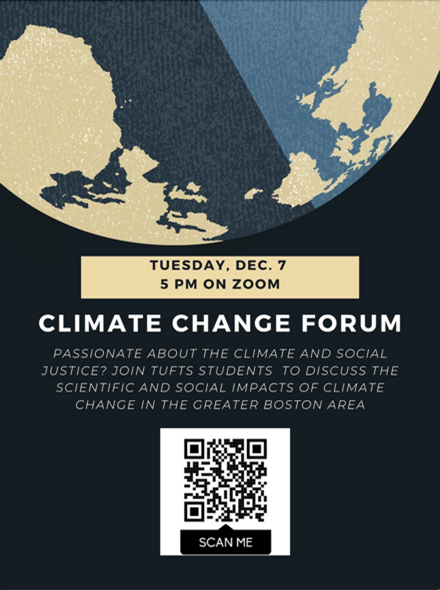 This Forum was focused on learning about the ongoing impact that global warming and sea-level rise have on the displacement of at-risk urban communities. Presentations by members of the Rocky Mountain Institute were followed by small group dialogues where individuals spoke about ways they might respond to help individuals in urban areas undergoing warming.
Beyond the Gender Binary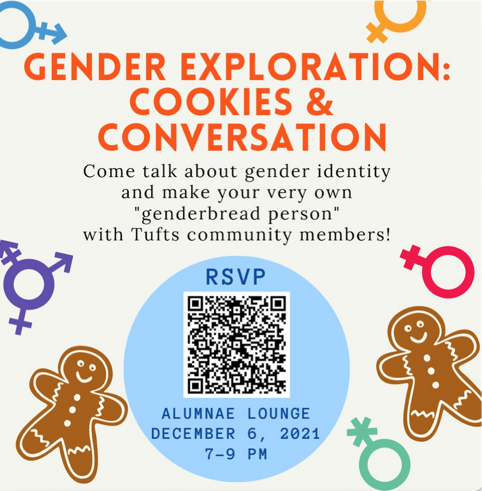 The Forum "Beyond the Gender Binary" created a space for people that were curious to explore their gender identity. Facilitated dialogues created a space to share their gender journeys so that they could feel more empathetic and better equipped to support others in their journeys.
Abortion, Autonomy and Action
This forum focused on discussions choices persons with Female Assigned Reproductive Systems can make to have bodily autonomy including abortion and contraception. An introduction helped participants better understand bodily autonomy at the intersection between reproductive science, history and culture. Facilitated dialogues allowed participants to develop a deeper understanding of the reproductive choices individuals face while exploring their own values and beliefs.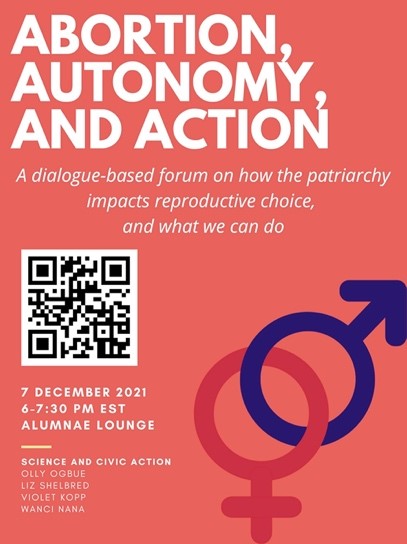 Funding News
Grant Funding – Dialogue, Trust and COVID-19 Vaccine Hesitancy
Jonathan Garlick, DDS, PhD and Jennifer Allen, ScD, MPH, MSN received a Tufts Medical Center/Tufts University COVID-19 Seed Funding Program – Phase 2 Award with Dr. Jennifer Allen for their project, "Building Trust in a COVID-19 Vaccine Among Brazilian Immigrant and Asian Immigrant Communities Through Dialogue."
Jonathan Garlick, DDS, PhD and Jennifer Allen, ScD, MPH, MSN received a Tier 2 award for their project, "Studying a Novel Dialogue-based Intervention to Build Trust and Vaccine Acceptance in COVID-19 Vulnerable Individuals and Communities of Color".
Recent Civic Science Events
The Possibilities of Personalized Medicine – A Public Forum (November 16, 2021)
Tufts Initiative in Civic Science collaborated with Tufts CTSI and the Museum of Science, TICS supported a public Forum to discuss this new technology and its associated benefits, barriers, and challenges of Personalized Medicine.
Food Justice – A Public Forum (April 28, 2021)
In collaboration with Tufts CTSI and the Museum of Science, TICS supported a public Forum where discussions focused on current problems in the food system, how policies are determined, and action that individuals can take to contribute to the solution.
Civic Science Concern Gathering: Living with Diabetes (March 16, 2021)
People living with diabetes or those treating, researching, or supporting individuals with diabetes came together for a conversation where they shared their concerns, hopes, and personal experiences. Dialogue participants, who included community members, patients, family members, researchers, research teams, clinicians, advocates, shared their ideas about new ways to think about diabetes research.
Science Engagement Through Dialogue – Tufts/Gordon College Research Project (March 2021)
This research project studies whether students can learn to more productively discuss controversial science issues when more diverse viewpoints, personal experiences, values and beliefs are brought into the conversation. We are currently conduct dialogues involving Freshman undergraduates in introductory science courses from Gordon College and Tufts University. We will hold these three dialogues on vaccine hesitancy, CRISPR gene editing and the origins of human life.
Vaccination Decisions: Recruiting for Clinical Trials (February 2021)
This virtual Museum of Science Town Hall explored how we might make clinical trials more equitable, especially for communities which have been historically exploited in medical testing? TICS facilitators supported small group conversations where participants shared their concerns, about this important discussion.
Vaccine Decisions: Rolling out the Vaccine (January 2021)
This virtual Museum of Science Town Hall discussed critical decisions our society faces as we begin the phased vaccination rollout plans and the process of COVID-19 vaccination dissemination and vaccine distribution. Experts answered questions such as: Who decides who will be vaccinated and how can the vaccination process be more equitable? TICS facilitators supported small group conversations where participants shared their concerns, about this important discussion.
Teeth: Dialogues on Dentistry and the Public's Health (January 2021)
Through a series of facilitated dialogues, first year dental students at Tufts School of Dental Medicine, discussed the inspiration they drew from the Mary Otto's book "Teeth". TICS facilitators supported small group conversations where dental students shared how might step into the power of their identities to bring care to patients in need.
Naming and Framing Issues for Public Deliberation (December 2020)
This gathering organized by the Kettering Foundation introduced Rita Allen Foundation's Civic Science Fellows to the Foundation's research on naming and framing issues for public deliberation.
Frontiers in Chemistry: Dialogue Across Difference (December 2020)
This dialogue engaged Tufts undergraduate science students on the impact of CRISPR gene editing on their lives. Participants were able to practice key principles of engaging across differences of values and beliefs on divisive science issues.
Science Communication Training (December 2020)
TICS offered training for post-docs and junior medical faculty with skills needed to communicate their research to any audience. Through a focus on "Inclusive Science Communication" this training support participants to recognize the two-way communication tools needed to engage diverse audiences and to help them step into the power of their identities as scientists.
Massachusetts STEM WEEK (October 2020)
TICS offered a dialogue on "belonging in science" to a Boston Public Biotechnology Career Technical Pathways class at New Mission High School. This is a collaboration with MassBio Ed and Sarah Goldberg from New Mission.
"Dialogue Across Difference" – Dialogue Training for the High School Science Classroom (July 2020)
This training introduced high school science teachers to the impact dialogues can have to help students safely express their values and beliefs in classroom conversations on controversial science topics such as gene editing. Teachers were trained to design and facilitate dialogues that stimulate curiosity, build empathy and develop mutual understanding. Teachers will be supported as they create classroom dialogues to help students express their hopes and concerns about scientific possibilities, and to listen to those of others, even in the face of continuing disagreement. Learn more >
"Critical Thinking Skills in Scientific Research" – Laidlaw Fellows (June 2020)
Using dialogue and reflective practices, this workshop offers Laidlaw Fellows training about how to apply critical thinking skills in their research projects. Through small group dialogues, Fellows spoke about elements of strong critical thinking flexibility in considering alternative evidence and hypotheses, honesty in facing one's prejudices, stereotypes, or egocentric views and checking in with biases that impact interpretation of scientific findings. Fellow learned to display humility, to consider alternative views in the face of strongly held convictions.
Breaking the Silence: Confronting Exclusion in Research (March 2020)
The goal of this event was to give voice to the lack of diversity throughout the research enterprise. Impact assessment showed that dialogue participants acquired new understandings of exclusion from research and expressed motivation to act to meet the challenges, such as the lack of representation for research done by investigators of color and lack of inclusion of communities of color in clinical research trials.
Tufts CTSI's Civic Science Roundtable: Dialogue on Diabetes Research (February 2020)
The dialogue at this event was focused on the issue of disparities in the representation of minoritized individuals in diabetes research and health care. Participants included community leaders, patients, their families, researchers, clinicians and patient advocates. The dialogue offered a place where individuals could speak openly about the challenges, hopes, and personal experiences that inform living with, treating, researching, and supporting individuals with diabetes.
Tufts School of Medicine/UMass Boston Pre-Medical Enrichment Program (January 2020)
Our "Science in Society" Seminar creates a forum for science majors from U Mass Boston to develop communication skills that can support their professional development in science and medicine. Through dialogues and communication workships, they acquire a repertoire of skills through which students connect who they are and what they care about to meaningful careers and lives.
Tufts Clinical Translational Sciences Institute/Museum of Science Event on "Building Communities of Resilience to Support Addicts in Recovery" (November 2019)
The goal of this event was to engage community members to imagine how we mobilize resources and work with others to create and sustain "communities of resilience" that can support addicts in recovery. Small group conversations addressed critically important questions about addiction, including how we might provide new treatment interventions and understanding stigma associated with addiction of all types and create most effective human interventions to alleviate pain and suffering.
Civic Science: Instilling a Sense of Wonder About Science, Society & Each Other (October 2019)
This presentation was designed to help the audience better understand controversial science issues by sharing their personal views on the impact of science issues in their lives. The goal was for participants to first learn the science knowledge behind the issues and share their experiences that inform their views on controversial technologies and discoveries. We hope that participants acquired a greater understanding of divergent points of view that others hold in ways that enhance their public participation in science. This presentation was made at the Osher Life Long Learning Institute at Tufts University.
Engaging Students in Self-Reflective Dialogue: Integrating "Dialogic Moments" into Your Classroom (May 2019)
Classroom conversations sometimes seem trapped between certainty and silence in ways that limit our students' capacity to engage in open-minded, self-reflective conversations, especially over controversial science issues. This presentation modeled examples of how to integrate reflective dialogue into class curriculum, in ways can enhance learning on challenging or controversial topics that bring marginalized voices of those with differing views into the conversation. Participants learned examples of how to implement and integrate small group dialogues into their class content in order to foster more open-minded, inclusive, and curious classrooms.
Cambridge Science Festival: Civic Science Roundtable Event on Sports-Related Brain Injury (April 2019)
The complexity and uncertainty of science information raises challenges for individuals to make well-informed choices based on science issues that have significant to societal dimensions. A Civic Science dialogue event at the 2019 Cambridge Science Festival brought together student-athletes, teachers, school administrators and parents from Boston area high schools to consider choices related to the risks and benefits of participation in recreational sports. Through dialogue, participants shared their experiences, concerns and hopes related to sports-related brain injuries to gain insight into how they may act in the future.
Western New York State Masters Teachers Program (February 2019)
This program trained high school science teachers as facilitators of inclusive dialogues that help high school science students learn to listen to respect the values, beliefs and opinions of their peers. The goal of this training was to engage students in self-reflection and enhance learning on challenging or controversial science topics by fostering more open-minded, inclusive, and curious classrooms. Training was focused on dialogue facilitation skills to impact students' capacity to engage across differences of ideology, identity, and culture in ways that build trust and dignity into conversations on any science issue.
Western New York Climate Conversations (February 2019)
Participants learned about climate change in Western New York State and how to prepare for it, create space for climate dialogue, and hear from youth that are making a difference. This event was an opportunity to discuss climate change and environmental justice with the people in our networks and communities. Participants gained tools and information needed to take action for climate justice and resilience in Western New York.
Roundtable Dialogues on Divisive Science Issues at Tufts
Tufts Civic Science Initiative has held numerous Roundtable Dialogues designed for Tufts students, staff and faculty. These dialogues help participants better understand the impact of complex, emerging science issues by developing skills and knowledge needed to discuss them in ways that all voices are heard and respected. Additional Roundtable events will be held during the Fall 2020 Semester.